Get Great Deals and Win Exhibition Tickets During GO! Gauguin Week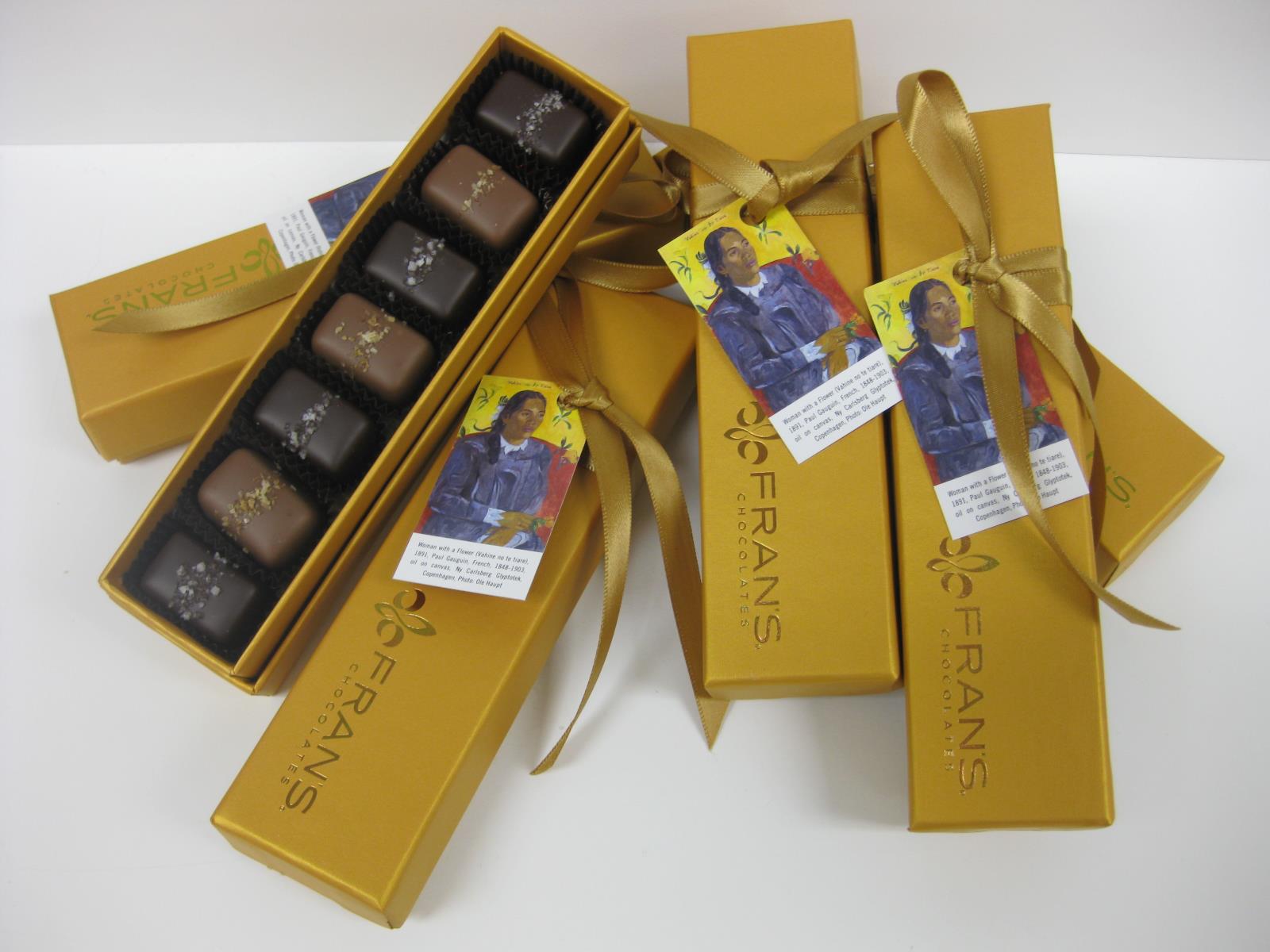 As part of a city-wide celebration of the exhibition Gauguin & Polynesia: An Elusive Paradise, area businesses and arts and cultural organizations have created some wonderful special offers for visitors to the exhibition.
This week, SAM will be highlighting a select group of these GO! Gauguin partners each day to reveal great deals around the city.  If you haven't already, be sure to print your coupon here.
Today we would like to recognize our retail partners participating in the GO! Gauguin program. Be sure to visit them and take advantage of these discounts!
Baby & Co.
1936 First Avenue
Present your GO! Gauguin coupon for something fabulous! Treat yourself to 10% off any single item at Baby & Co. during their celebration of Gauguin & Polynesia. Does not apply to sale items; certain restrictions apply.
Fran's Chocolates
1325 1st Avenue
After your visit to SAM, cross the street to enjoy Fran's Gauguin Salted Caramel Box which includes seven pieces of Fran's award-winning gray and smoked salt caramels for $15. Savor local artisan chocolate while you support SAM, 20% of the proceeds from the sale of each box will be donated to the Seattle Art Museum. Present your GO! Gauguin coupon and receive a complimentary Fran's award-winning dark hot chocolate beverage with any $30 purchase. Limit one per customer.
FriendShop in The Seattle Public Library
1000 Fourth Avenue
Receive a 15% discount from the FriendShop when you present your GO! Gauguin coupon or a ticket from SAM to the exhibition. The FriendShop features cards, jewelry and gifts by local artists and all proceeds benefit The Seattle Public Library. Open 7 days a week.
Macy's
1601 Third Avenue
As a supporter of the Seattle Art Museum, Macy's is offering you a special 10% savings! Take your GO! Gauguin coupon to the Fine Jewelry or Furniture department of the downtown Seattle Macy's store to receive a 10% off Visitors Pass. Certain exclusions apply.
sandylew
1408 First Avenue
Just walk up a half block north of SAM and present your GO! Gauguin coupon at sandylew for 10% off storewide anytime during the amazing run of the Gauguin exhibition, February 9–April 29, 2012. Not to be combined with other special offers or discounts. Sandylew is a women's boutique proud to be a neighbor and support of our remarkable Seattle Art Museum!
Perennial Tea Room
1910 Post Alley
Warm up with a visit to the Perennial Tea Room, located between Stuart and Virginia Street in Pike Place Market. Present your GO! Gauguin coupon or mention Gauguin & Polynesia to receive 10% off any purchase. Cannot be combined with other offers or discounts. Excludes tea to go.
Vetri Glass
1404 First Avenue
Founded in 1998, Vetri Glass is proud to be recognized by collectors and artists alike as an exhibitor of exciting and innovative new work in glass. The mission of Vetri is to offer innovative work of the highest caliber, at accessible prices. Present your GO! Gauguin coupon for 10% off any one purchase during the Gauguin & Polynesia exhibition at SAM. Offer cannot be combined with other specials or discounts.
White House/Black Market
Pacific Place
Just present your GO! Gauguin coupon and enjoy 10% off your entire purchase at White House/Black Market located in Pacific Place. Cannot be combined with any other coupon or offers and valid only at the Pacific Place location.
As if awesome specials and discounts weren't enough, SAM will also be hiding two Gauguin & Polynesia tickets at a partner location each day.  SAM will reveal the location of the pair of hidden tickets daily at noon on Facebook and Twitter.  The first person to reach the location will win the tickets.
Stay tuned for the first clue which will be released at noon today, and take advantage of all our special partner offers throughout GO! Gauguin Week and for the run of the exhibition!
-Sean C. Fraser, Public Relations Intern
Gauguin Gray and Smoked Salt Caramels