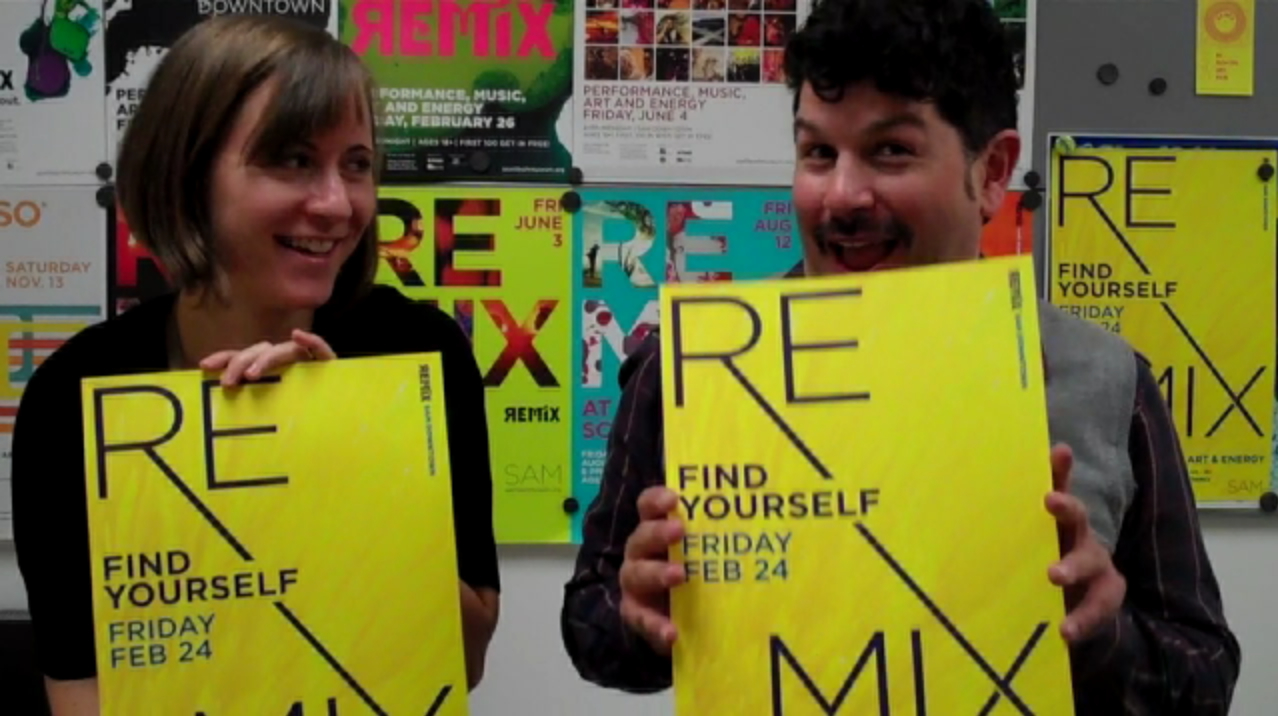 SAM's quarterly late-night party Remix is right around the corner and preparations are underway here at SAM. The masterminds behind Remix, Greg Sandoval, Manager of Adult Public Programs, and Erin Langner, Assistant Program Manager in Education and Public Programs, are busy finalizing the exciting programs for this Friday's festivities.  In this interview, the two give a sneak peek of what you'll find at this Remix!
What is Remix and what should attendees expect?
Greg: Remix is a late-night creative explosion, what people can expect is usually the unexpected.  Remix turns the museum into a great convening place for people of all ages from a variety of different backgrounds. We create a museum experience unlike any other; it's not just about looking at art objects in isolation, it's about having a social element and a fun element.
With every Remix we try to come up with a variety of different programs. People know there's a lot happening but they may not know exactly what's going to unfold.  We create programs and events inspired by the collection and the special exhibitions on view, and we also highlight some of our partner organizations that work with us.
How is the upcoming Remix going to be unique from previous ones?
Erin: This time we're focusing on our exciting new exhibition Gauguin & Polynesia by working with the concepts of paradise and utopia.  We're also going to be looking at Theaster Gates: The Listening Room which is a really fun exhibition to combine with Remix because of its music-influenced atmosphere.
Greg: We're going to be having some Tahitian dance and performance that will be happening in the auditorium, We'll be having some live music happening in South Hall, hands-on art making activities, and we have a great DJ–Supreme La Rock. He has a really diverse, eclectic taste so I think it will be a great reflection of the eclectic exhibitions on view.
What aspect of the upcoming Remix are you most excited for?
Erin: I'm really excited to work with Seattle artist Celeste Cooning who's going to be doing an immersive cut paper installation inspired by the floral imagery seen in some of Gauguin's paintings.  She's going to create an environment in our Think Tank space out of cut paper, and then people will be able to contribute to that environment by making their own paper flowers.  There will also be a sound component and some lighting components as well, so I think it will be really exciting to see that come to fruition.
Greg: I'm really excited for the reinstallation of the Record Store, which is a project that happened at a Seattle storefront last month in relationship to the Theaster Gates exhibition.  It was a temporary storefront in which there were vinyl record collections donated to occupy the space. People could come and hang out at the listening stations where they talked and exchanged ideas.  It's a really fun social exchange experiment. For one night only, we're going to be reinstalling that record store in our Arnold Boardroom.  There will be some guest selectors who will be spinning records.  People can have a beverage and listen to some great music, new and old.
What kind of people attend Remix?
Erin: There's so much going on at Remix, there's something for everybody! If you bring a really diverse group of friends they'll all be able to find something they really enjoy that night.
Greg: Bring one, bring all! It's definitely geared for people who like to socialize and go out at night, and it is an 18 and over event.  People have an opportunity to experience the art, get their dance on and dress up.  For this Remix we're encouraging people to wear sunshine yellow.  The first 50 people who show up in yellow get in for free!
Please note:  The Feb. 24th Remix is now sold out for tickets that include entry to Gauguin & Polynesia. A limited number of additional tickets will go on sale at the 1st Avenue and University Street entrance at 7:30 pm when doors open. These tickets include SAM Collection gallery access, along with the rest of the event, but do not include entry to the Gauguin & Polynesia exhibition. Tickets: $25 general, $20 students and $12 SAM members (day-of, cash only). No more advance tickets are available.
-Sean C. Fraser, Public Relations Intern
Erin Langner and Greg Sandoval