10 Tips for Your Trip to "Gauguin & Polynesia"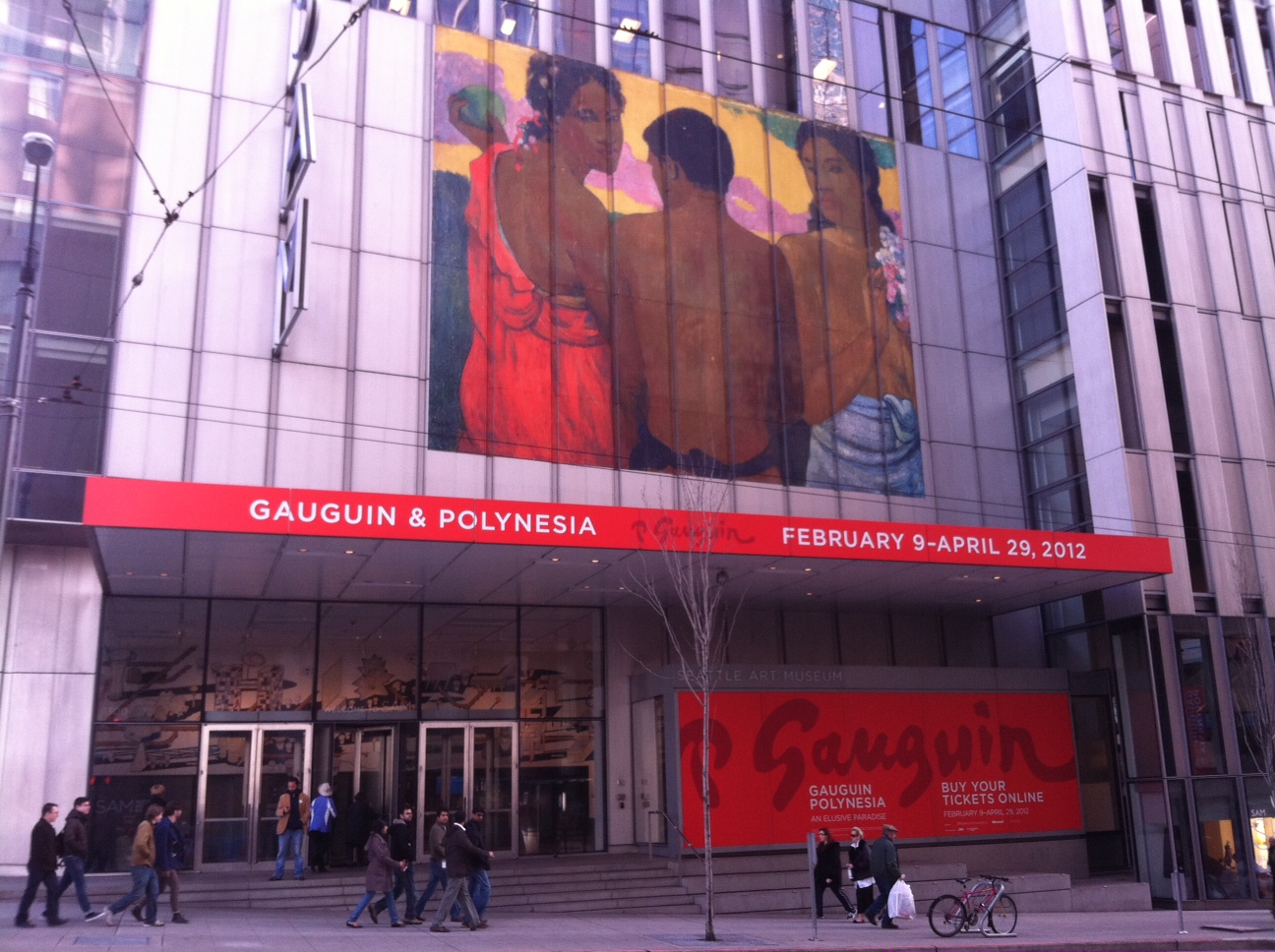 1. ADJUST TO ISLAND TIME
Starting February 9, SAM Downtown has extended open hours to make it easy to see Gauguin & Polynesia: An Elusive Paradise.
Tuesday–Sunday 10 am–5 pm
Thursday & Friday 10 am–9 pm
First Thursdays (March 1 & April 5) 10 am-midnight
Closed Mondays
(except Presidents Day & select Members-Only Mondays)
After the exhibition closes on April 29, the museum will resume Wednesday–Sunday open hours.
Want to avoid crowds?
It's likely the museum will be busiest during First Thursdays (when ticket prices are reduced) and on Saturdays and Sundays. For a quieter experience, we encourage you to visit during the week after 2 pm (school groups tend to visit between 10 am and 2 pm), or on Thursday or Friday evenings.
2. BEAT THE LINES, BUY ONLINE
Online ticketing, how do I love thee? Let me count the ways.
Guaranteed admission for your reserved day and time.
No waiting in line. Just print your online ticket at home or show us on your phone as you enter and you can go immediately to the special exhibition galleries.
No online ticketing fee.
Okay, so that's only three, but you have to admit, they're pretty good!
Sold out online? Don't worry!
If your preferred time is already sold out online, you may still be admitted by showing up in person. A limited number of day-of tickets will be available— first-come, first-served—at the Ticketing Desk.
Visit seattleartmuseum.org/gauguin to check ticket availability. SAM's Facebook page and Twitter feed will also have updates about tickets, lines and other exhibition news.
3. SAVE SAVE SAVE
Regular-priced Gauguin & Polynesia tickets include entrance to the SAM Collection Galleries Downtown and FREE admission to the Seattle Asian Art Museum within one week. There are no extra fees for online orders.
SAM Members, Children (12 & under) FREE!
Adults            $23
Seniors (62+), Military (with ID)           $20
Students (with ID), Teens (13–17)        $18
Visit First Thursdays and Fridays & Save
Admission price discounts on First Thursdays and First Fridays will be available during Gauguin & Polynesia. Visit seattleartmuseum.org/gauguin for details.
Avoid the Crowds & Save
On Thursday and Friday nights, 5–9 pm, ticket prices are reduced by $3 for everyone and lines are likely to be shorter.
Bring your Friends & Save
Receive discounted ticket prices and group benefits when you purchase 10 or more tickets in advance. For more information call 206.344.5260 or email groups@seattleartmuseum.org.
Park at 3rd and Stewart Garage & Save
Discount parking is available at the Third and Stewart Parking Garage—entrance is located on Stewart between 2nd and 3rd Avenues. Ask for a voucher at the SAM Ticketing Desk and park for up to four hours for only $6.
4. GO! GAUGUIN & SAVE MORE
When you buy your tickets online, you'll get a link in your confirmation email leading to an online coupon good for great discounts from participating retailers, restaurants, and art and cultural institutions. It's a city-wide celebration of Gauguin & Polynesia which means fun offers and super savings for you.
5. ARRIVE EARLY AND STAY AS LONG AS YOU LIKE
Gauguin & Polynesia is in the Simonyi Special Exhibition Galleries on the Fourth Floor. Please arrive 10–15 minutes before the time listed on your ticket. You must enter the galleries no more than 20 minutes after your specified time, or your reservation will be released. There is no re-entry into Gauguin & Polynesia, but once admitted you may stay as long as you wish.
Don't forget!
You are welcome to explore the 35 international SAM Collection Galleries before or after your visit to see Gauguin & Polynesia. And, remember to bring your special exhibition ticket within one week to the Seattle Asian Art Museum and enjoy FREE admission to our recognized Asian art collection.
6. DOWNLOAD FOR FREE
The Seattle Art Museum and Acoustiguide have developed an insightful audio guide with commentary about selected works in the exhibition. Download the podcast or iPhone/Android application to your digital device at seattleartmuseum.org/gauguin prior to your visit to the museum.
Don't have your own digital device?
FREE audio wands are available on a first-come, first-served basis. Audio guides for no and low vision visitors are also available.
7. SHOP 'TIL YOU DROP
Want to pick up a bit of the Pacific Islands? Or maybe find that special gift? Expect the unexpected at SAM SHOP, where playful, modern and worldly wares are the norm.
8. FEED & WATER REGULARLY
Don't forget to fill up beforehand—food and beverages are not allowed in the galleries. May we suggest TASTE Restaurant? TASTE features artistic, locally-focused food, including menu items inspired by Pacific Island cuisine. Reserve your table to coincide with your gallery visit at opentable.com.
9. VISIT AGAIN FOR FREE
Become a member today and visit as many times as you like for free. Enjoy members-only benefits including exclusive access times for Gauguin & Polynesia, free admission at all SAM sites for a year and discounts at SAM SHOP and TASTE Restaurant.
Already purchased your ticket?
Stop by the Ticketing Desk to apply the price of your Gauguin & Polynesia ticket towards a membership!
10. SNEAK A PEEK
See a preview of the works and learn more about Gauguin's life, his art and his search for the exotic at seattleartmuseum.org/gauguin
Photo credit: Madeline Moy