Need a Venue for an Event? Look No Further Than the Seattle Art Museum!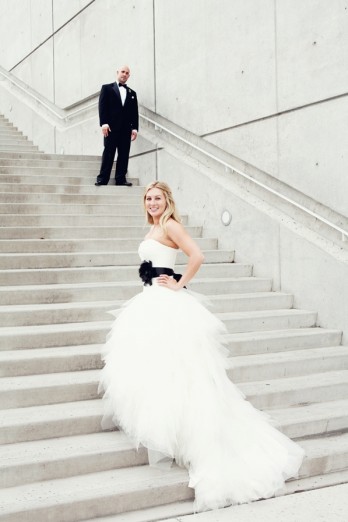 Museums are beautiful, tranquil places filled with some of the most beautiful pieces of art that history has to offer. Imagine holding a corporate meeting at the Seattle Art Museum to impress some important clients, or imagine impressing your friends by renting out the Seattle Asian Art Museum to throw a party, or even more amazing, imagine yourself getting married in the Olympic Sculpture Park with the Seattle waterfront as your backdrop! Many people are unaware that we can make these dreams a reality.  You can rent just a portion of the museum or the entire building if it suits your needs and then have the event catered by our fabulous restaurant TASTE.
Jamie and Jared felt that the Olympic Sculpture Park was the perfect place for a ceremony and had an afternoon that they will never forget. Jamie and Jared were married on September 18, 2010 in the Park and our summer TASTE intern, Kristina Krug, had the chance to ask them a few questions about their wedding. Here's to wishing them a happy one year anniversary from all the folks here at SAM!
Here is what they had to say about getting married in the park:
TASTE: What aspects of your special day did you enjoy the most?
Jamie: I loved seeing how all of the hard work that everybody put into our day came together.  It takes a village to put on a wedding.  It allowed Jared and I to relax, enjoy our day, and focus on what that day was really about.
TASTE: How did art play a role in your wedding?
Jamie: It was the backdrop for the reception!  Trenton Doyle Hancock created this amazing piece with primary colored teardrops and a giant gentle hand titled 'A Better Promise' that spanned the walls and beyond-quite fitting for a wedding.  We also took abstract photos of some of the other sculptures and areas of the park that we used for our save the date cards.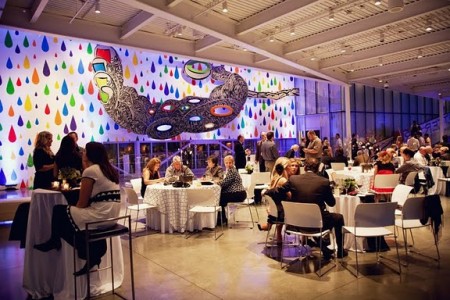 TASTE: What inspired your menu choices?
Jamie: We only picked items that we would eat ourselves.   Nothing too fancy, or too boring.  The food items were presented by what paired well with wine, and what paired well with beer.  No buffet, or sit down dinner – we only served creative appetizers.  We actually didn't even get a chance to eat any of the food, but heard that the gourmet mini grilled cheese sammies and tomato soup shooters were a hit.
TASTE: What were your colors for the wedding?
Jamie: Black and white.  Classic.
TASTE: What else stood out on your special day?
Jamie: We hired live oil painter, Sam Day, to paint our reception as it was happening.  It was pretty amazing seeing LIVE ART being created in an art venue!  And his name is SAM.  Coincidence?
TASTE: What were your favorite details or decorations?
Jamie: We kept everything pretty plain and simple – classic flowers, tablecloths, even the cake.  What we loved is how the up lighting lit the room and turned the ambiance (from plain and simple) into a gorgeous and romantic space.  We also brought in some modern furniture to create a relaxed feel for the outdoor area.  It was hard to get people to leave!
Thanks Jamie & Jared for sharing your beautiful day with us!
Top photo: Jamie and Jared on the steps on the Olympic Sculpture Park