Silva Thinks Outside (and Inside) the Box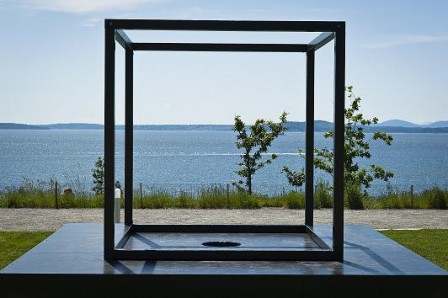 On-Site, the second summer exhibition at SAM's Olympic Sculpture Park, brings together new sculptures by Gretchen Bennett, Nicholas Nyland, and Carolina Silva.
Silva titled her sculpture Air Below Ground. The wooden platform and frame, as well as a series of actions the artist has composed to take place in, on, around, or underneath the sculpture were conceived specifically for the Olympic Sculpture Park.
Silva, who will create a number of installations in the structure throughout the summer, is interested in the process by which sculpture is defined, engaged with and realized. An evolving work, her activities will engage a variety of materials, including lights, sound, fog, clay, and balloons that will expand viewers' interaction with a sculptural object, one that is in a constant state of transformation.
The platform with the cube on top and the hole in the center remained empty for the first two weeks. This allowed visitors of the park to experience the exposed structure and see it bare and to understand it as a space that was ripe for potential actions and various transformations to take place inside its "walls."
At Party in the Park on June 17, Silva unveiled the first installation, titled Far. Smoke, created using a fog machine, emanated from the hole in the center of the stage. At night, a moving head spotlight, located like a beacon at some point in the park close to the platform, rotated, like the light from a lighthouse. The light, as a sign of presence, played its magic with the ghostly, evanescent smoke.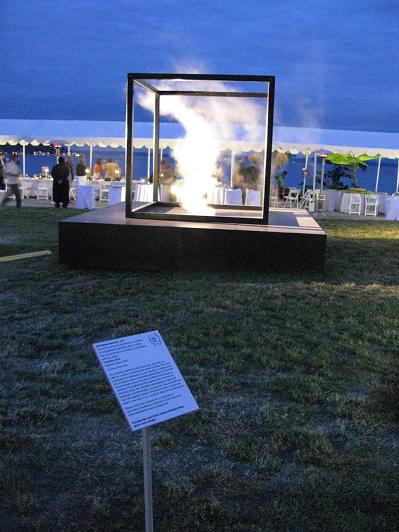 For her second installation, Silva covered the whole perimeter of the cube with Mylar strings hanging downwards from a mesh attached as a ceiling to the top of the cube. This installation is titled Within and engages the idea of a labyrinth.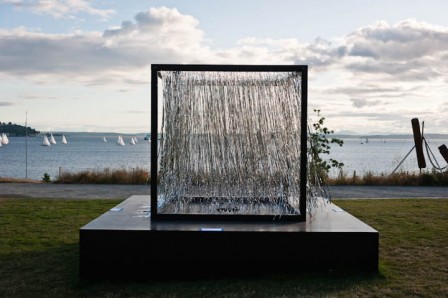 Silva will continue to present new experiences with her sculpture at the Olympic Sculpture Park now through the end of September 2011. She will talk about Air Below Ground on July 7 at 6:30 p.m. at the Olympic Sculpture Park as part of "Thursday Night at the Park." Visit http://www.seattleartmuseum.org/getout/events_2011.asp for more information.
Support for artwork by Carolina Silva is provided by Spain Arts & Culture at the Embassy of Spain, Washington, DC.
-Madeline Moy, Digital Media Manager
Photos: Robert Wade