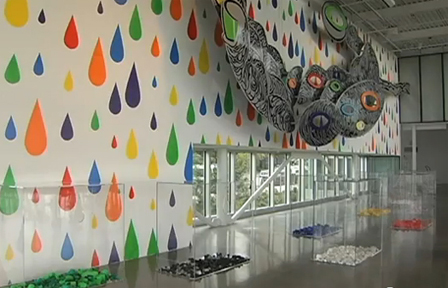 If you haven't been to the Olympic Sculpture Park lately, you should go. Not only is it summer in the park but Trenton Doyle Hancock's, A Better Promise—an art installation in the PACCAR Pavilion—is especially mesmerizing and animated when the bright sunshine manages to peek out of the clouds and shine into the pavilion. Ironically, this is partly because of its numerous colorful raindrops but partly it's because of the giant vitrines full of plastic lids that sit below the installation.
As part of the work, Hancock issues a "call to color" by encouraging visitors to bring their own morsels of color—in the form of plastic bottle caps—to the park and drop them into the work of art. Nine large-scale "earthbound" vitrines have been placed on the floor in front of the hand sculpture. On the face of each of these nine containers, there is a teardrop cut-out where plastic bottle caps can be deposited by color. Visitors are encouraged to bring plastic bottle caps ranging in all shapes and sizes from detergent bottles, to clear water bottles to the black and white caps from drink bottles.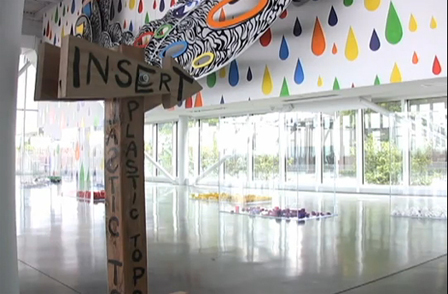 As an avid recycler I love this! Did you know that here in Seattle, lids that are smaller than a Pringles lid are not recyclable? That means they have to be thrown in the trash. Donating my lids for Hancock's use makes me feel like I'm not only contributing to an as yet unrealized piece of art and thus raising the lowly bottle cap to something higher, but that I'm doing a little extra for good old Mother Earth. Here at SAM, as part of a SAM Goes Green effort, we've started collecting plastic lids at all of our locations to deposit in Hancock's vitrines. We just wanted to remove a little more waste from the waste stream and help Hancock out with whatever colorful enterprise he is dreaming up.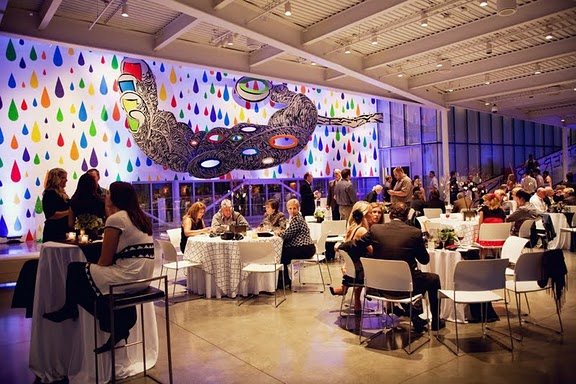 So head out to the Olympic Sculpture Park with your shampoo lids in hand and see if you can imagine what possibilities might lie in store for these wee plastic lids.
Watch Hancock describe his installation and the concept behind collecting the lids:

Liz Stone, Digital Media Support Specialist