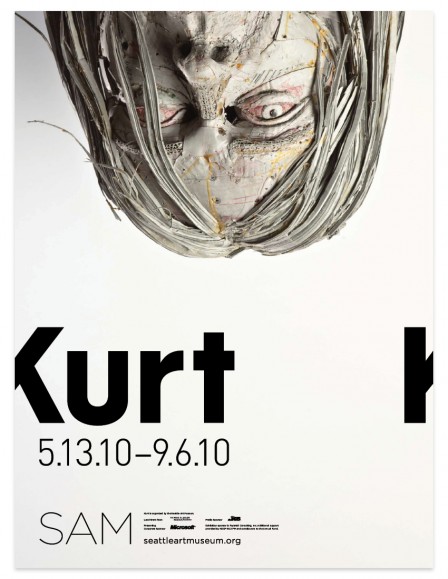 The Seattle Art Museum won first prize in the 2011 American Association of Museums Publications Design Competition for our "Kurt" exhibition poster designed by SAM graphic designer Rebecca Nickels.
While a certain actor's career took a nosedive, SAM won a number of awards recognizing the outstanding work of our Communications team.
American Association of Museums Publications Design Competition
May 2011
Posters category: KURT poster
First Prize
Educational Resources category: SAM Kids Events Campaign
Honorable mention
Invitations category: PICASSO Suite of Invitations
Honorable mention
2010 Communication Arts Annual
Warhol Exhibition Graphics and Photobooth Display
Selected to be Published
2011 Seattle Weekly Web Awards
June 2011
And hopefully, we're not done winning! SAM has been nominated for 8 Teeny Awards from Teen Tix, an arts access program for teenagers.
Best Box Office Experience
Best Bathrooms
Best Date Venue
Best Group Venue
Venue I Want to Attend More
Favorite Organization – Large
Best Museum or Art Gallery
Best Art Exhibit of 2010-11 for Nick Cave: Meet Me at the Center of the Earth
We are honored to be nominated because it not only means that the cool kids like us, but that SAM is recognized as an organization that is welcoming to youth. So if you're a Teen Tix member, or you know someone who is, please get out the vote for SAM! The polls close June 30.