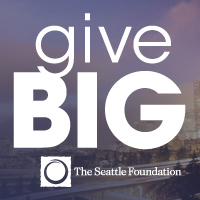 Today you have the opportunity to be part of one of the biggest days of giving in King County. Take the GiveBIG Challenge, and your gift to SAM will be stretched even further!
The Seattle Foundation and GiveBIG sponsors will match a share of every contribution made through the Seattle Foundation online Giving Center on June 23 from 7 am until midnight.
Click here now to make your fully tax deductible gift to SAM! Donations at all levels are appreciated so please give $10, $50 or $100–whatever works for you. It all makes a difference! And everyone who makes a gift to SAM through GiveBIG will be entered to win two tickets to our summer exhibition, Beauty & Bounty: American Art in an Age of Exploration.
Here are a few examples of what your donation will do:
Help us reach and teach – Every year more than 100,000 people participate in education programs at SAM's three sites. SAM programs have something for everyone—school tours, hands-on art making, Family Festivals, film series and lectures featuring artists and scholars.
Maintain a green space for art and people – The land on which the Olympic Sculpture Park sits was preserved by SAM as downtown Seattle's last undeveloped waterfront property.
Bring art to all – Admission to SAM Downtown and the Seattle Asian Art Museum is suggested. Visitors pay what they can afford. Your support helps us offer free admission days every month.
Support special exhibitions – Your donation to SAM will help us continue to bring exhibitions like Picasso and Gauguin & Polynesia (February 2012) to Seattle.
Thank you for giving big to SAM today! Donations to SAM can be made on The Seattle Foundation site at:
http://www.seattlefoundation.org/npos/Pages/SeattleArtMuseum.aspx.