Win 2 Tickets to Party in the Park!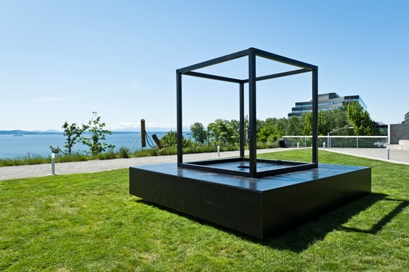 Party in the Park is just a little over a week away – do you have your ticket yet? If not, here's a great chance to win a pair of tickets for this fabulous event. All you have to do is describe what you would do in this box.
Confused? Let me explain. As part of the Summer Season at the Olympic Sculpture Park's art installations, called On-Site, artist Carolina Silva has created a work of art that is meant to be performed in called Air Below Ground, pictured here. Throughout the summer, you have the opportunity to see her perform in this space every week! The very first performance is going to be at Party in the Park, and I hear it involves a fog machine.
Back to the question – if you had the opportunity to perform in Silva's box, what would you do? The best answer wins a pair of tickets to Party in the Park, where you can see Silva's first performance. So in the comments section, let us know what you would do, but do it fast. We'll be announcing a winner on the morning of Monday, June 13. And keep it clean, folks. We're a family friendly organization.
-Calandra Childers, Associate Manager of Public Relations
Photo: Robert Wade