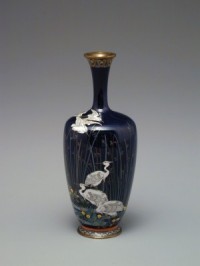 Each week for the past two years we have shared one work out of the nearly 25,000 in our collection on Facebook, in a feature called "SAMart." Starting this week, SAMart comes to SOAP! Check back each week or subscribe to our RSS to learn more about new acquisitions and old favorites in the SAM collection.
Opening on April 30, Modern Elegance: The Art of Meiji Japan features paintings and decorative objects exemplifying the essence of late nineteenth- and early twentieth-century Japanese art.

The manner of painting known as nihonga, which simply means "Japanese-style painting," developed in the Meiji period in response to the craze for Western-style painting in Japan. Revitalizing traditional formats like the screen painting and the hanging scroll, and employing powdered mineral pigments as opposed to oil paints, nihonga painters sought to update and rekindle appreciation for the beauty of native Japanese artistic practice. Enameled cloisonné ware was also immensely popular around the turn of the twentieth century, both in Japan and abroad. Its delicate silver and copper wires and pictorial enamel motifs reflect the delicate artistry and meticulous attention to detail typical of Japanese design. Cloisonné ware, unlike nihonga painting, was a non-traditional, Meiji-era construction intended to appeal to foreign taste for the decorative and the exotic.
On view starting April 30 in Modern Elegance: The Art of Meiji Japan, Seattle Asian Art Museum, Volunteer Park.
Vase, early 20th century, Japanese, Meiji period (1868-1912), cloisonné enamel and silver, 5 5/16 x 1 1/2 in., Gift of Mrs. Grant I. Butterbaugh, in memory of her husband, 64.18.