Report from Japan from Our Assistant Curator of Asian Art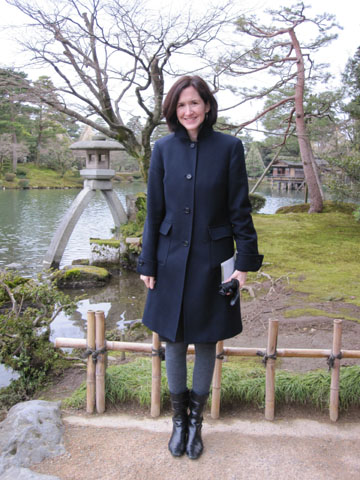 This month, I traveled to Japan on a study tour for American curators of Japanese and contemporary art. Sponsored by the Japan Foundation, the two-week adventure took us on a whirlwind tour of museums in Tokyo, Yokohama, Kanazawa, Kyoto, Osaka, and Naoshima. The objective of the trip was to introduce a wide range of U.S. art professionals to Japanese museum practices and to foster a cross-cultural dialogue between specialists. The trip accomplished this goal, without a doubt, but it will be the events of March 11 and beyond that will prove most memorable.
Our group of eleven curators and three tour guides arrived in Kyoto by shinkansen a little before noon on March 11, ate one of many elaborate lunches presented on an exquisite array of small dishes, and then proceeded to the Higashiyama section of northeastern Kyoto, which is dotted with temples climbing up the hillside. At one such temple, a group of us stopped to pay our respects to Amida Buddha, tossing coins into the offering box and clasping our hands in imitation of the surrounding Japanese tourists. From Higashiyama, we were herded back onto the tour bus, decorated with faux chandeliers, doilies on the seatbacks and electric colored carpeted walls.
Our next stop was the Raku Museum, where we met Raku Kichizaemon XV, a living national treasure and the fifteenth in a long lineage of potters extending back to Chojiro, who fired pots used by 16th century tea master Sen no Rikyu. Raku-san popped in a video on the production of Raku ware, and it was then that the earth moved. Successive waves rolled through the city of Kyoto, so small as to be almost imperceptible. A momentary seasick feeling was all they produced, and that, for us, was the extent of the earthquake. It was not until two hours later that we had any inkling of the magnitude of the disaster that was unfolding to the northeast of us. As we pulled into our fancy hotel, guests were rushing into the lobby where a TV had been hastily set up. A large group of Japanese was standing in front of the monitor, collectively gasping as the first images of the tsunami rolled again and again. The scene recalled photographs I've seen of crowds standing around storefront windows, watching television footage of that horrible day in November 1963.
From that moment on, our trip to Japan tilted into the surreal. Our tour leaders, keen to complete the itinerary, bravely soldiered on, leading us from one fantastic art site to another. Yet the scale of the tragedy became more apparent by the day, and the anxiety caused by the potential nuclear crisis was mounting. There came to be a disconnect between events that were happening three hundred miles away from us and our own high-end art tour. We were perfectly safe, far from any hazard, even nuclear fallout, had it come to that, yet it felt shameful to continue as if blithely unaware of the disaster that was continuing to unfold. It finally became obvious that it was time to go home.
Although our tour was scheduled to return to Tokyo for several days, we ended up departing several days early, flying out of Kansai airport in Western Japan, through Korea, and then home. Though happy to be back in Seattle, I feel deeply torn, as if part of me were still in Japan, if not able to help in the relief effort, at least able to offer friendship and support to all the Japanese who have shown such warmth and generosity over the twenty-some years I have been traveling there. Ganbatte, Japan. Our hearts are with you.
To donate to the relief efforts in Japan, please click here www.seattlejapanrelief.org
Catherine Roche, SAM Assistant Curator of Asian Art
Catherine in Japan: March 2011