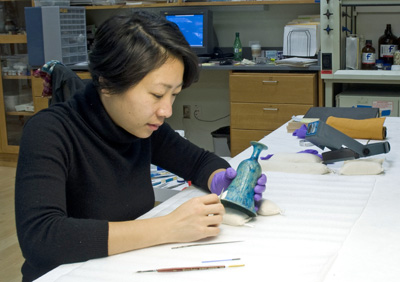 The SAM conservation department has launched a new webpage within the SAM website! Please visit http://www.seattleartmuseum.org/conservation for information on SAM conservation activities and updated quarterly news.
 Conservation Fellows 
 Education is central to our conservation activities and SAM is very fortunate to have received support from two very different sources to fund conservation fellowships this year. A group of private individuals among SAM's incredible docent and volunteer body gathered together to support a fellowship for object conservator Linda Lin. Linda, a graduate of the UCLA/Getty conservation program, has been treating and documenting works of art for gallery rotations and loan exhibitions, has provided invaluable conservation oversight for a major on-line cataloging project, and recently presented a paper on her graduate studies at the Western Association for Art Conservation meeting in Portland, Oregon.
SAM Conservation is also delighted to have been awarded the first ever Mario Modestini Fellowship. This grant, awarded by New York's Fine Art Restoration Foundation, enables us to host paintings conservator Katie Patton for the coming year. Katie, who is a graduate of the New York University Institute of Fine Arts conservation program, worked most recently on an Andrew W. Mellon fellowship in the Sherman Fairchild Center for Paintings Conservation at The Metropolitan Museum of Art in New York. Katie will work closely with SAM Chief Conservator, Nicholas Dorman, to treat Venus and Adonis, attributed to the workshop of the important sixteenth century Venetian painter, Paolo Veronese.
New Storage Project 
Of course, many museum objects, especially light-sensitive works of art, spend a considerable amount of time in storage. One of the great strengths of the SAM collection is the field of Asian paintings and it is essential that these delicate works are properly stored. SAM was recently awarded major grants from the Institute of Museum and Library Services and 4-Culture for new storage cabinets for our Asian screen collections. Proper storage furniture that protects these large paintings, and provides safe access for scholars and staff, is vitally important for their preservation. Right now, conservation and facilities staff teams are removing 75 year-old cabinets to make space for the new furniture. The project will be completed with a full survey of the condition of the re-housed screen collection.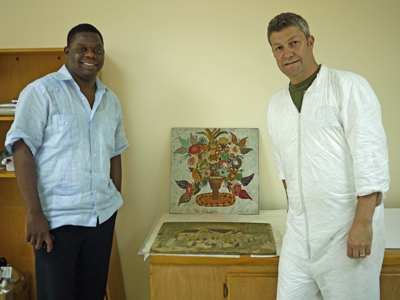 Relief Project
In recent decades awareness has grown regarding losses of irreplaceable cultural property during major disasters.  Conservators in private practice and in institutions around the country have started to develop shared resources and coordinated approaches to disaster preparedness, mitigation and relief. SAM works with colleagues in and beyond the community on a range of disaster management projects. This summer, Chief Conservator, Nicholas Dorman, traveled to Haiti to treat paintings damaged in the 2010 earthquake. Working with the staff of the Cultural Recovery Center in Port- au-Prince on a deployment managed by the American Institute for Conservation Collections Emergency Response Team, he helped to transport supplies, prepare a paintings conservation work space and treat paintings by important Haitian artist, Hector Hyppolite.
Nicholas Dorman
Chief Conservator
Top photo: Linda working on a cup in the form of a lotus.