Nine Lives: In Search of the Sacred in Modern India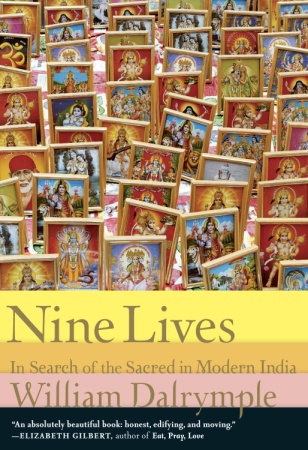 William Dalrymple's new book with this title just became available in the U.S. a couple of days ago. As intriguing, illuminating and playful as his previous books (The Last Mughal, White Mughals, City of Djinns and more), it is also a mix of historical storytelling, travel adventures,  and deep insight.
We are lucky enough to have him coming to speak next Thursday, June 24, at 7 pm at the Seattle Asian Art Museum, thanks to Elliott Bay Books and Random House.
Each of  Nine Lives'  nine chapters introduces  a follower of one of India and Pakistan's many different spiritual traditions and relates their life stories in their own words.  Their centuries-old practices bump up against India's contemporary explosive growth in some odd ways. One follower of an esoteric (tantric) tradition, whose community lives in cremation grounds, declined to explain some of their practices involving skulls. A secret shared only with initiates? Hardly. The man explained that his two sons are now opthamologists in New Jersey, and made him promise not to talk about these matters.
Some of these spiritual traditions can be startling, but through Dalrymple's writing, seemingly bizarre appearances quickly become friendly.  At the same time, it becomes ever trickier to draw distinct lines between Hinduism, Islam and Buddhism. The divide looks more like one between the myriad of local/regional/community-based spiritual traditions on one hand,  and a few contemporary mass-media-spread  standardized and politicized religions on the other.
William Dalrymple speaks at 7pm, June 24, at the Seattle Asian Art Museum in Volunteer Park. Free with museum admission.
Sarah Loudon
Gardner Center for Asian Art and Ideas
Top photo: Reading at SAAM, June 24 at 7pm