Behind the Scenes: Unconventional Portrait Workshop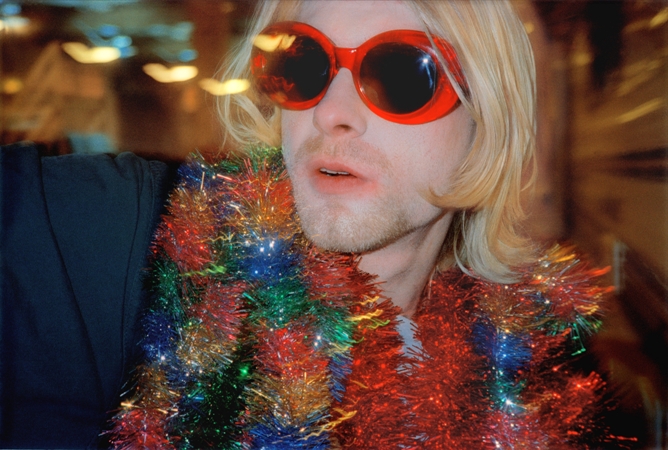 As SAM's summer exhibitions Kurt and love fear pleasure lust pain glamour death—Andy Warhol Media Works opened last week, the Adult Public Programs team has been working hard to get ready for all of the affiliated lectures, performances, tours and  June 4th SAM Remix.  The simultaneity of these two exhibitions is exciting from a programmatic standpoint because we have the opportunity to use educational experiences to explore some of the conceptual connections between works in both.  One of the projects I have focused on developing in recent months is a set of three classes that are part of our adult workshop series "SAM Creates."
Many of the works in these two exhibitions are portraits of varying forms.  The works of art by Warhol in love fear pleasure lust pain glamour death are primarily portraits in different sets of media, including screen tests, Polaroids, and photobooth strips.  Kurt includes a very diverse grouping of works but many can be considered forms of portraiture, ranging from documentary photographs to more abstract sound and video installations. Alice Wheeler, Gretchen Bennett and Scott Fife are all Seattle-based artists whose works included in Kurt represent a range of mediums and points of view.  Taking into consideration concepts of celebrity and identity found in both exhibitions, I have been working with these artists since January to create a suite of portrait workshops for adults; Alice Wheeler will lead an afternoon of street photography, Gretchen Bennett is working with D.W. Burnam to create a session on aural portraits, and Scott Fife is putting together a full day focused on sculpture.
"Recognizing Star Quality with Alice Wheeler" is the first workshop in the series, taking place this Saturday.  Although Alice had a range of ideas for what participants could learn, we determined that one of the most interesting aspects of her practice is how she identifies the intangible "star quality" some individuals possess that make them ideal for a portrait. Alice was particularly excited to have love fear pleasure lust pain glamour death on view at the same time as Kurt; she decided to begin her class with a discussion of the exhibitions, primarily focusing on Warhol's work.  After the discussion, Alice plans to take the class out to the streets of downtown Seattle, which I think will provide a unique avenue to understanding Alice's work, as well as photography in general.  Alice also knew Kurt Cobain well, so she has ample anecdotes about her experiences with him in this area of Seattle that I am eager to hear.
Gretchen Bennett and Scott Fife's workshops will both take place at the Olympic Sculpture Park later this summer.  Although Gretchen has a number of works on paper in Kurt, she identified the process she went through in creating her I Don't Blame You video piece also on view at the museum (see Michael Darling's overview of the work here) as one she is interested in using as a starting point for her workshop, "In Space and Time with Gretchen Bennett and D.W. Burnam." She and musician D.W. Burnam are collaborating to create an afternoon in which participants will combine recordings of their voices and sounds from the sculpture park to create audio tracks. While the final format of this class is still coming together, I am most looking forward to seeing how Gretchen and D.W.'s practices merge.  Meanwhile, "Sculptural Icons with Scott Fife" is in the earlier stages of being defined and is somewhat more complicated because we will be working with glue and other time-intensive materials.  We are continuing to work with Scott on the details of the afternoon, and I expect it will be fascinating to learn the process he goes through to manipulate cardboard, hardware and glue into his complex structures.
While many hands-on programs are created for youth and teens, museums seem to offer such opportunities to adults less frequently, particularly classes intended to reach an audience with a range of backgrounds in artistic practice. Engaging directly in the creative process is an experience with art that is vastly different from the traditional lectures or formal artist talks that comprise the programming typically offered for adults. Working with local artists whose work is included in one of our special exhibitions is an experience one that I hope to be particularly impactful and am looking forward to seeing come to fruition over the next several months.
-Erin Langner, Adult Public Programs Coordinator
Kurt Cobain at MTV's Live and Loud, Pier 63, Seattle, WA, Dec. 13, 1993, 1993, printed 2010, Alice Wheeler, American, born 1961, color digital print, 27 x 40 1/2in., gift of Clinton T. Willour in honor of Greg Kucera and Larry Yocom, 2010.5, © Alice Wheeler, Courtesy of Greg Kucera Gallery, Seattle