Object of the Week: Winter Landscape on the Banks of the Seine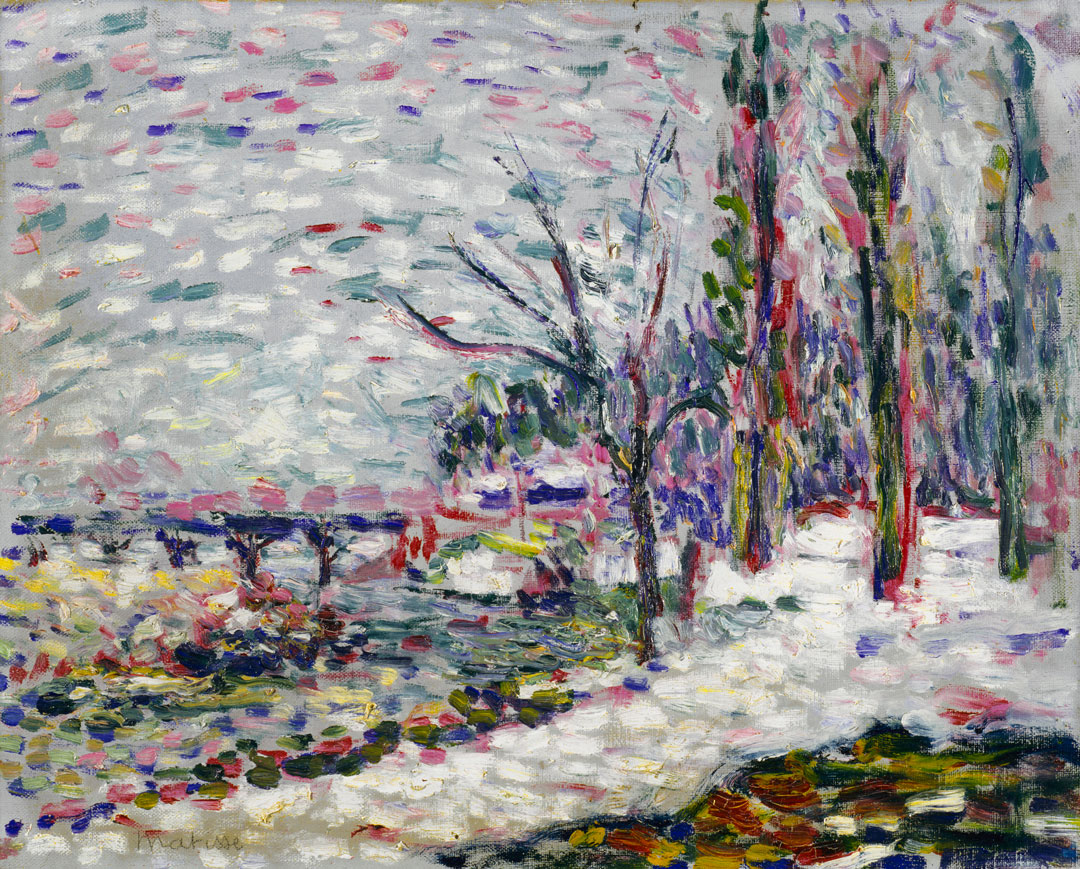 "An artist should express his feeling with the harmony or idea of color which he possesses naturally. He should not copy the walls, or objects on a table, but he should, above all, express a vision of color, the harmony of which corresponds to his feeling."[1] – Henri Matisse
During the rise of modernism, which occurred between the late 19th century to the early 20th century,[2] artists began to move away from representation towards abstraction, and they changed the types of painting that were traditionally accepted in the Western world. At this time, artists started to return to the basic natures of paintings such as colors, lines, shapes, and textures, rather than words and representations in order to communicate and interact with their audience.
Winter Landscape on the Banks of the Seine, which Matisse began in 1904 and finished in 1905, contains quick vibrant dabs of color pigments against the dreary grey and stark white background of the canvas. Matisse did not literally paint a winter setting along Paris' River Seine. He painted the emotions that this setting produced within him. By arranging cool and warm tones on a two-dimensional canvas, Matisse was able to successfully convey the feeling of gentleness and serenity within his work. He left behind these emotions for Seattle Art Museum visitors to explore and perceive.
Widely recognized as one of the most important and innovative colorists during the post-impressionism movement, Henri Matisse focused on creating harmonious, unified, and balanced arrangements of colors on two-dimensional canvases to evoke emotions within his audience. Though Henri Matisse's mother was a painter, he did not have a direct path into the world of art. He began to study law in Paris and even though he considered it to be tedious and uninteresting, he still passed the bar exam in 1888. He reluctantly started to practice law after he graduated because his father arranged a job for him in a law office. His career path was altered, however, when he received art supplies from his mother in 1889. "From the moment I held the box of colors in my hands, I knew this was my life,"[3] Matisse stated.
Happy birthday to Henri Matisse (December 31, 1869–November 3, 1954)! Thank you for your legacy and contribution to the world of art.
– Trang Tran, SAM's Emerging Arts Leader Intern
[1] Jack D. Flam, Matisse On Art (New York: Phaidon Press Limited, 1973), 51.
[2] "What is Modern Art?" Museum of Modern Art, accessed 20 Dec 2018, https://www.moma.org/learn/moma_learning/themes/what-is-modern-art/
[3] "The Personal Life of Henri Matisse," Henri Matisse, accessed 23 Oct 2018, http://www.henri-matisse.net/biography.html.
Image: Winter Landscape on the Banks of the Seine, ca. 1904-05, Henri Matisse, oil on canvas, 12 3/4 x 15 3/4 in., Gift of Norman Davis, 91.88