Get to Know SAM's VSOs: John Jung-Simard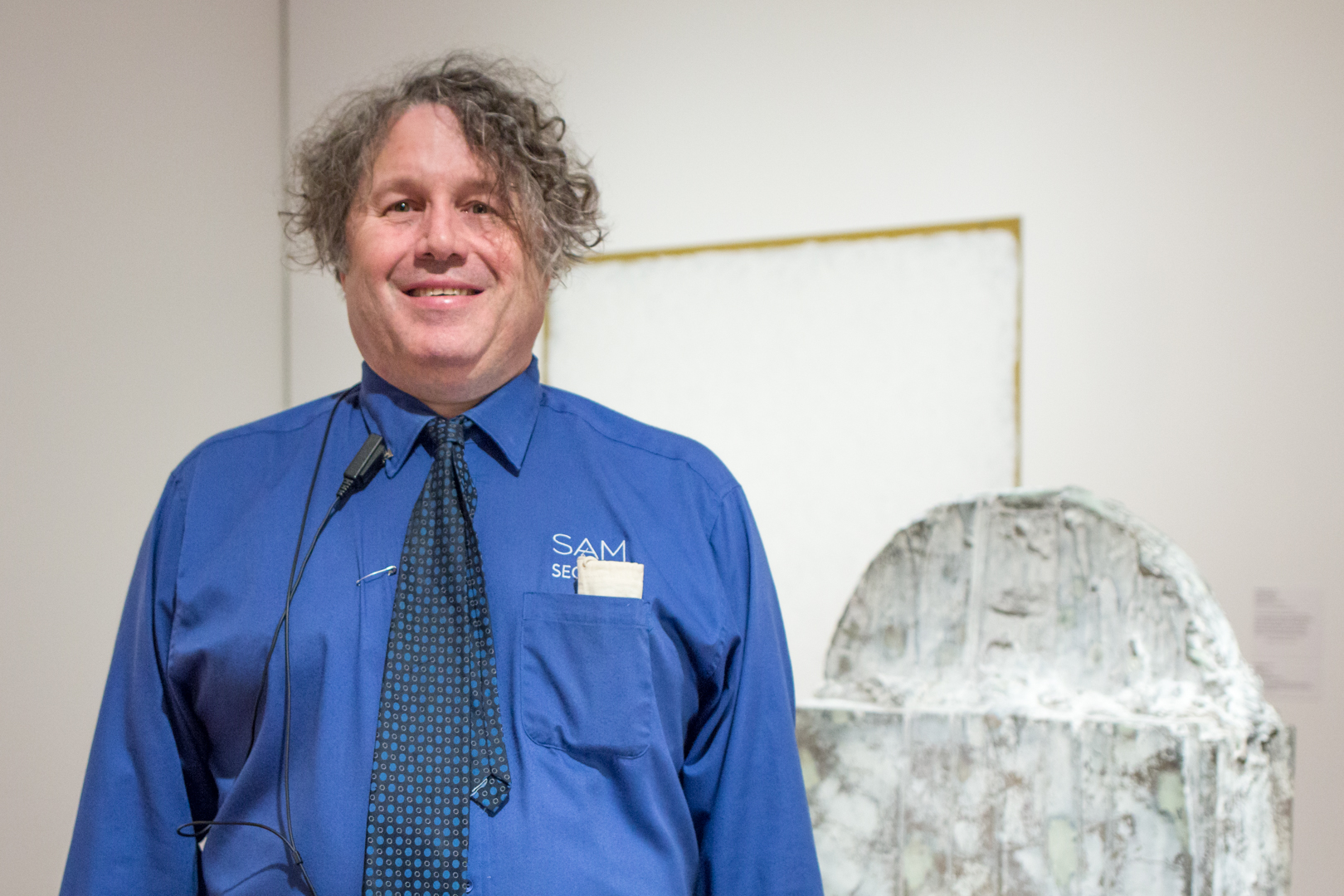 Originally from Baton Rouge, Louisiana, John Jung-Simard moved to Seattle in 1984. He received his bachelor degree in French from University of Washington and his masters in theology from Seattle University. He worked in a variety of settings including pubic health research and a library shipping warehouse before coming to SAM in 1997. Although there was a period in 2001 when John took on another job, he eventually came back to SAM, where he considers the job similar to being part of a family.
SAM: In the Brotman Forum, John Grade: Middle Fork has been on display since February. What stands out to you about this new addition?
John: John Grade's Middle Fork sculpture is so large, it's amazing it got completed. It's the teamwork involved that amazes me the most.
What is your favorite piece of art currently on display at SAM?
Among many others, the Asante gold pieces on the 4th floor could be my favorites. They might seem inconsequential, but they're actually prized possessions in that culture. I love so-called emphera, and these works could be seen that way. They are pristine and lovely. The Soul Washer's Discs are really great.
Who is your favorite artist?
I love Cy Twombly. There's a whole museum dedicated to him in Houston. His paintings look like children's doodling, or graffiti, but I find it very moving: it's like ancient scribbling on a wall from some obscure place.
What advice can you offer to guests visiting SAM?
Take it slow. Unless you're here for a specific show, just go with the flow. That will help you find unexpected gems.
Tell us more about you! When you're not at SAM, what do you spend your time doing?
I'm not a practicing artist, but I love art, old & foreign films, off-kilter music, and reading. I love animals, and often say hello to them, even when I'm driving in my car.
–Katherine Humphreys, SAM Visitor Services Officer
Photo: Natali Wiseman.