Seeing Nature through The Eyes of Curators: The Grand Canyon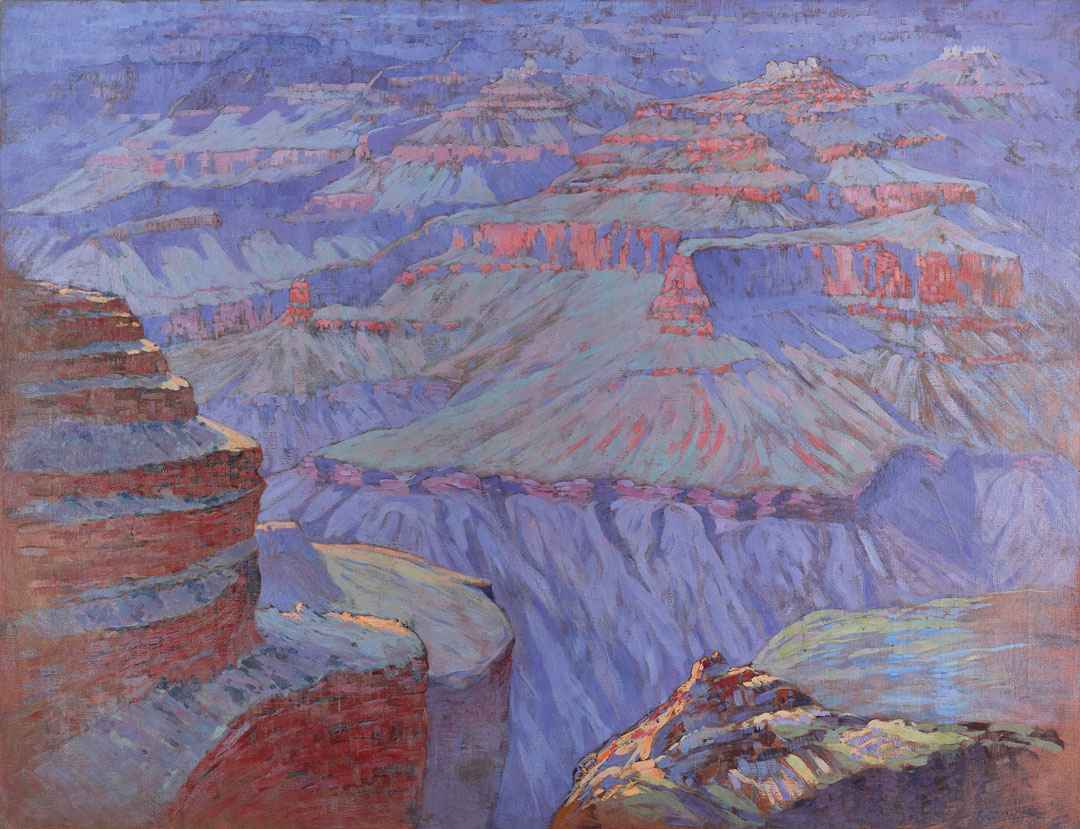 The first time I saw Cosmic Cities, I found it hard to believe that the Arthur Wesley Dow who I was familiar with could paint so large and boldly. This is what the Grand Canyon did for him. Dow was famous as a teacher at Columbia Teachers College. He developed a course of composition study based on Japanese prints, on filling the page or canvas through flat patterns and linear rhythms. This is what he taught to people like Georgia O'Keeffe, a new modern way of looking. In his own practice, he created beautiful little wood cut prints and tiny paintings done in the landscape around his Massachusetts home. But when he went west it changed him completely.
When Arthur Wesley Dow got to the Grand Canyon, he said it compelled him to think about pictures in three different ways. One was color, because the sedimentary rock, sand, and shell shimmered, changing colors all day long and giving a glittery quality to the atmosphere and the surfaces. He said the immersive experience of the Grand Canyon made him think differently about the structures of pictures—he loved that disorienting quality, the feeling that we have no footing, that we might tumble into the scene. He also said he saw nature's innate architecture. In Cosmic Cities, this strange architecture looks like it could have come from some ancient builders, but it is the product of nature itself. This painting was commented on by critiques as a great breakthrough for American painting at this time in 1912. Because of its large scale and its all-over, painterly color pattern, it doesn't look like a Victorian-era painting—it looks like it could have been painted today.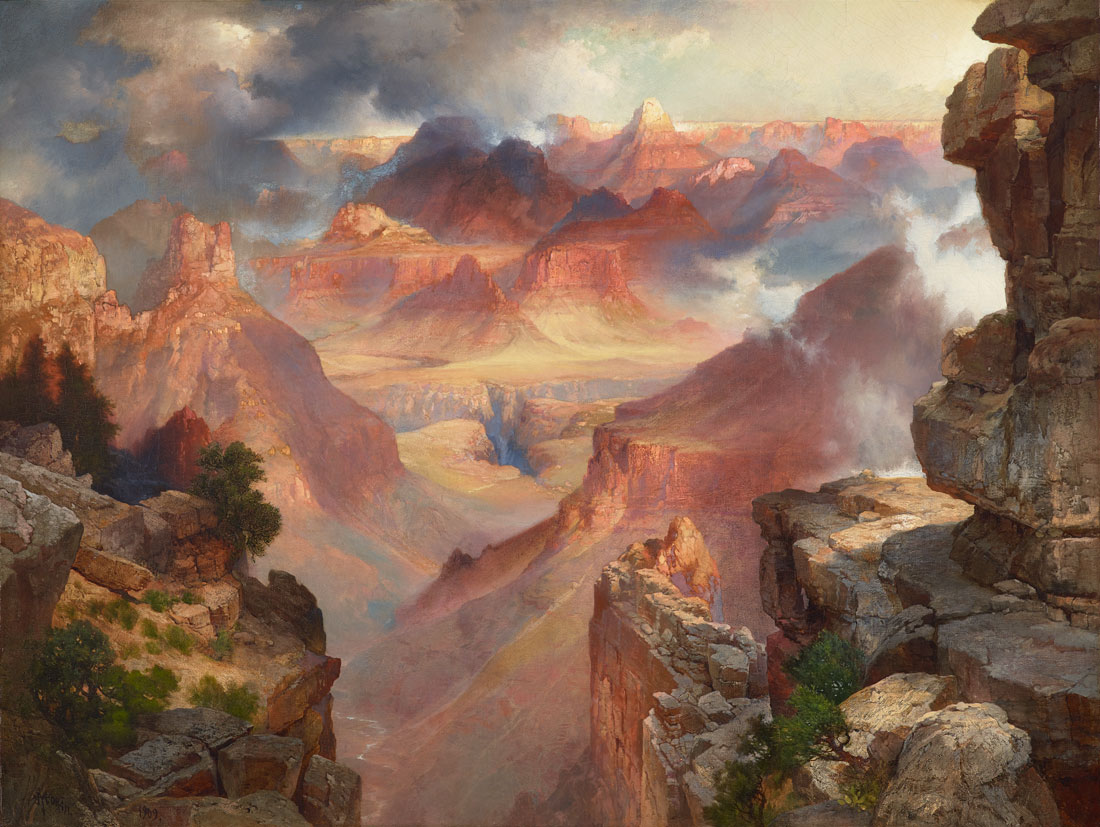 Dow went to the Grand Canyon because he saw paintings like Thomas Moran's Grand Canyon, also in the Allen collection. Moran visited the Grand Canyon repeatedly. His trips were paid for by the Santa Fe Railroad and the Fred Harvey Hotel. The Santa Fe Railroad extended its tracks right up to the south rim of the Grand Canyon and built the famous Fred Harvey Hotel there. It was a tourist destination for a long time before Theodore Roosevelt designated the Grand Canyon a national monument in 1908. When you look out across the vast space, you see the horizon in the Moran painting, and so you get a sense of firm grounding, and of deep landscape. It's a very different effect from Dow's boundless, dizzying place.
–Patricia Junker, Ann M. Barwick Curator of American Art

I don't know how many of you have been to the Grand Canyon, but the drama of the Grand Canyon is just extraordinary. When you stand on the rim of the Grand Canyon you can hardly ever see straight down to the Colorado River because it is so deep. What you see is this texture of different planes that unfold in front of you. I have this idea that Dow painted the Grand Canyon at sunrise because once I got up at four in the morning to see the sunrise over the Grand Canyon and the lavender tones start coming out. In David Hockney's Grand Canyon, on the other hand, I see sunset colors because that's when there are intense orange and yellows. You can't believe how much purple there can be in a rock! Of course, Hockney exaggerates since these are not natural colors.
A British artist who spends a lot of time in Los Angeles and travels to the Grand Canyon, David Hockney did some work designing stage sets. I think that's especially pronounced in his Grand Canyon. He uses these small squares of canvas corresponding to photographs he took at the Grand Canyon. Initially he planned a photographic series. He took all these photographs, taped them together, and then decided the photographic representation wasn't successful. So he painted the Grand Canyon in three different versions. This one is called The Grand Canyon and conceptually, if you think of stage design, the purple form would be one slice that you roll onto stage and the yellow form could be another. There's a way in which he was learning from his experience in stagecraft for the composition of this scene. The stroke of genius here, that tiny sliver of sky—which when you're standing there, would instead feel enormous—puts so much pressure on the entire composition. It's really an extraordinary painting.
–Catharina Manchanda, Jon and Mary Shirley Curator of Modern and Contemporary Art
Bring your own experience of the Grand Canyon to Seeing Nature: Landscape Masterworks from the Paul G. Allen Family Collection and compare it to three wildly divergent depictions of this natural wonder. Seeing Nature presents 39 exquisite, highly detailed paintings as a platform for visitors to consider their own experience with the world through sight, touch, smell, sound, and taste. On view through May 23, don't miss it!
Images: Cosmic Cities, Grand Canyon of Arizona, 1912, Arthur Wesley Dow, American, 1857-1922, oil on canvas, 61 x 79 in., Paul G. Allen Family Collection.
Grand Canyon of Arizona at Sunset, 1909, Thomas Moran, American, born England, 1837–1926, oil on canvas, 30 x 40 in., Paul G. Allen Family Collection. David Hockney, British, b. 1937, The Grand Canyon, 1998, oil on canvas, 48 ½ x 14 ft. 1 in. overall, Paul G. Allen Family Collection, © David Hockney.