It's On! Seattle Art Museum (SAM) and Denver Art Museum (DAM) are betting big on Super Bowl XLVIII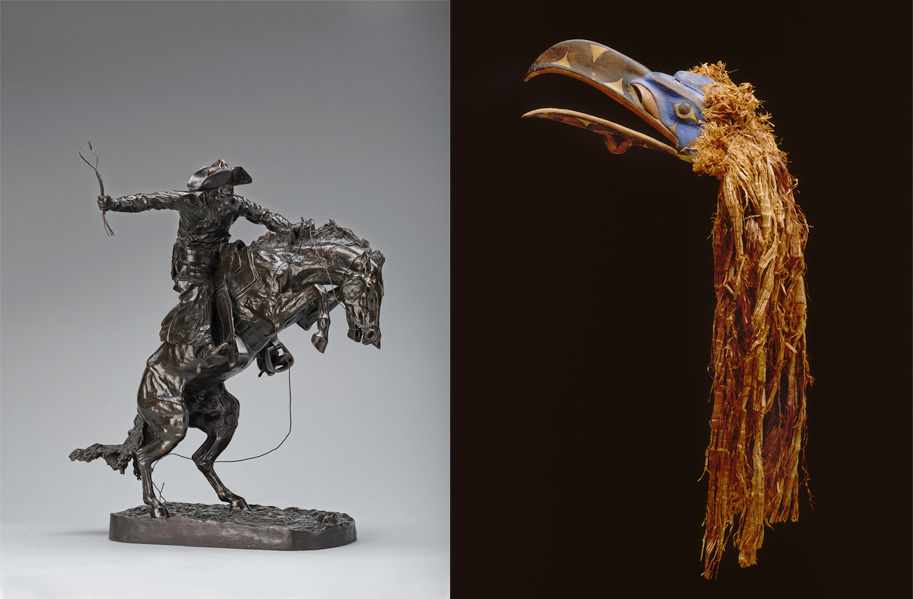 The Super Bowl is a mere six days away (February 2, 3:30 pm PST on FOX). Not only is the 12th man gearing up, but so is the Seattle Art Museum. SAM and the Denver Art Museum (DAM) (everyone likes a rhyming competition, right?) have upped the ante on the outcome of Super Bowl XLVIII by betting temporary loans of major works of art on Sunday's big game.
The Stakes:
A majestic Native American mask, reminiscent of a mighty "Seahawk" from SAM's renowned Northwest Coast Native American art collection, is wagered by Kimerly Rorschach, SAM's Illsley Ball Nordstrom Director and CEO.
The Broncho Buster, a bronze icon of the West by Frederic Remington from the renowned western American art collection at the DAM, is wagered by Christoph Heinrich, Frederick and Jan Mayer Director.
The winning city will receive a three-month loan of the prized artwork. All shipping and expenses will be paid by the city that loses the big game. Dates of the loan are still being finalized.
Here at SAM we are looking forward to showcasing the Broncho Buster. Our visitors will be in for a special treat when they gaze upon the beautiful bronze horse symbolizing the spirit and tenacity of the Wild West. Popular from the time of its creation, The Broncho Buster stands today as an icon of the region and is thought of as the first action bronze of a western hero.
Just for the record, SAM's "Seahawk" is a Forehead Mask from the Nuxalk First Nation ca. 1880. This Nuxalk mask shows the elegant elongation of the bird beak, a sensitive and human-like rendering of the eye/socket/brow area, with painted embellishments on the surface in black, red and blue. The open mouth suggests the ferocity of this bird of prey, possibly a supernatural "man-eater". Shredded red cedar bark symbolizes the mythical arena in which the dance-dramas would be enacted.
…It's too bad that visitors to DAM won't be able to experience it there, but they can always come visit SAM.
GO HAWKS!
Image credits: Forehead Mask, Nuxalk, ca. 1880, Alder, red cedar bark, copper, pins, paint, 4 1/8 x 11 3/8 x 5 1/8 inches, Gift of John H. Hauberg 91.1.71. Frederic Remington, The Broncho Buster, Modeled 1895, cast by 1902, Bronze; 23-1/4 in., Denver Art Museum; The Roath Collection.