This Time Drawing on the Walls is Allowed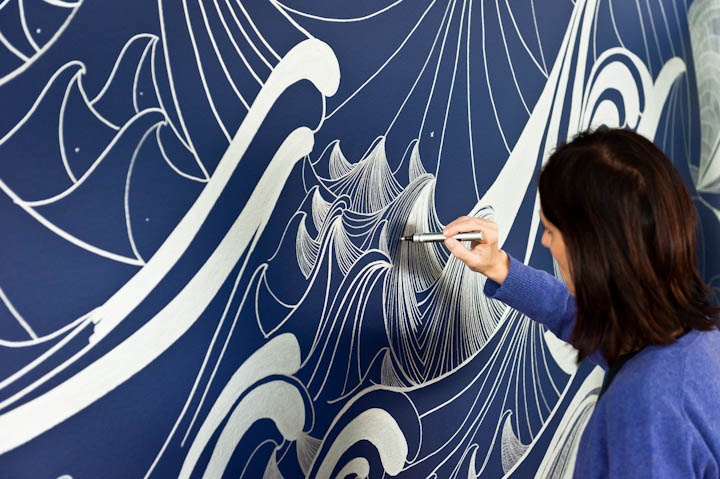 Brazilian artist Sandra Cinto is bringing a literal sea change to the Olympic Sculpture Park.
At the beginning of April, Cinto and two assistants started work on a site-specific installation titled  Encontro das Águas (Encounter of Waters), an expansive wall drawing in the park's PACCAR Pavilion. In addition to her two assistants, Sandra wanted to involve people from SAM's community, so 20 volunteers and three SAM preparators have helped complete the piece.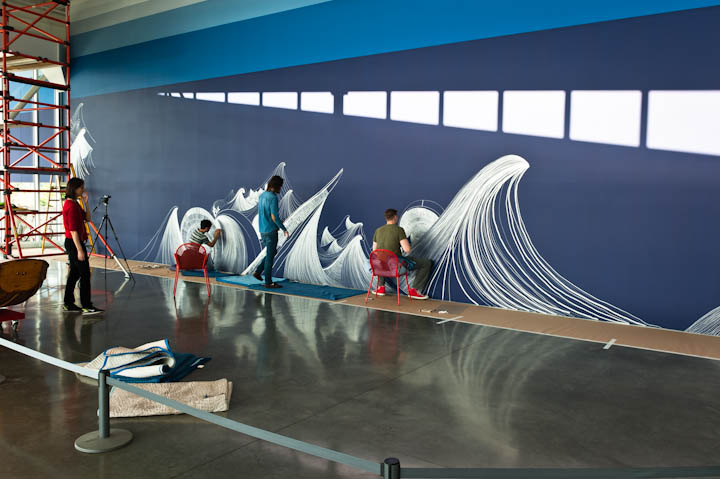 Here is more detail on the installation from Marisa C. Sánchez, SAM's Associate Curator of Modern & Contemporary Art:
The Seattle Art Museum unveils Brazilian born, São Paulo–based artist Sandra Cinto's site-specific installation for the Olympic Sculpture Park's PACCAR Pavilion. Influenced by artists as diverse as Sol LeWitt and Regina Silveira, and the woodblock prints of Japanese artists including Katsushika Hokusai, Cinto's Encontro das Águas (Encounter of Waters) includes an intricate wall drawing, whose ambitious proportions convey a mesmerizing view of an expansive waterscape. Through humble materials—including blue paint and a silver paint pen—Cinto works directly on the wall and transforms a single line, repeated at different angles and lengths, into a titanic image of water that expresses both renewal and risk. As a counterpoint to this unbridled seascape, Cinto incorporates stories about individuals who were rescued at sea, to show the endurance of the human spirit in difficult circumstances.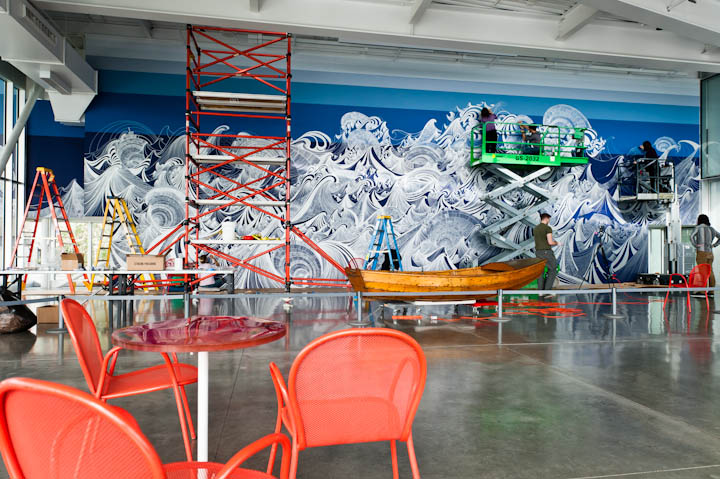 Cinto's work has been shown internationally, including Argentina, France, Portugal, Spain and the United States. She was included in the XXIV Bienal Internacional de São Paulo, in 1998; Elysian Fields, a group show at the Centre Georges Pompidou, Paris, in 2000; TRANSactions: Contemporary Latin American and Latino Art, High Museum of Art, Atlanta, Georgia, in 2007–08; and the second Trienal Poli/Gráfica de San Juan: Latin America and the Caribbean, San Juan, Puerto Rico, in 2009; among other solo and group shows. She is represented by Casa Triângulo Gallery, São Paulo, Brazil, and Tanya Bonakdar Gallery, New York.
Encontro das Águas will be on view at the Olympic Sculpture Park's PACCAR Pavilion April 14, 2012 to April 14, 2013.
-Madeline Moy, Digital Media Manager
Photo Credit: Robert Wade