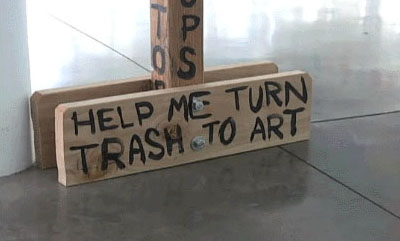 Time is running out to bring your collection of lids in to the Olympic Sculpture Park!
In Trenton Doyle Hancock's wildly fictitious narrative, color is the source of salvation to a race of creatures who are seeking spiritual nourishment. For his installation, A Better Promise, Hancock playfully encourages you to pour color into his work by bringing plastic tops in all colors. The plastic caps add a whole spectrum of light into the installation and, for Hancock they "are in a way the surrogates for the color salvation." As the artist has said, this installation "has to do with hope, color, connecting with people, connecting with community." And you all have shown that he's definitely connected with this community.
Sarah, who works at SAM Shop at the Olympic Sculpture Park, says that there are numerous families who come in with lids they have collected, some of whom she has gotten to know because they come in so often.  Maybe you're one of those regulars. If so, and if you've got a collection of lids going for A Better Promise in answer to Hancock's "call to color", your last chance to bring them in and deposit them before the installation closes is Sunday, March 4.
All of the bottle caps will be packed up and shipped down to Hancock's studio in Houston, Texas. Hancock imagines the bottle tops will play a major role in a future sculpture in Houston. Since 1999, he has been developing drawings of his "miracle machines" as freestanding sculptures. These contraptions would be receptacles for the plastic tops (or "the goods" as he refers to them) to be funneled through and contained within.
Not sure what to do with your lids after March 4? Well, if you live within the city of Seattle:
Clean plastic and cardboard lids larger than 3 inches can be recycled
All lids with a diameter smaller than 3 inches go into the trash
All metal lids go into the trash
That is of course, unless you have been inspired to create art with these tiny bits of plastic too!
If you live outside of Seattle Public Utility waste management jurisdiction please check with your local waste agency for instructions on what is recyclable and what is not in your area.
Liz Stone, Digital Media Support Specialist