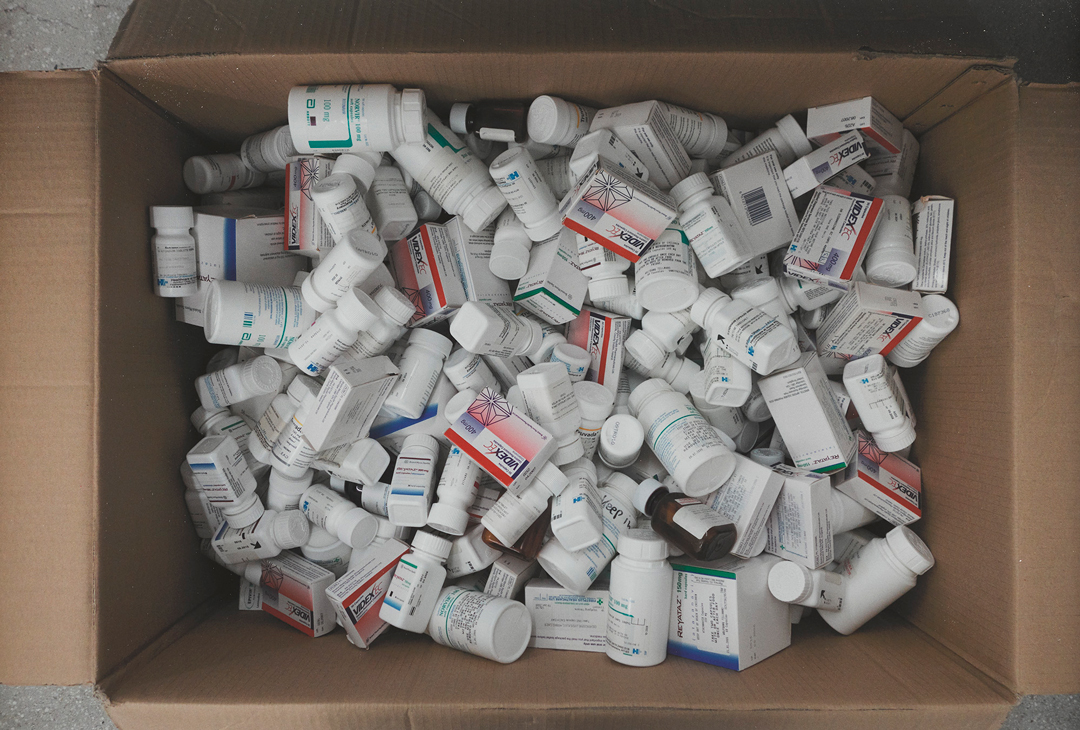 In 2016 the SAM docents—a rockin' group of volunteers that plays a huge part in sharing our collection—donated funds for the museum to acquire a new artwork. Their collaborative effort raising the funds found a very fitting consummation in the acquisition of Wolfgang Tillmans' 2014 photograph 17 years' supply, an image that projects togetherness and interconnectedness, especially in the face of trials.
Tillmans has achieved international recognition for his innovative and thoughtful photography. Central to the artist's work are his interest in the formal structure of photography and his desire for intimacy, what he calls "the very being-in-this-worldness with others, and the desire to be intensely connected to other people."¹ He is a gay man whose attachment to the LGBTQ community has surfaced at various times in his work, in overt and in quieter references. Tillmans doesn't aim to document subcultures with his images, nor does he hope that his photography will be read as a diary, directly expressive of his personal life. 17 years' supply, however, is a work that challenges both those intentions.
Powerful symbolism informs both the choice of subject and the straightforward title. A cardboard box frames the image in humble terms. Inside lies a jumbled assortment of bottles and boxes of medical prescriptions that once contained treatments for HIV, and some of them bear Tillmans' name (he is, himself, living with HIV). The artist took this photograph in 2014, the 17th anniversary of the death of his partner, Jochen Klein, who fell sick with AIDS-related pneumonia and never recovered. Here, Tillmans staged, and recorded, a visualization of his defense against the same sickness that took his partner 17 years prior.
In a published interview with New York artist Peter Halley, Tillmans reflects on the role HIV/AIDS has played in his life and work:
Tillmans: All my work has been made with the knowledge of possible death, because since 1983 I've had an acute awareness that this disease, AIDS, affects me. In 1985, after my first few sexual encounters, when I was seventeen, I had this big AIDS fear. That's actually crazy, when you think of a seventeen-year-old schoolboy lying in bed thinking he's going to die.

Halley: I don't think it's that crazy. It happened. It was real and a lot of people did get sick and die.

Tillmans: The threat of AIDS has been with me for all my active sexual life, and so all the celebration and the joy and the lightness in my work has always taken place with that reality on board.

Halley: In other words, if life is fragile one needs to celebrate and appreciate it more?

Tillmans: Yes—well maybe that's too much of a statement. You could take away the 'if', because life is fragile, and you have to celebrate it and enjoy it and not despair over the fact that it's fragile because it just is. And that's why I don't despair; that's why I'm optimistic, because it doesn't only affect me—it affects us all. It just brings us all together again in the sense that that's part of the deal. We're all equally mortal.²
I'm deeply moved by Tillmans' optimistic perspective. Each of us knows our end, and the end is the same for each of us. Loving others well and enjoying life in the meantime is something each of us gets to choose—or not choose.
After winning the prestigious Turner Prize in 2000—becoming the first non-British artist to receive the award—Tillmans designed a related exhibition catalogue that was essentially a comprehensive visual index of his published work to date. To his show and catalogue he gave the title If one thing matters, everything matters. I would add to Tillmans' proclamation: If one person matters, everyone matters. Our togetherness in the fragility of life is part of what makes us human. So is our need to share its joys. Wishing everyone a sense of closeness and celebration!
—Jeffrey Carlson, SAM Collections Coordinator
Image: 17 years' supply, 2014, Wolfgang Tillmans (German, b. 1968), Inkjet print on paper, 12 x 16 in. Seattle Art Museum, Gift of the Seattle Art Museum Docents, 2016.18
¹Wolfgang Tillmans, interview with Nathan Kernan, published in Wolfgang Tillmans: View from Above, Ostfildern-Ruit: Hatje Cantz, 2001; 11.
²Wolfgang Tillmans, interview with Peter Halley, published in Wolfgang Tillmans, New York: Phaidon, 2014; 22.