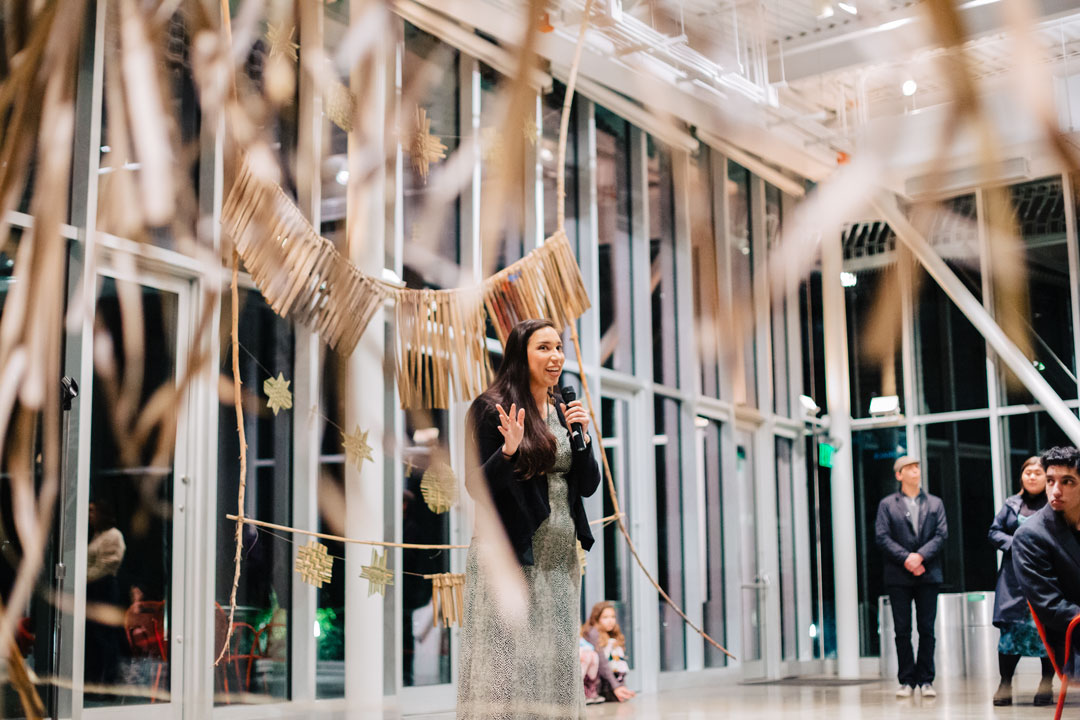 Your next chance to experience the Olympic Sculpture Park through the Indigenous lens of SAM's winter resident is tonight, February 27 from 7 to 9 pm! Architectural designer and artist Kimberly Deriana (Mandan/Hidatsa) has spent the last two months working in the park researching, offering workshops, and constructing a temporary installation. Deriana has used her residency as a space for sharing Indigenous knowledge surrounding the many uses of cattail materials. The temporary cattail and cedar structure she has created is a space where everyone is invited to gather and experience cultural celebration. The event will include performances by Aiyanna Jade Stitt and Hailey Tayathy, and storytelling and song by Kayla Guyett and Paige Pettibon.
Kimberly Deriana specializes in sustainable, environmental Indigenous architecture, housing, and planning. Deriana's methodologies focus on incorporating Indigenous lifestyle practices in relation to past, present, and future, designing for the 7 generations. We sat down with her to learn a little more about her experience as SAM's artist in residence and to learn more about her creative process.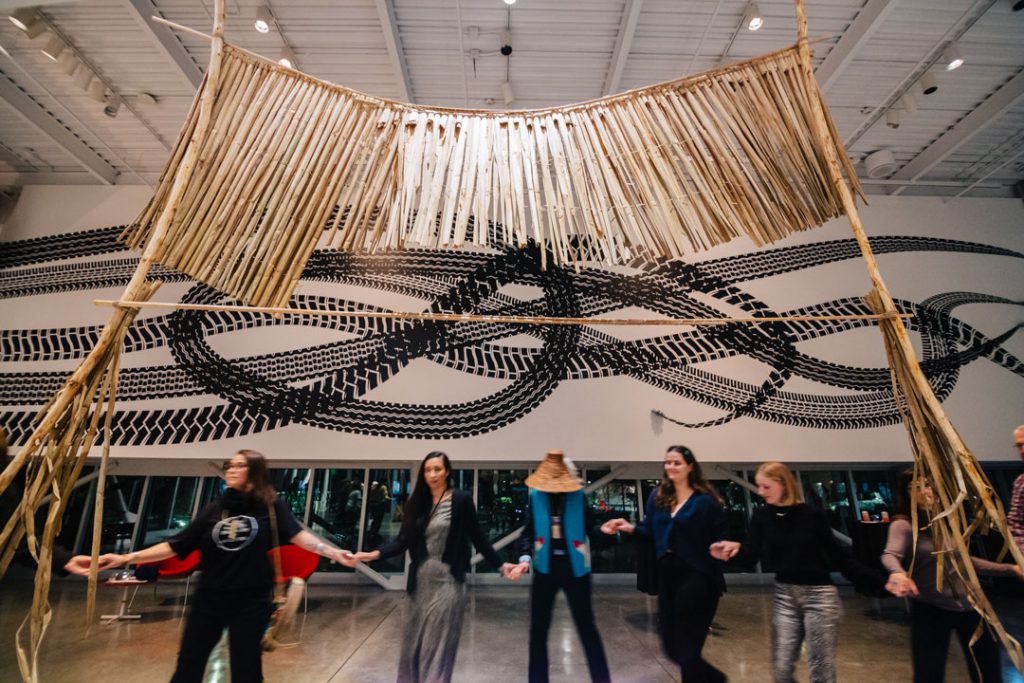 SAM: What goals do you have for your residency at the Olympic Sculpture Park? 
KIMBERLY DERIANA: I want to activate the park through an Indigenous lens. As an architect designer and somebody who loves urban design, I've been drawn to this park since I first moved here. Part of creating visibility is bringing other people along in the process and giving them opportunities, too. I really try to include people and families who have been doing this work for years while giving new urban Native people outlets in every project on which I work.
This residency is a learning opportunity for me; the way I enjoy learning is to involve others. It's about the way we learn as a community, the way we make as a community, and the way we approach being in the world and sustainability. When you're gathering cattails, there's an appropriate time to gather and there are appropriate places to gather. Learning all of that protocol has been really eye-opening. Because I grew up as an urban Native and wasn't always shown those protocols, I try to make a conscious effort to create space and time for the protocol knowledge as an adult.
Tell us about the workshops and youth that you worked with to include Indigenous communities.
I've always done art and design but being in the art scene is a new space for me; I wanted to explore the co-creation process. Sharing resources is an important component of the process, I believe. This space has a very educational, institutional vibe and it lends itself to the scope needed for community workshops. The scale of the work required to enliven the space needs many hands. The piece itself is practice and healing work.
The collaborators and I were here most weekends in January and February. Since we are on Suquamish and Duwamish traditional lands, one weekend we had Indigenous teachers from Suquamish. These amazing women who are educators for and from their community—Tina, Jackson, and Kippy Joe— and the amount of information and knowledge that they share in four hours is just indescribable. You can't get that on YouTube or from a professor. You have to experience their oral teachings to begin to understand the richness and depth of the knowledge.
We had three Indigenous youth that day, and then we had a couple visitors just stop by who were interested in what we were doing. We had time to teach them and they got to learn. Every weekend I've had at least one Indigenous teen come in and help work with us through a partnership with yəhaw̓.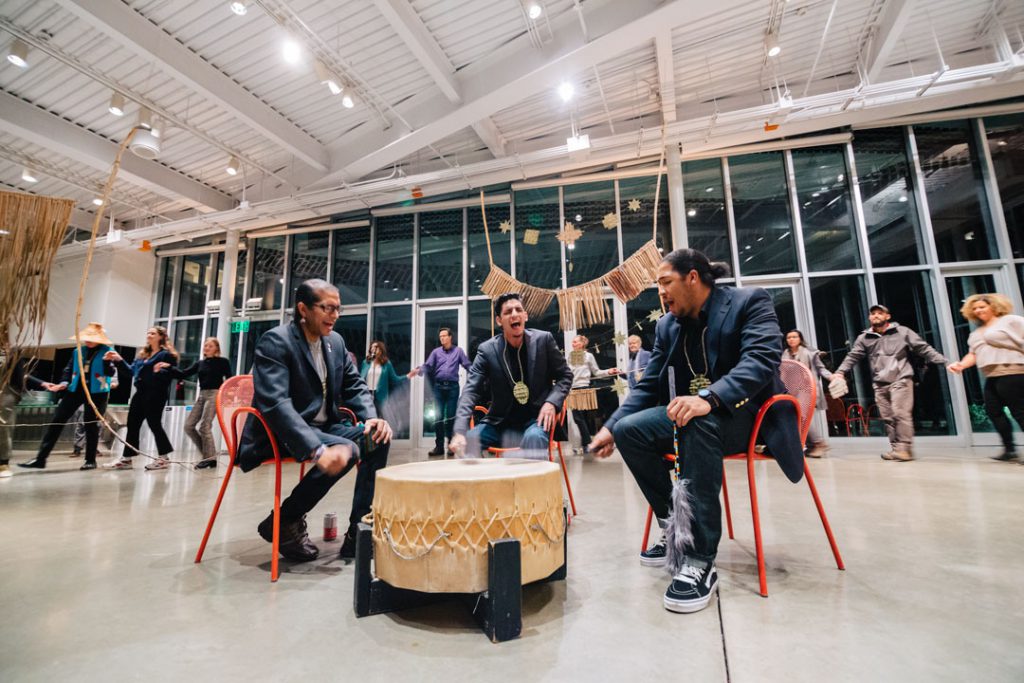 What are some of the historical uses of cattail mats?
In this region, mats were traditionally used as sheathing for summer structures. Mats are used all over the world, globally and indigenously for different surfaces. In the Plateau, Plains, Woodlands, and Southeast regions, mats are used for protection and warmth on their architectural structures.
Cattails have a multitude of uses. They protect us. When they're just in the ground they clean the water and remove toxins. They can be food; they can be shelter; they can be water. When gathering cattails in the right spots, their uses extend beyond those listed so that one can understand the sustainability that the plant provides. Plant knowledge leads to understanding sustainability; sustainability leads to healing; healing leads to understanding their sacredness. I want everyone to know this.
I'm trying to make paper with cattails because I think that's a more respectful use of them since they were gathered in the late fall season. I am super excited to do more scientific research on the sustainability of cattails, learning more traditional knowledge about them, and weaving. I realize you can approach a project and commit to working with a material, but then all these other sacred teachings come up, such as how to work with other materials and plants. It's not homogenous when we're learning about our plant relatives.
Why have some of the cattails been cut and others left long and uneven?
As I started the process of creating this temporary installation with cattails some teachers said it was okay to gather now. When we made some mats, I knew they were not ideal materials and then, in the middle of the month, I learned that you should gather cattails at the end of summer for making mats. For this reason, some of the mats are trimmed and others are raggedy, in order to reveal the imperfection of the process. I like to break things apart until they become abstract, so that even though I'm using really traditional materials, the way I use them means you can't necessarily tell what it is. For example, maybe your eye reads it as hair or as a bone or antlers. The raggedy mats—having them be more than one thing–helped convey that abstract concept. I think that process was kind of successful.
My architectural background makes me interested in exploring this building and wall system and I started to research and dissect like I normally do for a project. In architecture, you're always researching and then drawing your theory. In art, you're fabricating your theory. That's when all this new information appeared to me. When you start to source your material and put it together, like, "This is why you have to harvest at a certain time and why you have to know where to gather and to get the reeds that are a certain height." There are just all these little steps that make the process more efficient and that our ancestors knew and had good engineering minds for. I'm still doing it by trial and error and trying to find mentors.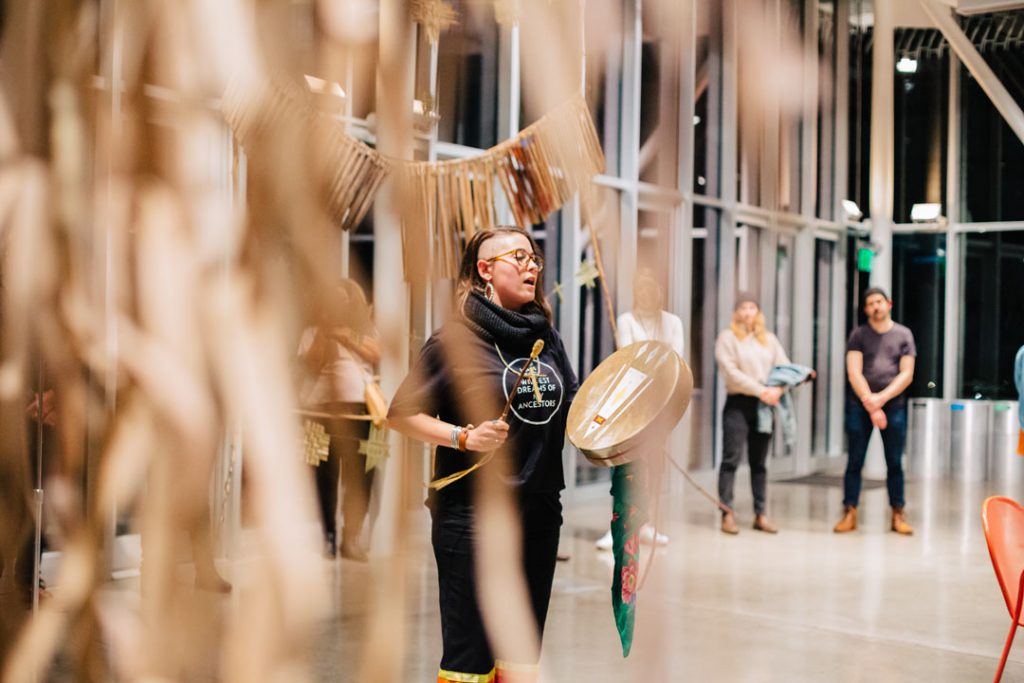 The description of the temporary installation mentions that the structure is a portal for healing. How is this present in the work that is in the PACCAR Pavilion?
The sculpture forms a circular arbor and basket-like space. It incorporates some of the knowledge of the medicine wheel into the directions of the space and the layout. The teachings of the medicine wheel helps to orient our bodies with the land, plants and animals, nature and natural forces. In Plains tribes, you enter from the East like the sunrise. Here, in the West, a lot of structures face the water. All of the weavings that we made with Tina and Kippy are on that side and create filtered views to the water as much as possible since the water is so special. The North can reference the future, moving on, and death in some ways, too. The northern, open view gives people the opportunity to see that beautiful view of the park. The cattail threshold symbolizes a doorway into the future. A sustainable future holds the promise of healing.
– Chelsea Werner-Jatzke, SAM's Content Strategist & Social Media Manager
Photos: Jen Au