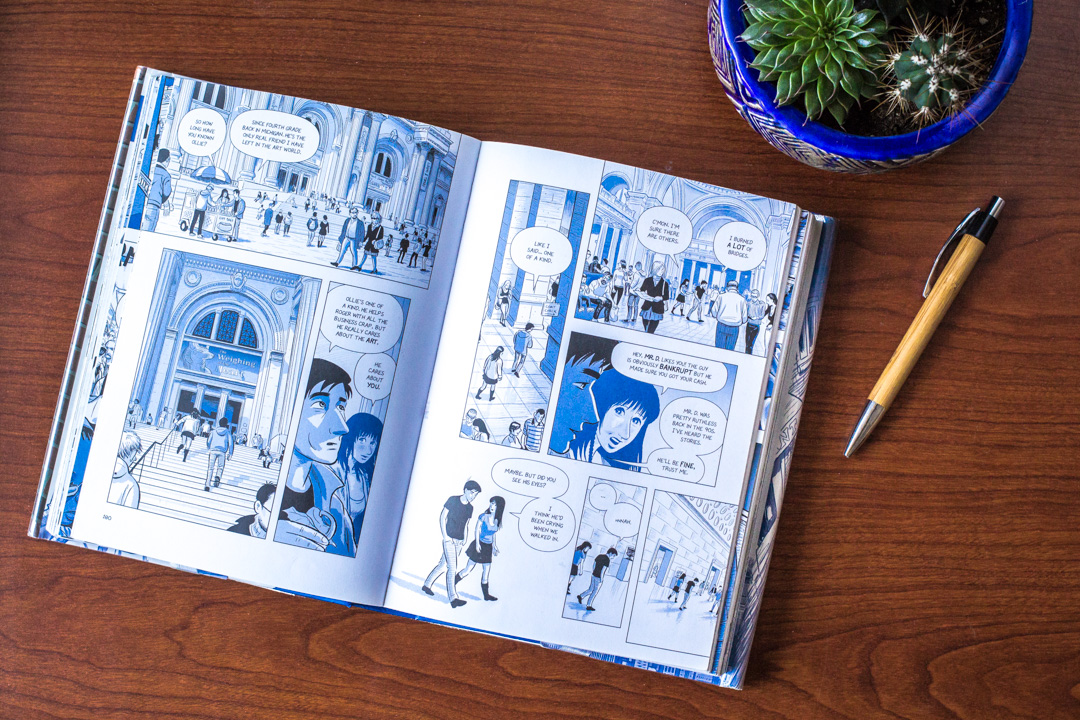 Welcome back to SAM Book Club! Today we're here to discuss Scott McCloud's graphic novel, The Sculptor.
The premise of this book had me intrigued: sculptor David Smith (no, not that David Smith) is struggling. His work isn't selling, he's having a major creative roadblock, he's burnt all of his bridges, and he's behind on rent—an almost literal starving artist. Desperate to gain recognition for his work, he makes a deal with Death (disguised, in a detail I loved, as his deceased great-uncle) to be able to mold any material with his hands into anything he can imagine. The catch is that David will die after just 200 days, a trade-off he is immediately willing to make—until he falls in love shortly after making the deal. Cue existential crisis.
I will admit that there were some things about this book that didn't work for me. I could've gone for a bit more irony and a bit less angst, and a whole lot less self-pitying from David. And as for his love-interest, Meg—to me, she was more clichéd fantasy than well-rounded character. A Manic Pixie Dream Girl who descends from the heavens like an angel (literally) to dedicate her life (and death) to helping our male hero get over himself, realize his full potential, and live a happy remainder of his life. It's a tale as old as time, and one that frankly bores me to tears.
But the central question still hooked me: what would you sacrifice for your work? At a much smaller and, let's say, less permanent scale, we all make those decisions all the time. We trade off time with family and loved ones for time in the studio, or in rehearsal, or with an unfinished manuscript, or with whatever that work that gets you out of bed happens to be. And we do it gladly, because the work is worth it. But when does it stop being worth it? How much is too much to give? We've all been there, making those hard choices.
What really interested me about David's trade-off was not the extremity of it, but the fact that even the ultimate sacrifice was not enough for him. David doesn't only want to have the skills and room to make his art: he wants to be recognized for it, to be celebrated and immortalized. He makes a massive group of stone sculptures practically overnight—an incredible feat—and is devastated when they are not well-received by his gallerist friend. He achieves some anonymous, Banksy-like fame for his street sculptures, but is only truly happy with them when he learns they're selling for half a million dollars. He learns towards the end of his 200 days that a collector has been trying to contact him to buy his work, and he laments "all those wasted days." But were those days really wasted? Only if the goal is the final sale, the external recognition of talent. But if the goal is the process and act of making art, then that time doing the work is not ill-spent.
Ultimately, the most satisfying part of The Sculptor for me was the artwork itself. McCloud literally wrote the book on comics, and is clearly a master of the medium. The graphic novels that resonate most with me are the ones that use artwork to tell stories that words just can't touch: the indescribable horrors of genocide in Art Spiegelman's Maus; the terror and banality of a tumultuous adolescence in Marjane Satrapi's Persepolis; or the infinite history of a single corner of the earth, as in Richard McGuire's Here. The Sculptor had many such moments for me, but the one that stands out the most was the beautiful and complex multi-page spread in which we see David's life flash before his eyes, milliseconds before his death. The ability to both compress and stretch time onto a single page, to relay all the mundane joys and sorrows of a single life, to paint a full narrative without using a single word—that is a gift worth sacrificing for.
—
What did you think of The Sculptor? Tell us in the comments, and stay tuned for the announcement of next quarter's book!
—Carrie Dedon, Curatorial Assistant, Modern & Contemporary Art
Photo: Natali Wiseman.