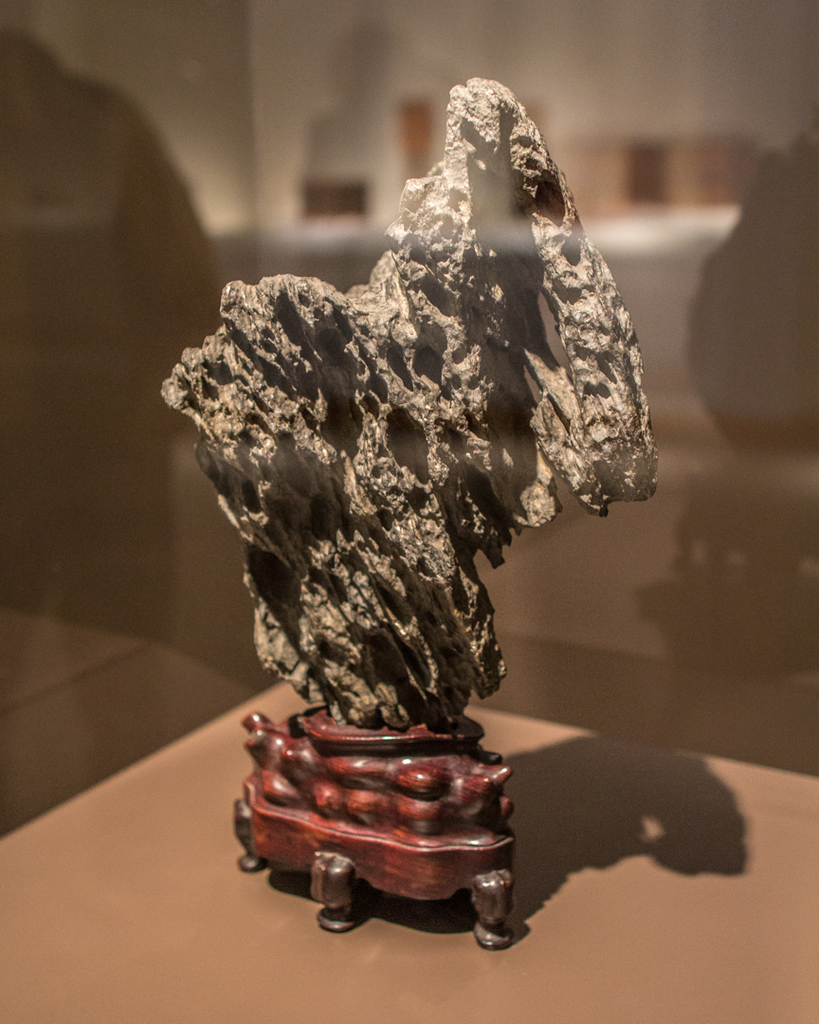 Wander into a Chinese scholar's studio at the Seattle Art Museum to find treasures like a masterfully carved brush pot and a tiny cage to house a lucky cricket. This display of Pure Amusements brings together objects and furnishings collected by scholars as a display of learning, a claim to social status, and an inspiration for reflective thinking.
The Qing period Scholar's rock on stand, a craggy piece of limestone mounted to a carved wooden base, rewards our contemplation, too. Interesting examples of the scholarly collecting impulse, scholars' rocks were "favored stones that the Chinese literati and their followers displayed and appreciated indoors, in the rarefied atmosphere of their studios."¹
A very human desire lies at the heart of this tradition. Who, as a kid, does not build their own killer rock collection? In China, too, people have been gathering rocks for a long time. The Chinese practice of decorating gardens with rocks was in place by the Han dynasty (206 B.C.–A.D. 220). The specific tradition of the scholar's rock has been traced back to the Song dynasty (960–1279), and it continued through the Yuan (1279–1368), Ming (1368-1644), and Qing (1644–1911) periods.
Before the 20th century collectors referred to them in terms that mean "fantastic rocks." The type of rock, as well as its texture, form, and color, were all important elements for the collector to consider. Different rocks were most treasured at different moments in history, so the look of these rocks has allowed new scholarship to date them, and also to think about changing tastes in collecting over time. Generally, the darker the color, the more prized the scholar's rock: black and slate grey were at the top. Limestone came first among rock types not only for its look but also for its sound. Due to its density, it would ring like a bell when struck.²
Scholars' rocks were used in several senses of the word. Functionally, they might serve as brushrests, inkstones, or censers. But their primary function was to inspire. The form of the rock suggested a mountainous landscape, and like a landscape painting, a scholar's rock acted as a microcosm of the universe—a small piece of an infinite, natural puzzle—an object on which to meditate and to gain cosmic perspective.³ They would be displayed indoors on a desk, on a table or bookshelf, or perhaps on the floor if they were especially large. Traditionally, a scholar displayed his choice rock on a finely carved wooden stand, both to support the irregular form, and to designate the rock as a special item, like a piece of sculpture.
And sculpted they were. Once chosen from nature, scholars' rocks were frequently carved, weathered, and burnished to suit their owner's aesthetic. Collecting a scholar's rock involved both selection—the finest rock would inherently resemble a painting by the powers of nature—and manipulation—as the scholar imprinted their aesthetic onto the rock form by carving or treating it in some way. There is a fascinating give-and-take here, a loop of influence whose beginning and end is hard to identify. As much as the natural forms of rock, and the mountainscapes they represented, informed styles of scholarly painting, the Chinese literati also made natural rock conform to their vision of a painterly landscape, molding it into their idea of beauty.
I'm reminded of David B. Williams's reflection in Too High and Too Steep, his account of man-made changes to Seattle's topography: "We shape the land, and the land shapes us."⁴
—Jeffrey Carlson, SAM Collections Coordinator
Image: Scholar's rock on stand, Chinese, Qing period (1644-1912), limestone, 15 ¾ x 8 ¼ in. Seattle Art Museum, Gift of Frank D. Stout, 92.47.326
¹Robert D. Mowry, "Chinese Scholars' Rocks: An Overview," in Worlds Within Worlds: The Richard Rosenblum Collection of Chinese Scholars' Rocks. Exh. Cat. Cambridge, Mass.: Harvard University Art Museums, 1997; 19.
²Mowry, "Chinese Scholars' Rocks," 20.
³Mowry, "Chinese Scholars' Rocks," 21.
⁴David B. Williams, Too High and Too Steep: Reshaping Seattle's Topography, Seattle: University of Washington Press, 2017.