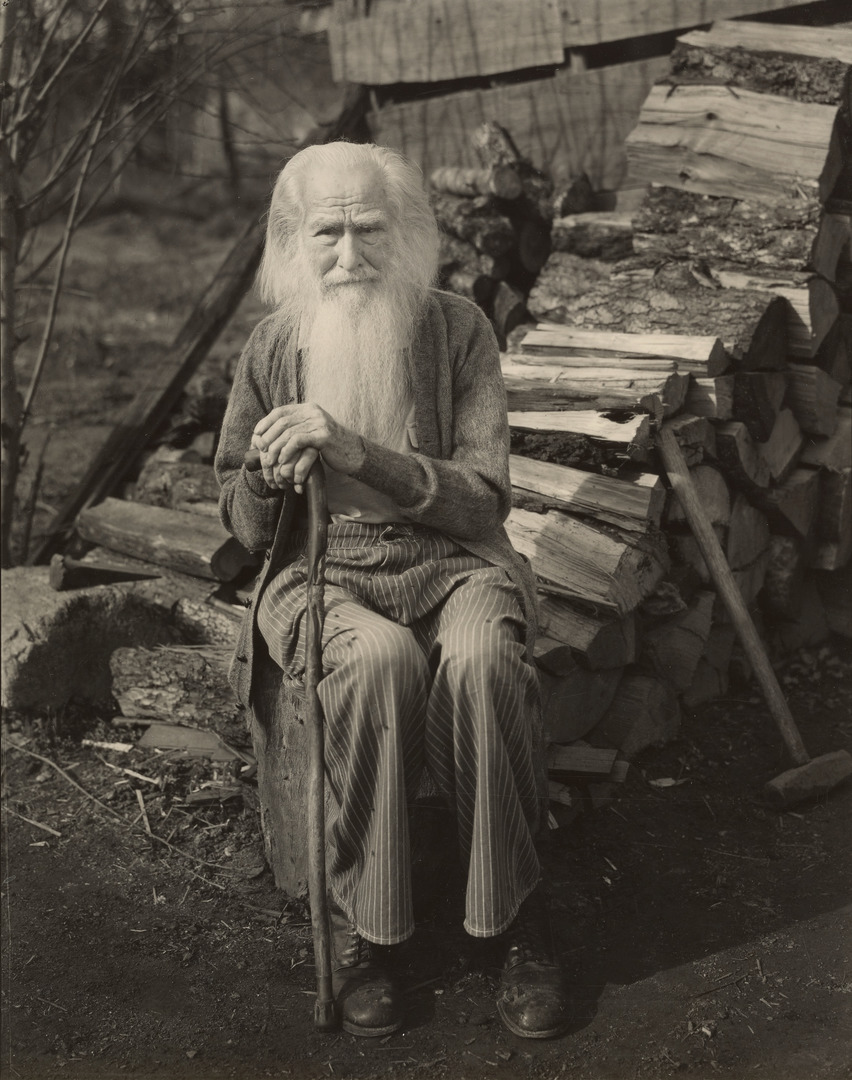 Around 1901, Imogen Cunningham purchased her first camera. Aware of his daughter's interest in photography, Cunningham's father, Isaac Burns Cunningham, built her a darkroom in a woodshed on their property in Seattle. With her photography career in full bloom, Cunningham returned to the site of the original darkroom more than 30 years later to photograph her first and biggest supporter, her father.
Seated on a log in front of split wood, Cunningham intimately captures her aging father. In this recording produced by the J. Paul Getty Museum, Meg Partridge, the granddaughter of Imogen Cunningham, reflects on Cunningham's loving relationship with her father and reveals the supportive role he played throughout her career. Listen to this and other audio recordings when you visit Imogen Cunningham: A Retrospective at the Seattle Art Museum.
My Father at Ninety, 1936
Meg Partridge: In all the photographs Imogen took of her father, you can just see that relationship between the two. You experienced that relationship a bit when you look into the eyes of Isaac Burns in this photograph.

Narrator: Cunningham had a host of ways for getting her subjects to relax and reveal a bit of themselves. She'd chat them up, catch them off guard, or mesmerize them with her own fluid, busy movement, all in order to, as she once said, "gain an understanding at short notice and at close range." But with this sitter, those techniques weren't necessary. Her father's guard was never up.

Meg Partridge: Imogen was very close to her father. I think there was a real similar interest in their curiosity and their intellect and their pursuit of information.

Narrator: Isaac Burns Cunningham was a freethinker. His formal education was interrupted by the Civil War, yet he was a voracious reader and a student of all religions. He supported his large family with a wood and coal supply business. In his daughter, named for the Shakespearian character he found most noble, he nurtured a love of nature and art, buying her first set of watercolors and arranging painting lessons on weekends and summers.

Meg Partridge: This is from a very low-income, frugal family that didn't have a lot of extra money to spare. Isaac Burns also made her a darkroom in his woodshed. So that's how Imogen got started actually processing her own work as a teenager in Seattle.

Narrator: Like her father, Imogen Cunningham lived into her nineties. When asked in an interview two months before her death at age ninety-three which one of her photographs was her favorite, she replied, "The one I'm going to take tomorrow."
– Lily Hansen, SAM Marketing Content Creator
Image: My Father at Ninety, 1936, Imogen Cunningham, American, 1883–1976, gelatin silver print, 9 3/4 × 7 11/16 in., The J. Paul Getty Museum, Los Angeles, 87.XM.74.12, © 2021 The Imogen Cunningham Trust.