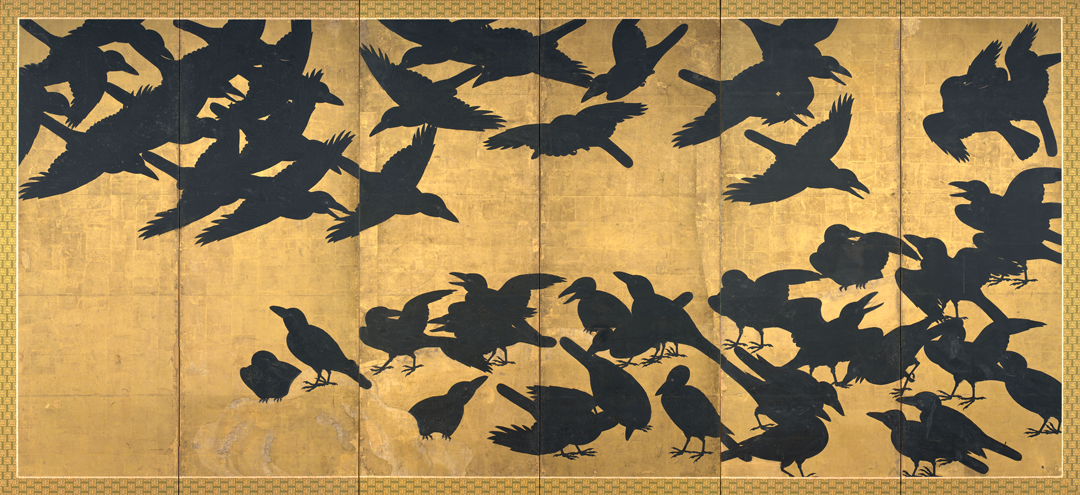 The six-panel Crows screen is a monument in SAM's Asian art collection and also forms an integral part of Tabaimo: Utsutsushi Utsushi, where it serves as a reference point for a digital aviary. In what other company have the Crows flown?
Back in 1936, the exceptional screen featured in a display of Japanese Buddhist Art at the gallery Yamanaka & Co., from which SAM purchased it. In 1953 it mingled with other Japanese painted screens in an exhibition at the Portland Art Museum. Birds, Blossoms, Bees and Bugs—The Nature of Japan (1976) brought the screen to Los Angeles for a look at Japanese art inspired by the environment. Dozens of permanent collection displays at the Seattle Art Museum have flocked around the Crows. A 1994 installation marking the reopening of the Volunteer Park building as the Seattle Asian Art Museum situated the screen among Japanese netsuke, bronze waterdroppers, jewelry, and lacquers. Flights of Fancy (1998-1999) placed it among newer acquisitions of painting and sculpture, while Signs of Fortune, Symbols of Immortality (2000-2001) engaged its spiritual content. A Fuller View of China, Japan, and Korea (2013-2014) considered the Crows among the countless contributions to the museum from co-founders Dr. Richard Fuller and Margaret MacTavish Fuller.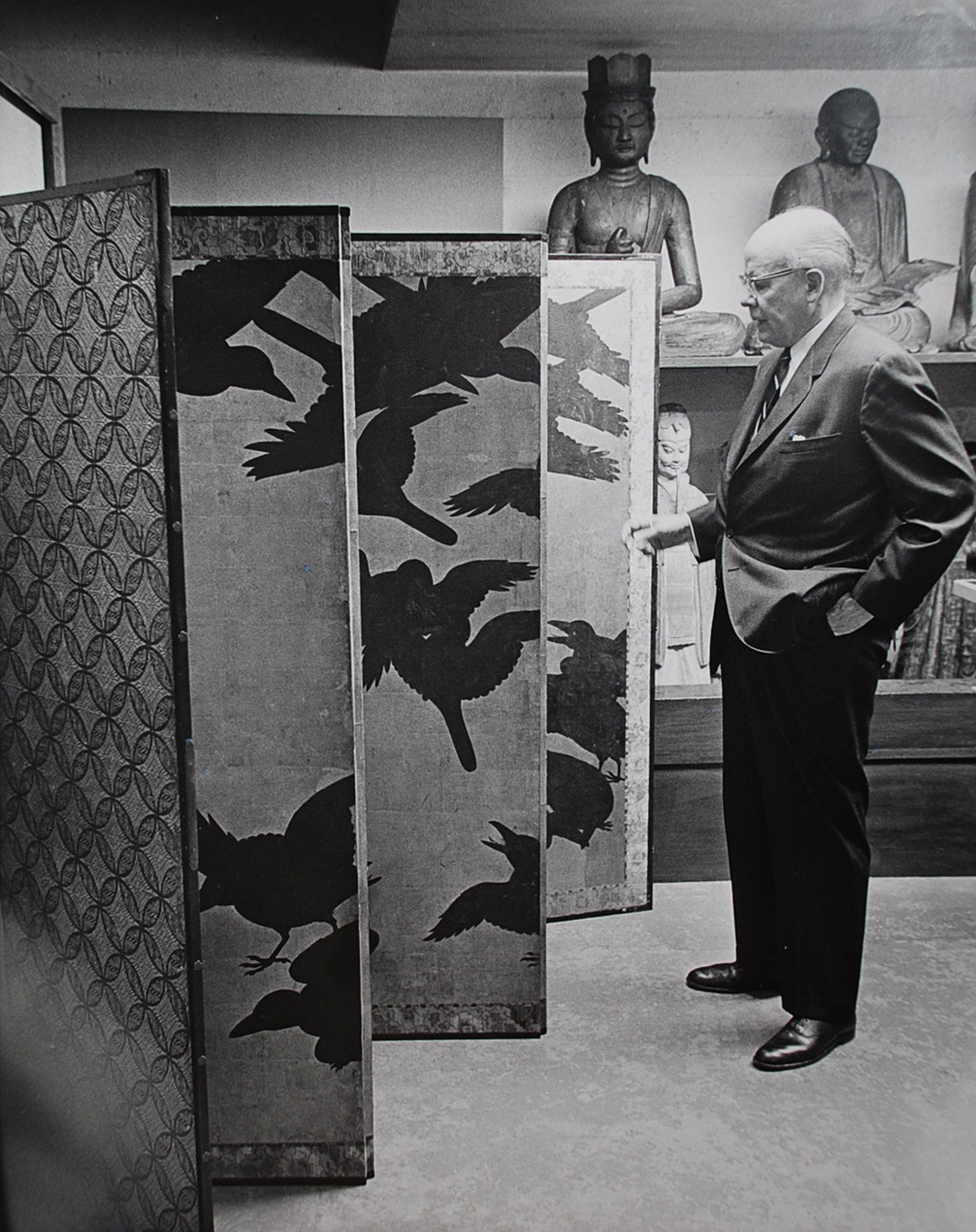 Wherever the words "Asian" and "masterpiece" were used in a show title at SAM, the Crows screen was there. Masterpieces of Japanese Art from the Collection of the Seattle Art Museum (1998-1999) displayed it among some other remarkable Japanese paintings, like the Hell of Shreaking Sounds scroll from the Heian period, and Bokkei Saiyo's Moonlit Landscape. Care for the Crows took center stage in Five Masterpieces of Asian Art: The Story of their Conservation (2007). Over 2009–2010, they took a rare flight out of Seattle for Luminous Jewels: Masterpieces of Asian Art from the Seattle Art Museum, which traveled to the Suntory Museum, Tokyo; Kobe City Museum; Yamanashi Prefectural Museum of Art; MOA Museum, Atami; and Fukuoka City Museum, before landing back home.
As truly great artworks do, the Crows have spoken loudly in a range of themed and cultural contexts, amid a variety of fellow works. This restless murder continues to spark new and innovative ideas from its perch at the Asian Art Museum.
–Jeffrey Carlson, SAM Collections  Coordinator
Image: Crows, early 17
th

 century, Japanese, Edo period (1603-1868), pair of six panel screens; ink and gold on paper, 61 9/16 x 139 5/16 in. Seattle Art Museum, Eugene Fuller Memorial Collection, 36.21.1. Photo: Paul V. Thomas.