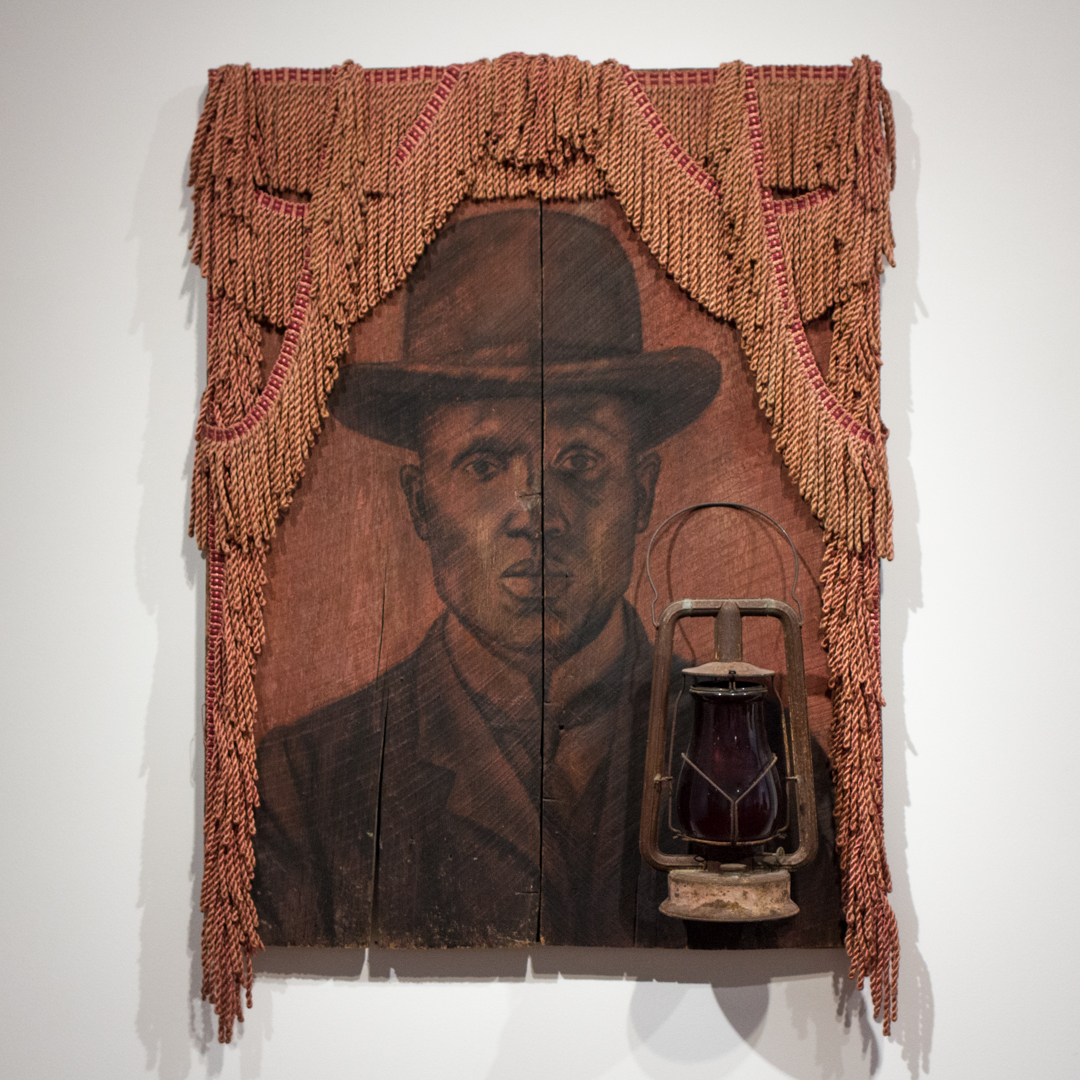 I'm a stranger here
I'm a stranger everywhere
I would go home
But I'm a stranger there.

 I'd rather drink muddy water
I'd rather sleep on a hollow log
Than to stay here in this city
Being treated like a dirty dog.

 That's why I got up this mornin'
And I put on my walkin' shoes
I'm goin' down the road, down the road
Cause I got them walkin' blues
One of the newest works in the Seattle Art Museum collection is Whitfield Lovell's Stranger Here. Lovell's piece was inspired by a police mugshot, circa 1910s, depicting a sharp-dressed man of color, and its title comes from an old blues song, whose lyrics we share above. Stranger Here pays homage to a man whose story has been forgotten but whose image remains.
This three-dimensional portrait uses charcoal on found wood, fringe fabric, and an antique lantern to evoke the spirit of the time when the sitter's picture was taken. The fringe, draped around the man's bowler hat like drawn curtains, gives the piece a theatrical presence and also creates a sense that something significant is being revealed. In the theater, it's a dramatic, expectant moment when the curtain is finally drawn and some anticipated spectacle unveils itself. Here, the curtain frames the image and encourages us to pay notice to what we find behind it.
The idea of anonymity, and being disconnected from one another, is especially important to Lovell's work. Does it bother us that we don't know the man? That we are denied his story? That we don't understand all of what we are seeing or truly grasp its significance? In case we might have passed by, missing this quiet figure softly modeled in charcoal, the artist gives us a lantern by which to see.
One floor above Lovell's piece, in our special exhibition Kehinde Wiley: A New Republic, hangs another stranger's portrait inspired by a mugshot. Kehinde Wiley's Mugshot Study from 2006 pictures a young person of color, his anonymity emphasized by the case number printed below his image. In life, these two men were separated by a century, but here at SAM they share more similarities than differences: both gaze out of their frame resolutely, meeting the viewer's eye, embodying strength, yet expressing a sad tiredness from their life's walk.
–Jeffrey Carlson, SAM Collections Coordinator
Image: Stranger Here, 2000, Whitfield Lovell (American, born 1959), charcoal on wood, with fabric and lantern, 42 x 29 1/2 x 8 in. Seattle Art Museum, Gift of Norman and Constance Rice, 2016.1, © Whitfield Lovell, Photo: Natali Wiseman.