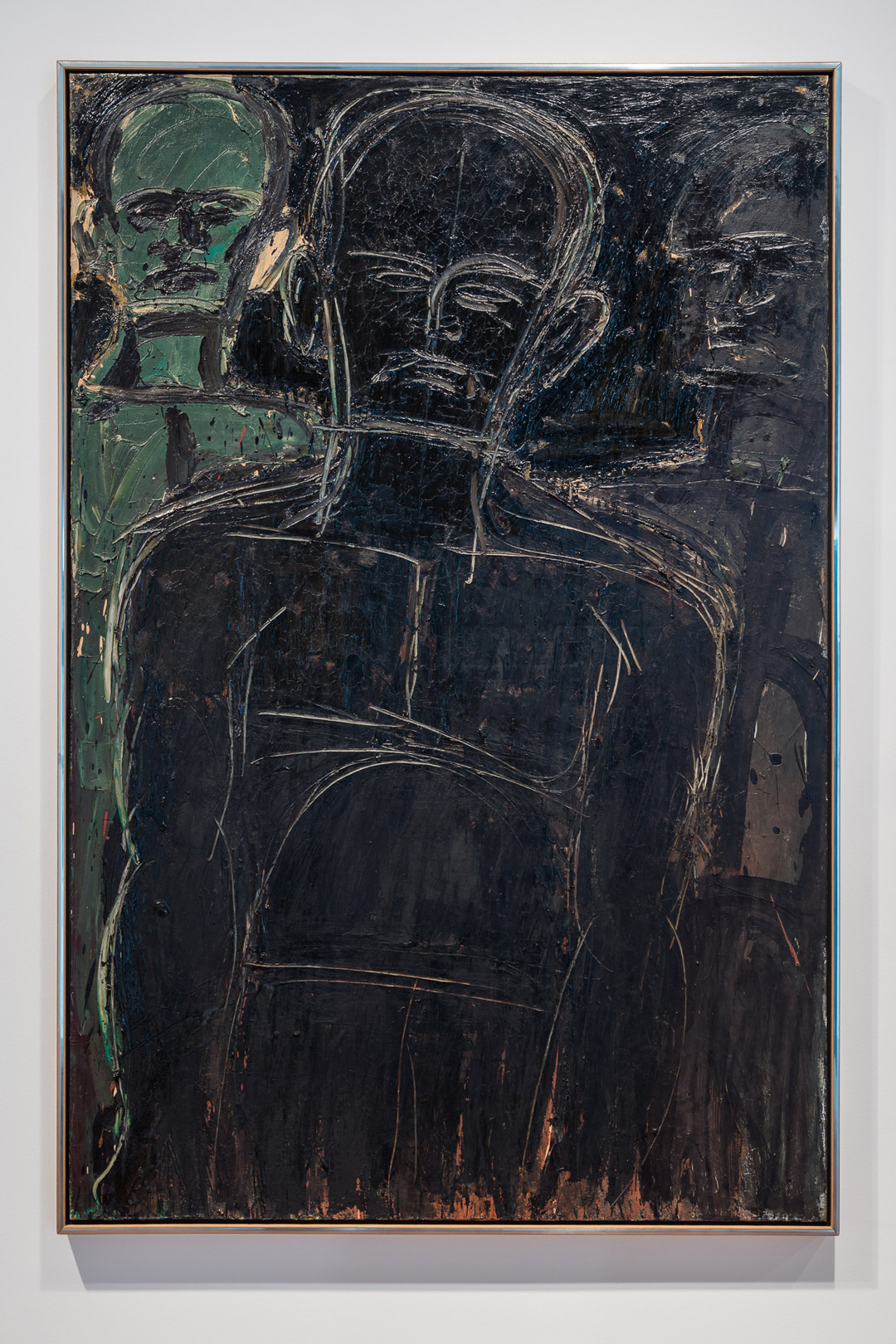 Two historical moments, remembered well, can bring us to a fuller appreciation of Lester Johnson's Dark Figures with Green.
When you next come to Seattle Art Museum and stand in front of Johnson's ominous painting, if you situate yourself in the right spot, you can catch a glimpse of Jackson Pollock's Sea Change (1947) in your peripheral view. Maybe the connection will be immediately clear to you, or maybe not, but Johnson's way of aggressively scratching out figures in a dark and contained palette grew out of the expressive freedom pioneered by Pollock and the Abstract Expressionist school. Lester Johnson's paintings of the 1950s and '60s picked up that mode of creating and took it in a different direction. Johnson was about economy: working to create an impact with limited means. Dark Figures with Green looms over us and says "Look what can I do with only this." Black. Brown. Green. Three figures. Rough. Heavy.
In February of 1966, the influential art critic Harold Rosenberg put eloquent words to what Lester Johnson was doing:
To respond to Lester Johnson's work is to respond to painting, rather than to technical minutiae, or to art history, to the social environment, to a tickle of the optical nerve. With painting undergoing an annual revolution of de-definition (Is it theatre? the display business? an illustrated lecture? science fiction?) to paint amounts to imposing arbitrary restrictions on painting. An artist who is satisfied to apply pigment to a flat surface is likely to appear slow and intellectually unadventurous . . . .

Johnson has chosen to build his art upon Action Painting through tightening its procedures. An heir of de Kooning, Kline, Pollock, Hofmann, Guston, he emphasizes an essential principle of their work continually obscured by the clichés of art journalism: that an action is not a letting go, a surrender to instantaneity, except as a ruse. Painting that is an action is a struggle against limits, those within the artist himself, those which he finds in the situation of art, those which he deliberately sets up on the canvas. Mere stroking and slopping of paint resulted in tiresome caricatures of Action Painting that marked its phase of mass acceptance.

Johnson has had the insight to go in a direction opposite to looseness. Distrusting the easy effect obtainable through color, texture, and non-representational shapes, he followed a course analogous to that of de Kooning in his 'women' paintings and of Guston in the compositions of the past four years, both of whom brought into play as a counterforce to spontaneity the more or less felt presence of objects and the human figure.1
Johnson was a painter exploring what he could achieve by putting more restrictions on himself than most would do, because adding those restrictions clarified and highlighted his creativity in solving the problem. He was a painter, part of a school of abstract artists, who took away color, texture, and abstract forms from his own toolbox. The things he's able to accomplish with what's left—just the figure and a few tones—are impressive. Imagine a great right-handed pitcher like Felix Hernandez announcing he's decided to start throwing with his left arm, just to see how well he could do—or if Russell Wilson held a presser to tell everyone that he's done running when he plays quarterback; it's only standing still from here on out. It's kind of like that. Rosenberg describes Lester Johnson's achievement this way: "[He] divined that the freedom of the artist is best served by establishing the boundaries that will most effectively challenge his capacity to act."2
In September and October of 1983 Dark Figures with Green hung in a timely exhibition of Lester Johnson's early work at New York City's Zabriskie Gallery. The show, Lester Johnson: The Early Paintings 1957-1967, was a hit. Johnson's pithy, powerful statements brought him a posthumous moment. SAM curator Bruce Guenther was there to select Dark Figures with Green from among the pictures. Zabriskie Gallery wrote to Guenther on November 17 about the frenzy of interest in Johnson's work from other parties: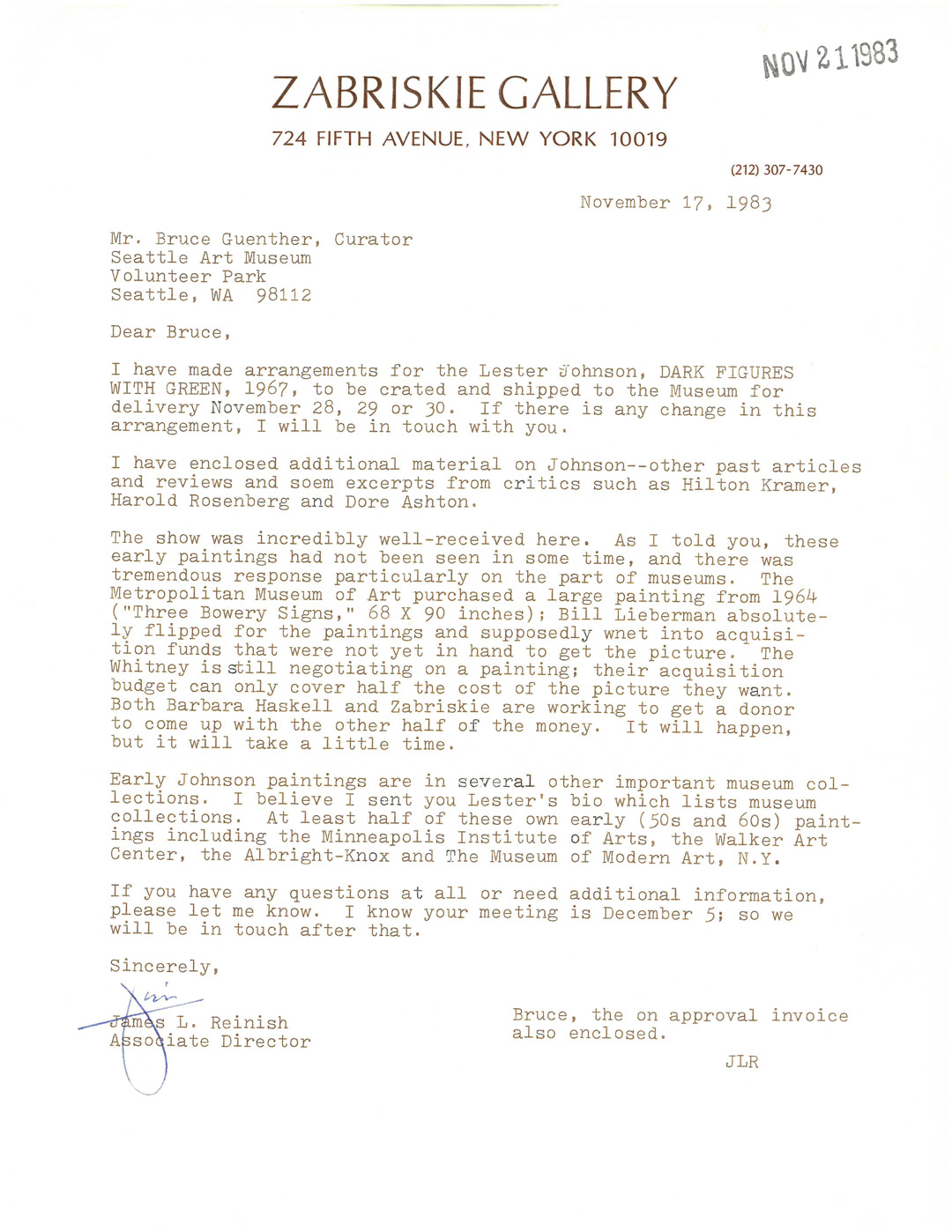 Bring some folks with you to see Seattle's Lester Johnson, so you can impress them with the story of the Abstract Expressionist who refused abstraction, and the museum who plucked one of his paintings out of New York when the Met and the Whitney were climbing over one another to get a hold of one.
—Jeffrey Carlson, SAM Collections Coordinator
1 Harold Rosenberg, "Lester Johnson: The Image as Counterforce," Art News 64 (February, 1966): 10, 48-49, 64-65.
2 Rosenberg, "The Image as Counterforce."
Image: Dark Figures with Green, 1967, Lester Johnson (American, 1919-2010), oil on canvas, 73 x 48 3/8 in. Seattle Art Museum, Mary Arrington Small Estate Acquisition Fund, 84.1, © Lester Johnson.