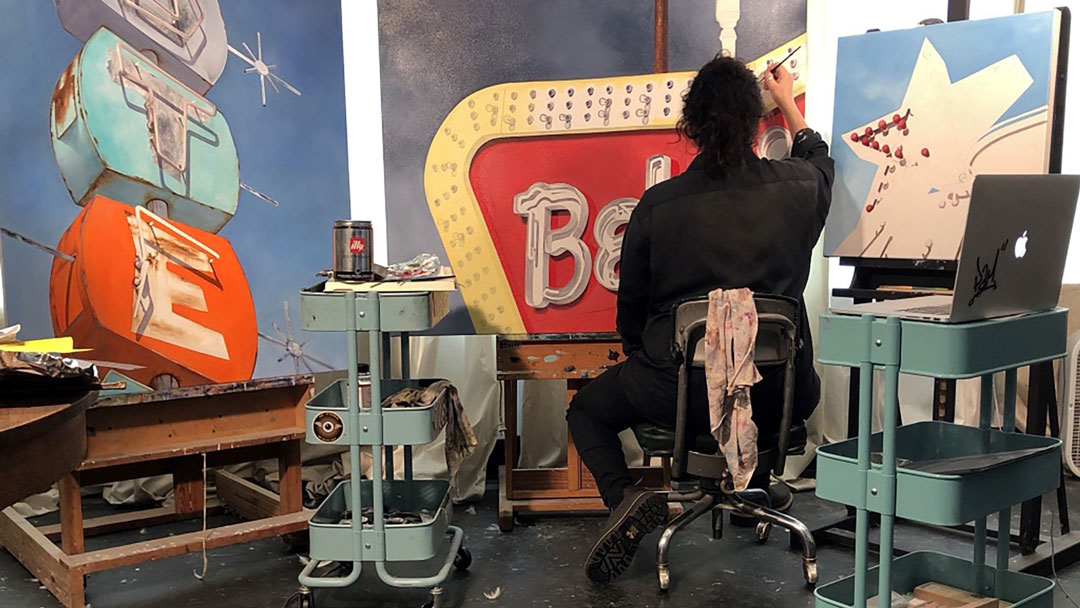 SAM Gallery artist Kellie Talbot travels across the country with her husband, cat, and duck, in a truck pulling her mobile studio, an Airstream trailer they named Mr. Salsa. Kellie Talbot's America on view at SAM Gallery September 4–29, showcases some of her newest works. Talbot has established a national reputation for her oil paintings of the neon signs scattered across America. In the last two years, her family has driven 36,000 miles, through 29 states, in pursuit of source material for her paintings. She plans her route, knowing where certain signs are located, but is always open to possibilities and unexpected opportunities. Some of her favorite signs and memories come from happening upon them. One unexpected ice storm led them to Vaughn, NM (population 446), where Talbot found one neon sign after another.  She was out in the snow, climbing on her Airstream trailer to get photographs for future paintings. When she's traveling the country, Talbot says "I photograph almost every sign I come across because when I am in collecting mode I don't want to pass up any potential. Sometimes it's more obvious. Some of those obvious ones have an iconic shape or beautiful neon that just demands to be painted."
Once Talbot returns to her studio in Seattle or New Orleans, she relies on reference photos from her trip, to paint photorealist paintings of the signs that represent the landscape of American artifacts, craftsmanship, and history. Talbot describes how "once I am in my studio I spend a lot of time with my reference material planning out a body of work. I like to have a balance of close-ups mixed with landscapes. I like there to be a push and pull of sorts. Some signs are small but I paint them big while others I can enlarge just portions. Almost every sign has the potential to be painted. I just have to find the aspect of that sign I want to paint."  Talbot is often drawn to a particular letter or shadows from a sign. Focusing on a smaller portion of the sign allows the viewer to enjoy the shapes, shadows, and colors in a new way. Talbot intentionally includes the rust and decay in the neon signs she paints. These details aren't negatives to the artist, they are signs of time and experience, both an elegy and a hope.
Meet the artist at the opening reception on Thursday, September 5, 6–7:30 pm at SAM Gallery.
– Pamela Jaynes, SAM Gallery Coordinator
Image: Courtesy of the artist.