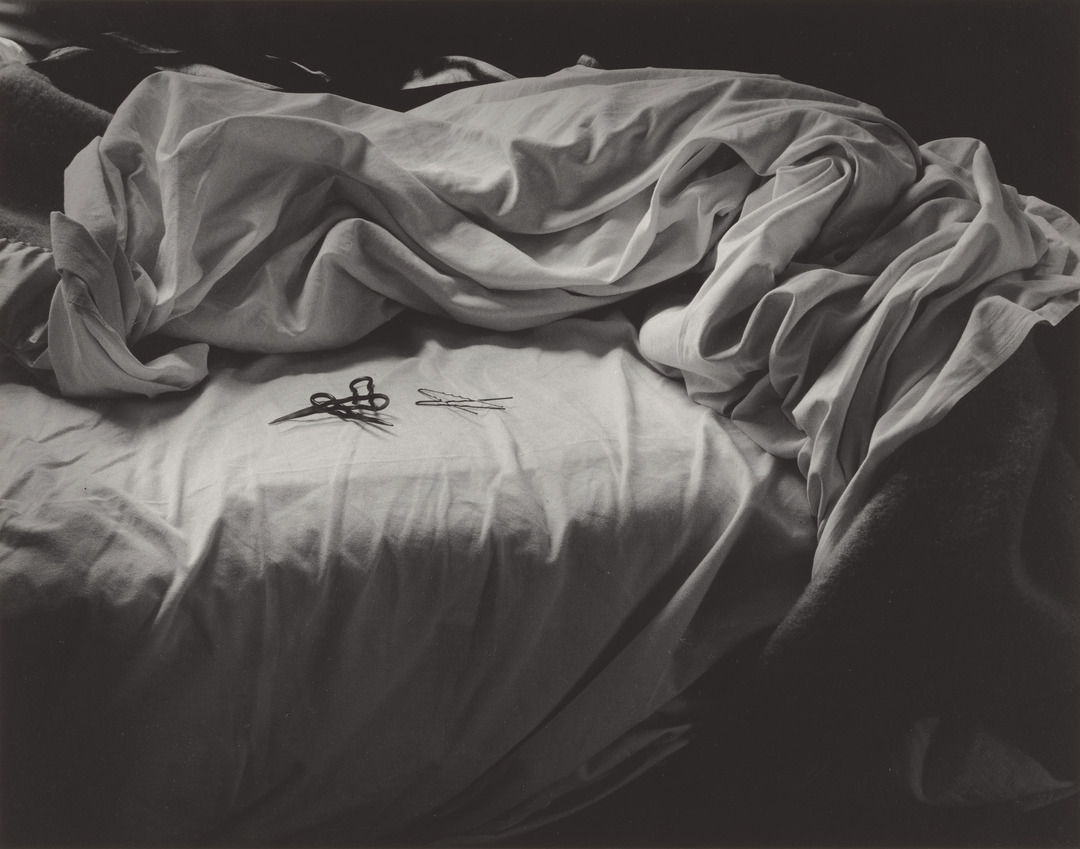 While teaching at the California School of Fine Arts in 1957, Imogen Cunningham overheard her friend and co-worker Dorothea Lange give her students an assignment: photograph something you use every 24 hours. Inspired by the simple prompt, Cunningham returned to class the next week with a new photograph she had taken titled The Unmade Bed.
Listen to an interpretive analysis of the work from Cunningham's close friend and collaborator Judy Dater. From the perfectly rumpled sheets to the spread out piles of bobby pins, Dater discusses how this image acts as a self-portrait of the artist and explains the reason why Cunningham often gifted a print of this image to newlyweds.
This audio recording is part of the free smartphone tour of Imogen Cunningham: A Retrospective at the Seattle Art Museum. Tune in to all 13 recordings when you visit the exhibition at our downtown location.
The Unmade Bed, 1957
Narrator: A rumpled sheet and blanket are thrown back to reveal a pile of hairpins and another of bobby pins. Subtle gradations vary from the crisp white sheets exposed by sunlight, to the grey wool blanket with a shimmery trim, to the completely dark background.

Judy Dater: I can't look at that photograph and not think of it as a self-portrait, a very personal self-portrait.

Narrator: In 1957, Dorothea Lange, best known for documenting the Great Depression, was teaching at the California School of Fine Arts, now the San Francisco Art Institute. Cunningham was also teaching there when she heard her friend and fellow photographer give her students an intriguing assignment.

Judy Dater: And the assignment that, apparently, that Dorothea Lange, gave the class that day was to go home and photograph something you use every twenty-four hours. And so Imogen went home and made that particular photograph. And then when she came back the following week, she brought that in as her example.

Narrator: Did she intend it as a self-portrait? After all, those are her hair pins. Do they signify the letting down of one's hair or one's guard? Cunningham never said as much, but she did ascribe one message to the image.

Judy Dater: She sometimes would give that photograph to people as a wedding present so that the husband would know that the wife was going to be busy, that she had things to do, and not to expect the bed to always be made.

Narrator: Cunningham may have deliberately arranged the sheets and hairpins, or perhaps she happened upon the unmade bed exactly as she left it. For photographer Judy Dater, that's irrelevant.

Judy Dater: She saw it and she was at the right angle at the right moment, and she knew what to do with it.
– Lily Hansen, SAM Marketing Content Creator
Image: The Unmade Bed, 1957, Imogen Cunningham, American, 1883–1976, gelatin silver print, 10 11/16 × 13 1/2 in., The J. Paul Getty Museum, Los Angeles, Gift of Daniel Greenberg and Susan Steinhauser, 2016.173.5, © 2021 The Imogen Cunningham Trust.