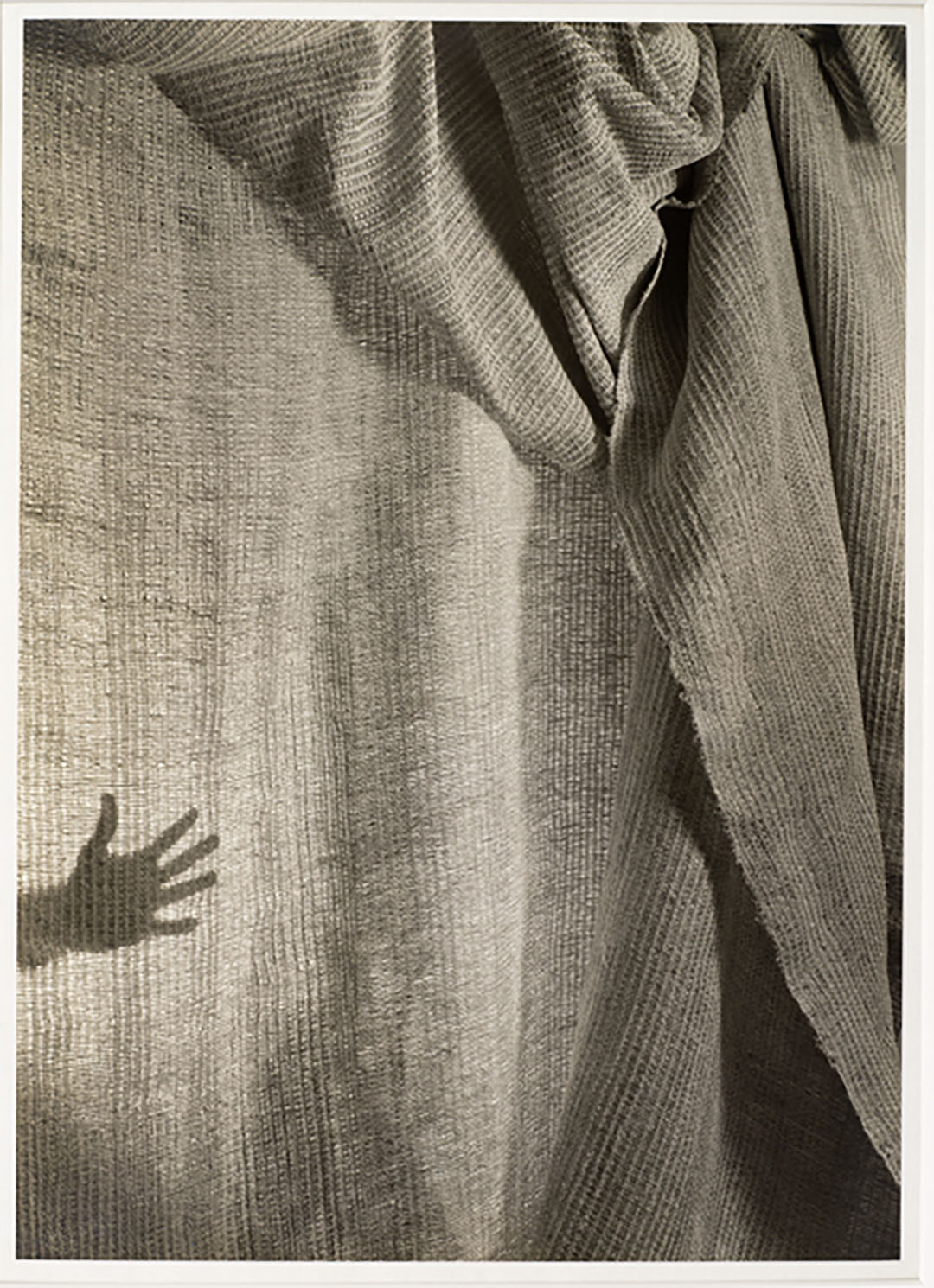 Hands play a prominent role in the work of Imogen Cunningham. Many of her most recognizable photographs focus on the movement of hands and their connection to the body. In Hand Weaving with Hand, the shadow of a hand with spread fingers protrudes from the lower left side of the image. Although the majority of the photograph is composed of a thin, rumpled fabric with vertical stripes, it is the ambiguity of this shadowed hand which captures the viewer's attention.
Tune in to this audio recording to hear nonbinary Black transfem choreographer and dancer Randy Ford explore Cunningham's use of hands throughout her work and relate it to her own dance production, Queen Street. Hear this and other audio recordings as part of the free smartphone tour of Imogen Cunningham: A Retrospective when you visit the Seattle Art Museum.
Hand Weaving with Hand, 1945
Narrator: While the right side of this photograph is dark, filled with billowing folds of a draped cloth, the left portion is backlit, and the fabric hangs flat. Behind the weaving, a light silhouettes a hand with fingers splayed. This hand is what first caught the eye of Seattle native Randy Ford, a dancer and choreographer.

Randy Ford: So I just think the hands are very interesting. You know, we create a lot of things with our hands. You know, we draw. We open doors. We close doors. We celebrate with our hands. They just play a really huge part in our lives and choreograph what we do every day. I don't think of dance as just something that you do with your legs and your body and your torso. You know you can do a lot of expressing with just your hands, which is probably just why I again gravitated toward this shadow of a hand on this masterpiece of a sheet. The hands really kind of direct us a lot of places.

Narrator: In her portraits, Cunningham often zeroed in on hands—tickling the keys of a piano, delicately playing a violin, or shaping the rim of a clay pot. This singular, open palm appears to almost clap the suspended weaving. Is this the hand that made it? Is it presenting the cloth proudly… lovingly? As with so many of Cunningham's photographs, the layering—in this case of fabric, lighting, and shadow—and ambiguity allow for multiple interpretations. Randy Ford, who recently told her own complex transition story in her dance production, Queen Street, can relate.

Randy Ford: I love making work that, is definitely visually appealing, but I also want people to realize what they're looking at or maybe where their feelings are coming from. There's definitely just a lot of depth within this simple-looking image and that's why I chose it. It was very simple but still complex. It had like a little bit of a story. It invoked something about creation for me as a choreographer and director and an artist myself. I always kind of just wonder what are the beginnings of things? You know, things aren't just the way they are just because they appear to us.
– Lily Hansen, SAM Marketing Content Creator
Photo: Hand Weaving with Hand, Imogen Cunningham, 1945. Gelatin silver print, Image: 13 1/4 x 9 1/2 in. Collection of The Imogen Cunningham Trust.