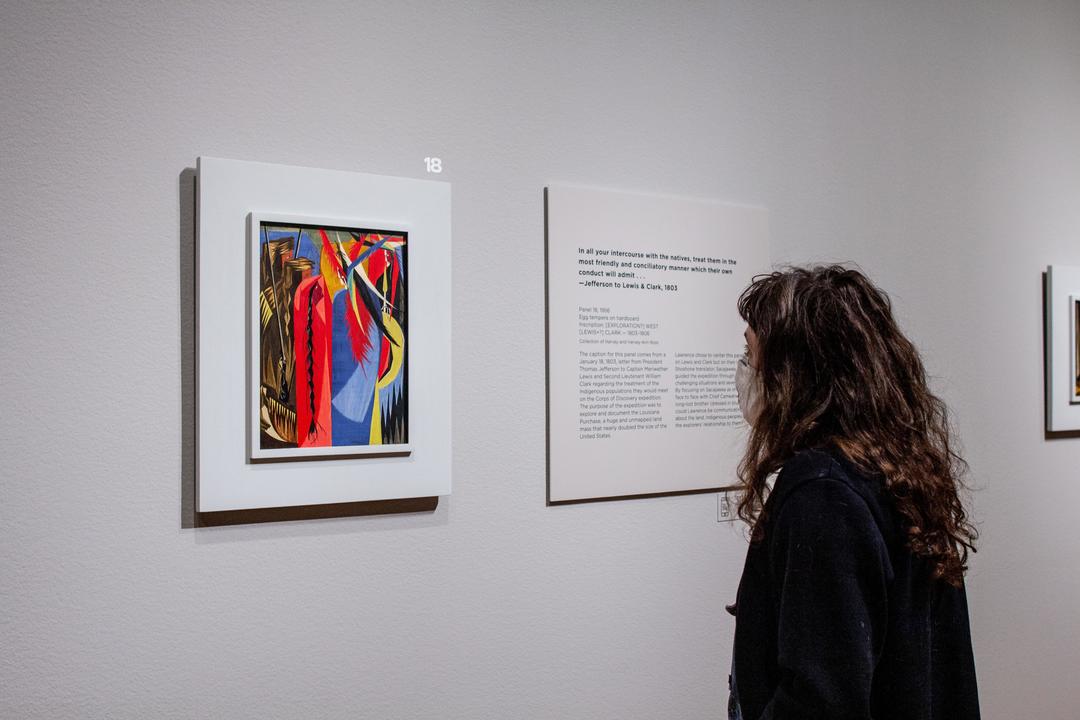 SAM News
The Seattle Art Museum is open, with limited capacity and timed tickets released online every Thursday. Chamidae Ford reviews Jacob Lawrence: The American Struggle for South Seattle Emerald, noting that the exhibition "takes us on a journey through American history, reframing the narratives we have heard for centuries."
And Seattle Met's Stefan Milne reviews American Struggle as well as the solo show, Barbara Earl Thomas: The Geography of Innocence, exploring how they both "witness America."
"As different as can be, the two shows are rooted in a truth: How we see our past and our present are inextricable from how we see our future. That is, we're still filling in frames, and might, with some attention, fill them in more honestly."
SAM's Olympic Sculpture Park is recommended by The Architect's Newspaper as one of 11 "outdoor art spaces and museum grounds worth checking out this spring." Take some allergy meds, mask up, and get out there!
Local News
Seattle Times columnist Naomi Ishisaka asks Karen Maeda Allman of Elliott Bay Books to recommend "15 books to read to learn more about Asian American history and experiences."
Crosscut's Brangien Davis is back with her weekly ArtSEA; this time, she visits Seattle's new newsstand, previews the ByDesign festival, and some musical events.
Seattle Met's Erin Wong with the story of how adult children of owners of Chinatown-International District restaurants are bringing their digital literacy to help the businesses during the pandemic crisis.
"Now, it's the younger generations who are circling back to help their parents navigate the internet age. 'This is just one thing I can do for my tribe, you know?' [Carol] Xie says, 'If that's all it takes, I'm more than happy to do it.'"
Inter/National News
Hyperallergic says, "Listen to the Sounds of an 18,000-year-old Conch." Muse/News says, OK.
Catching up with gallerist Mariane Ibrahim, a Seattleite for a short and lucky-for-us time: in addition to her Chicago space, she is now expanding to Paris.
"The secret stunt doubles of the art world": Peter Libbey for the New York Times on the seven maquettes—or models—of works by Alexander Calder made for MoMA's new exhibition, Modern From the Start.
"Calder's mobiles, whose orbits are eccentric, are particularly hard to anticipate. 'I've never encountered a museum before that makes large, full scale cutouts for the actual gallery where the sculptures are going to go into,' [Alexander S.C.] Rower said. 'I think that's amazing.'"
And Finally
– Rachel Eggers, SAM Associate Director of Public Relations
Installation view of Jacob Lawrence: The American Struggle at Seattle Art Museum, 2021, photo: Natali Wiseman.