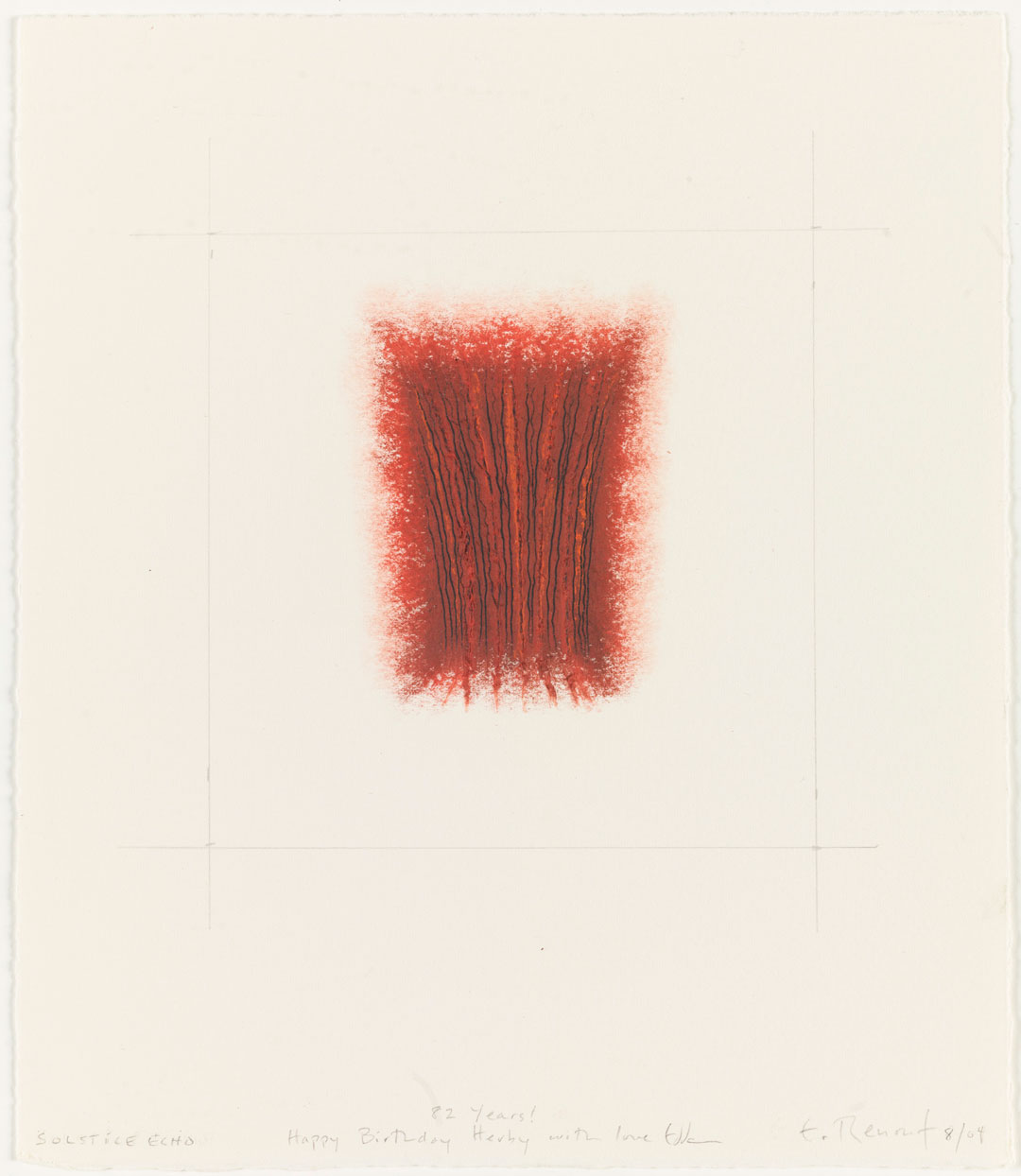 In the weeks leading up to the winter solstice, light—increasingly subsumed by darkness—feels like a precious resource. It can be easy to forget just how much we rely on daylight, and difficult to remember what life was like even six months ago. Luckily, Saturday brings with it the shortest day and longest night of the year, and longer and longer days thereafter.
For artist Edda Renouf, the solstice is a perfect subject given her interest in light, nature, and the passage of time. Known for her minimal and meditative compositions, Renouf's paintings and works on paper often engage material qualities that are intrinsic to her given mediums. In Solstice Echo, for example, the weave of the paper is enhanced by the verticality of the composition's emergent form, further dramatized by deep red and black oil pastel hues.
In the words of Renouf, whose work is often linked to post-minimalism and the work of Agnes Martin: "Materials speak to me and unexpected things happen. It is from a silent conversation between materials and imagination, from intuitive listening that the paintings and drawings are born." Renouf's quiet and meditative compositions reveal essential truths about painting and drawing through simple formal decisions.
In Solstice Echo, the oil pastel sits on the surface of the textured paper—calling attention to its two-dimensionality—but also highlights a depth and deeper material structure that belies the paper's inherent flatness. Taken together with the work's title, Solstice Echo is indeed a meditation on light and space, capturing the subtle tension between lightness and darkness.
– Elisabeth Smith, SAM Collection & Provenance Associate
Image: Solstice Echo, 2004, Edda Renouf, oil pastel on paper, 9 1/2 x 8 1/4 in., The Dorothy and Herbert Vogel Collection: Fifty Works for Fifty States, a joint initiative of the Trustees of the Dorothy and Herbert Vogel Collection and the National Gallery of Art, with generous support from the National Endowment for the Arts and the Institute for Museum and Library Services, 2008.29.31 ©Edda Renouf