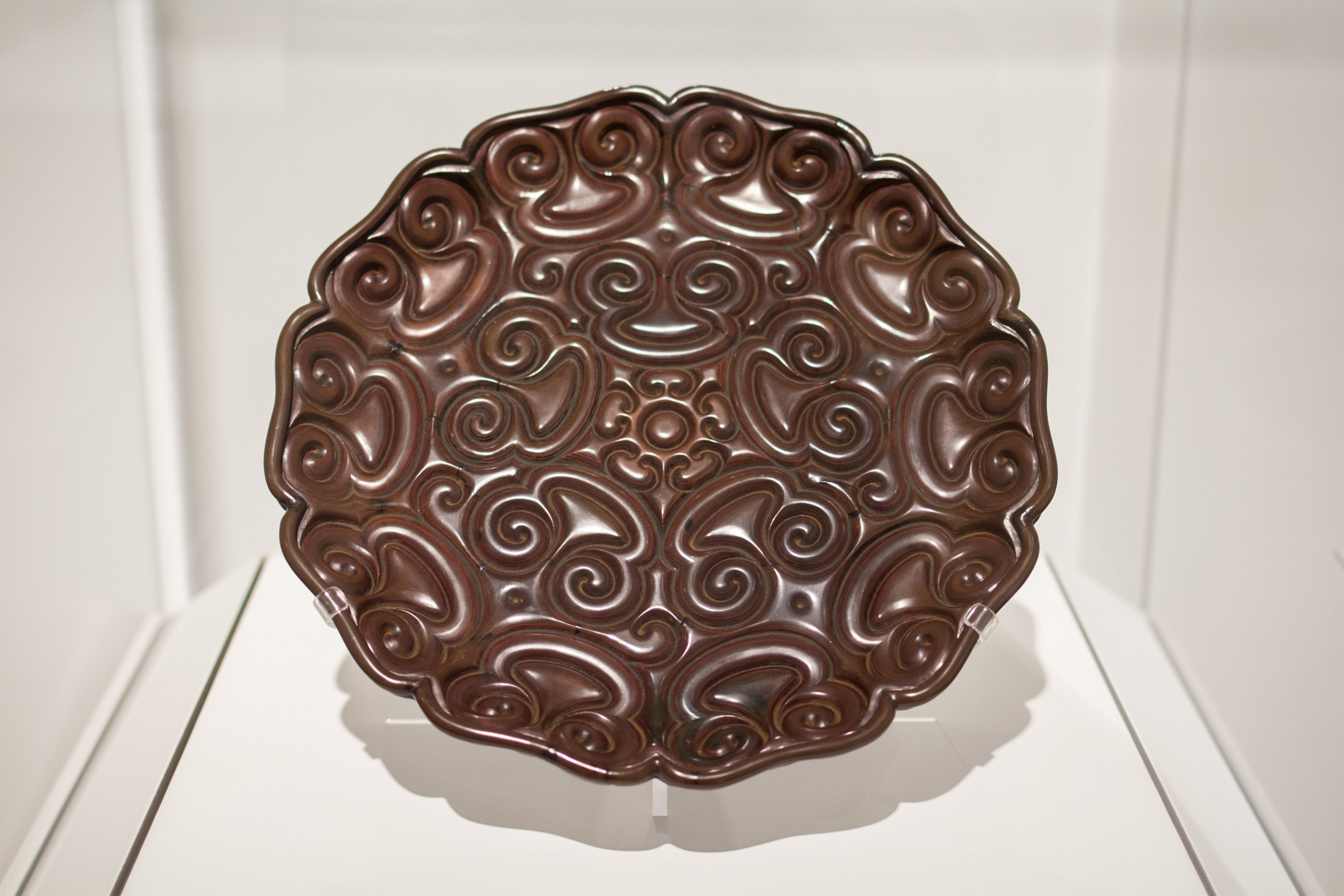 A Harvard-educated scholar with impressive curatorial experience, Henry Trubner came to SAM in July, 1968 to lead its Chinese art department. Sometime later, Trubner selected this Chinese Yuan dynasty Large Plate to present to the museum as a gift in honor of the retiring Dr. Fuller, who celebrated his 75th birthday in 1973, the same year he stepped down after 40 years at the helm of SAM. As they say, the best laid plans . . .
The Large Plate, purchased from a notable Tokyo dealer, arrived at SAM in February of 1973. But Trubner then struggled to gather the funds to make the purchase. Delays and negotiations ensued. Dr. Fuller's June 1 birthday came and went, though not without art aplenty. It wasn't until May of 1974 that Trubner and SAM could complete the acquisition of the Large Plate that had been in Seattle for some 15 months.1
From Trubner's description of the piece in a 1983 publication, we see that much of his interest was related to its look: the swirling decorative pattern and rich red hue.
The museum's tray shows alternating layers of thin red and thick black lacquer, with a fourth black or highly polished dark brown layer on top. The decoration consists of a cloud scroll pattern (ruyi) on the interior, around a central quatrefoil medallion. The same cloud scroll pattern is repeated on the underside of the cavetto. The base is lacquered a deep blackish brown within a low foot rim. This significant example of Yuan lacquer was acquired from Jean-Pierre Dubosc, noted collector and connoisseur of Chinese and Japanese lacquer.2
We can also confidently say that Trubner chose the Large Plate partly for the relationship it would establish with the many lacquer pieces that Dr. Fuller had collected in the early years of the museum, like this very sculptural snuff bottle. Trubner's strategic vision for growing the collection was a new thing. Dr. Fuller, as director and his own chief curator, had added to the collection by pursuing what caught his eye, happy to be led by instinct and impulse. While visiting a gallery or museum, Fuller would come upon something that struck him, and in his excitement, would learn a lot about it, and maybe buy something for the museum.
Trubner's entry to the scene initiated a new collecting era at SAM, one marked by taking careful inventories of the art market, addressing collection gaps, and courting generous donors to support acquisitions. In other words, the collecting program began to look a lot more like it does today. Our Lacquer Plate can serve as a reminder of that transition to intentional growth.
–Jeffrey Carlson, SAM Collections Coordinator
1 Josh Yiu, A Fuller View of China: Chinese Art in the Seattle Art Museum, Seattle: Seattle Art Museum, 2014; 151-154.
2 Henry Trubner, Asian Art in the Seattle Art Museum: Fifty Years of Collecting, Seattle: Seattle Art Museum, 1983; 12.
Image: Large Plate, 1280-1368, Chinese, lacquer, Diam.: 13 1/4 in. Seattle Art Museum, Margaret E. Fuller Purchase Fund, 74.21.