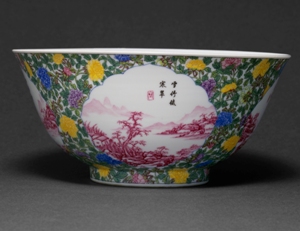 As Seattle oscillates between winter and spring, take a moment to consider four clearly defined seasons—as seen on this Chinese bowl, now on view at the Seattle Asian Art Museum.
Poetic inscriptions caption the four seasons depicted from frame to frame around the bowl. Each season has its own defining text, and its own imagery:
"Green trees abound in village after village," in summer;
"Withering branches sit silent in the depth of night," in autumn;
"Bending low, the snow-covered bamboo still glints a cool emerald-jade green," in winter;
and spring sees "Sprouting willows appear in the scattering mist."
Guyuexuan type bowl, early 18th century, Chinese, Qing period, Yongzheng reign, porcelain with decoration in overglaze-enamels, 3 x 6 ¼ in. overall, Eugene Fuller Memorial Collection, 33.55, photo: Paul Macapia. Currently on view in the Seattle Asian Art Museum, Volunteer Park.