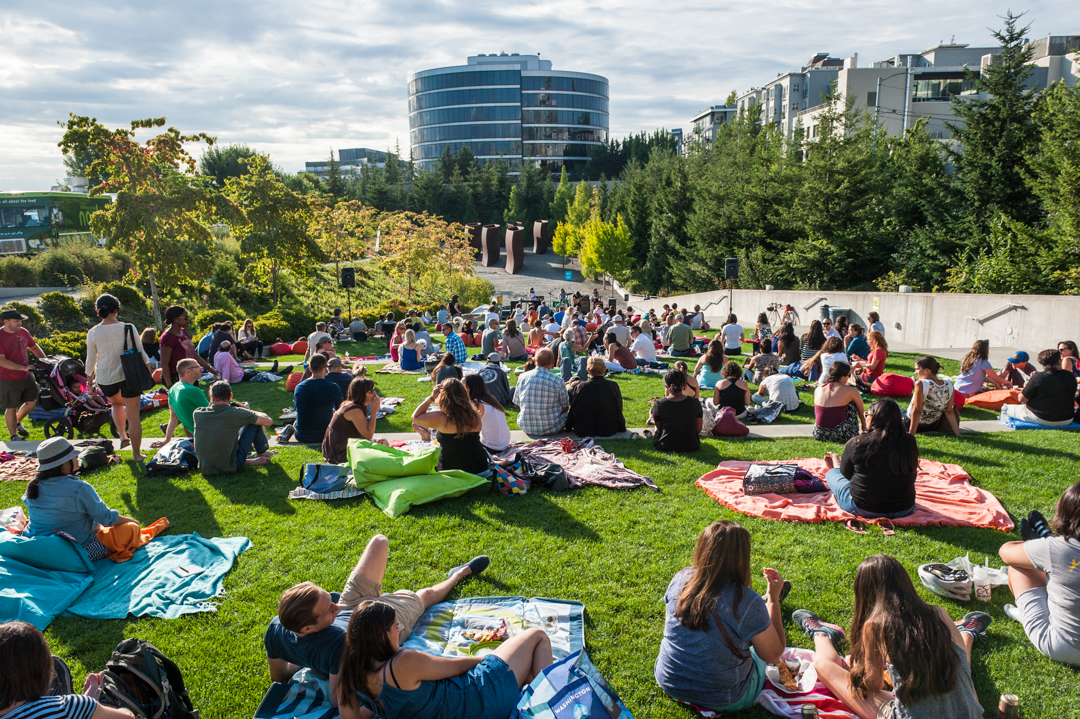 It's the 10th anniversary of the Olympic Sculpture Park and Summer at SAM is bringing you entertainment and activities around art at the park, all summer long. Mingle, make, and move until the sun goes down over the Puget Sound. Inspired by SAM's special exhibitions, Yayoi Kusama: Infinity Mirrors at the Seattle Art Museum and installations by Christopher Paul Jordan and Spencer Finch at the Olympic Sculpture Park, Summer at SAM explore place-making, cultural confluences, and learning from our local environment.
Like the sculpture park itself, all Summer at SAM programs are free, open to the public, and all-ages. So check us out Thursdays and Saturdays, July 13 through August 31 and get active in your city with concerts, art making, food trucks, and fitness. In their own words, get to know two of Summer at SAM's partner organizations for events such as the Kickoff next Thursday, July 13 from 6–8 pm produced in partnership with Black & Tan Hall and our Saturday art activity led by artists of the Lion's Main Art Collective.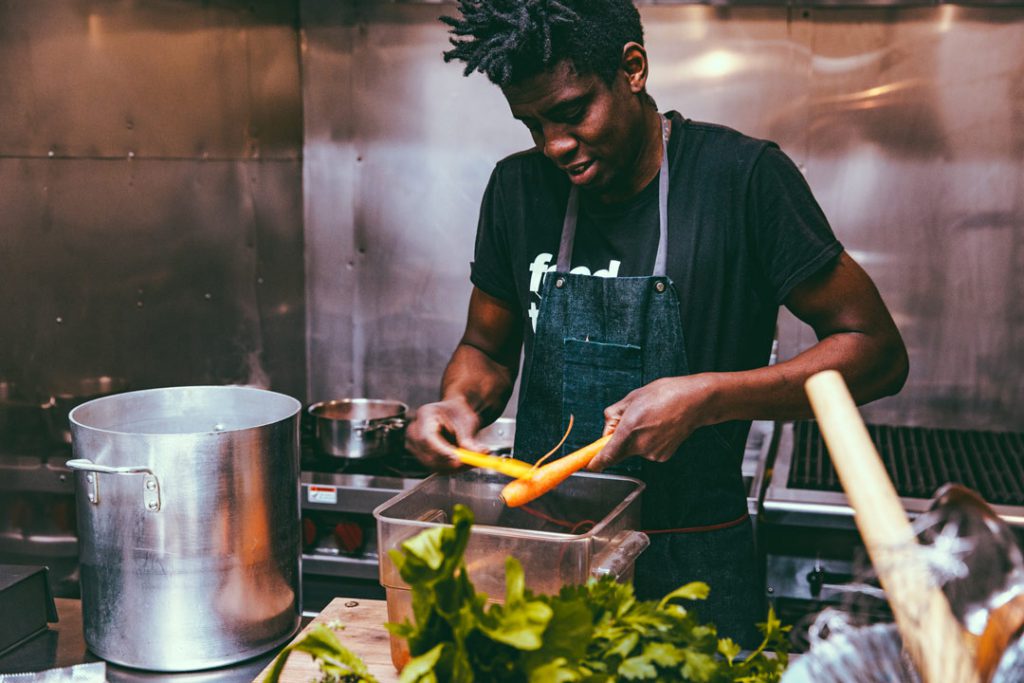 Black & Tan Hall, is the premier cultural event space that the south end has been waiting for. Its unique business model with over 20 community partners has given birth to a consensus-run establishment that prioritizes healthy, delicious food, fair pay to artists, and quality events. We want to give you a reason to dress up for a night on the town.

Our upcoming partnership with SAM gives Seattle a small taste of what Black & Tan Hall will be producing when our doors open at the end of the summer. Chef Tarik Abdullah will be serving his eclectic North African inspired dishes made with fresh Northwestern ingredients on the lawn, while bands like New Triumph, Peace & Red Velvet, and the Mockingbirds light up the stage with hip-hop afro-caribbean beats, and DJ Toya B keeps the crowd lively throughout the evening.

Black & Tan Hall will be open for breakfast during the week, brunch on the weekends, and dinner with select music, theatre, film, and dance events. We are also available for private rentals, and co-producing opportunities. We are "the people's" establishment for diversity, community, creativity, and simply a good time!

– Black & Tan Hall
Lion's Main Art Collective is a Seattle-based community of queer and trans artists that showcases innovative interdisciplinary art. Participating artists are excited to present From the Foundation, an installation created from fabric and wood exploring private and public experiences of home. Combining screen printing, photography, painting, text, and zines, this project is takes a cumulative approach by gathering images and reflections from individuals in the LGBTQ+ community. Trinkets, pictures, recipes, and stories are screen printed on the walls entwining personal experiences into a communal web.

Lion's Main is excited to partner with SAM and bring together communities through visibility and engagement. Park goers are invited to share their own stories and reflections. What does home feel/look/taste like? What do you keep from past homes? What memories and sensations do you associate with it? Visitors are invited to write their experiences on fabric which will be sewn together to create a "ceiling."

Participating Lion's Main artists

Sofya Belinskaya, a Ukrainian-born visual artist, creates works on paper that oscillate between dreams and reality. She is compelled by the void, magical realism, and emotive narratives. She is a teaching artist and organizer based in Seattle.

Jax Braun is a poet/writer, biologist, crafter, and performance artist. Their works are informed through the structure of biological worlds and dwell on interpreting personal histories and experiences.

KEM_C is a Seattle-based printmaker/tapemaker/clubscum, specializing in etchings, screenprints, & VHS tapes. Ask her about a cozier alternative to safe/r spaces.

Sequoia Day is a Seattle-raised queer arts organizer, photographer, painter, and full spectrum doula. They are drawn to the soft places that exist in people and home. Their work often touches on care, debris, and maintenance in the home space, and what spills forth from the places we build and inhabit.

Emma Kates-Shaw is a fiber/found object/tattoo/paint/pen/pencil worker, fascinated by light, time, space, and the beauty of the early early morning.

Markel Uriu is an interdisciplinary artist in Seattle. Her work explores the quiet intimacy of inner worlds, feminine labor, impermanence, and the unseen. Drawing from mythology and rituals, she explores these concepts through ephemeral botanical narratives and two-dimensional work.

Established in 2013, Lion's Main Art Collective is a non-profit organization curating multidisciplinary events and festivals, including Transience at King Street Station (2016), QTONE Shorts in collaboration with TWIST: Seattle Queer Film Festival (2016), and Othello Quartz Festival at John C. Little Park (2016). They have received funding from the Office of Arts & Culture and the Pride Foundation. Past partnerships include Henry Art Gallery, Gender Justice League, Gay City, and Three Dollar Bill Cinema.

– Sofya Belinskaya
Photo: Robert Wade. Photo: Tarik Abdullah.