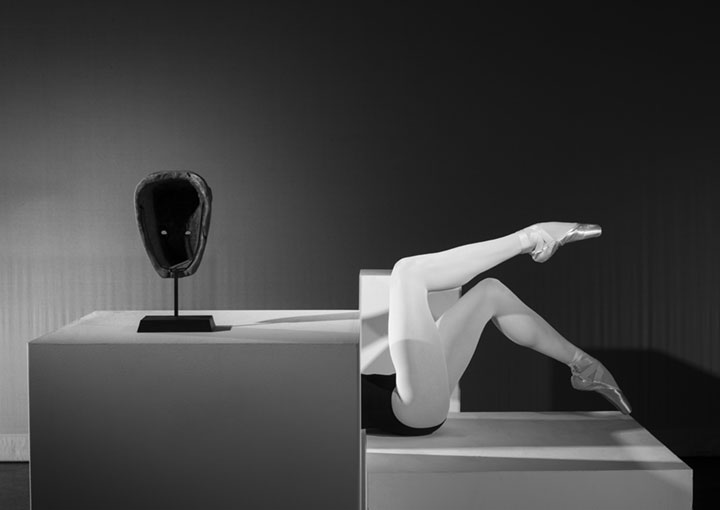 Historically, museums have been spaces of hegemony. My practice has often been about finding space for critique within that history. As an artist I believe that my role in museums can be to challenge our understanding of how museums and their powers operate.

– Brendan Fernandes
Many reading this post might recall the 2015 exhibition Disguise: Masks and Global African Art, co-curated by SAM's curator of African and Oceanic Art, Pam McClusky, and Seattle-based curator Erika Dalya Massaquoi. The show traveled to the Fowler Museum in Los Angeles, and later on to the Brooklyn Museum in New York. Living in neither Seattle, Los Angeles, or Brooklyn at the time, I missed this celebrated show. However, luckily for me and others who missed it, there is a trove of reviews, writings, videos, images, and responses to the exhibition that continue to bring its resonant ideas and artists to life, five years later.
Such exhibition research provides a necessary foundation for contextualizing two recent acquisitions by Brendan Fernandes––photographs titled As One III and As One IX––who was one of twenty-five artists included in Disguise. Born in Nairobi, Kenya to a Goan, Indian family who later immigrated to Toronto, Canada, Fernandes is a truly transnational artist. Working at the intersection of dance and visual art, his work seeks to push against notions of a fixed or essential identity. Once a dancer himself, his current body of work uses movement and choreography (among other mediums) to examine issues of cultural displacement, migration, labor, and queer subjectivity.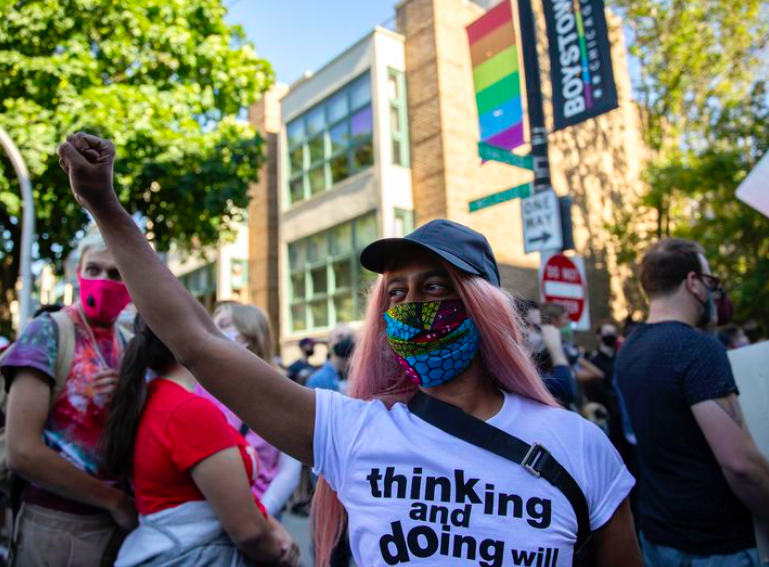 For the video As One in Disguise––a precursor to As One III and As One IX––Fernandes selected masks from SAM's collection and staged compositions in collaboration with the Pacific Northwest Ballet, as well as a live performance with Etienne Cakpo. He writes, "The Ballet and the Museum are pivots of Western culture that have greatly shaped our image of what counts as culture. When first placed in French museums, African culture was pictured as 'other'––primitive, exotic, uncivilized, etc. . . . Using gestures derived from classical French ballet, two dancers address the masks with the formality and etiquette that is not how they have ever been approached before. Movements and bows in the French court were loaded with hierarchical order. Here they are offered to masks that observe these ritualized actions, but cannot dance themselves. Just as European countries like France removed masks and emptied out their meaning, these dancers now dance in a way that is deemed the epitome of elegance, but is also a representation of a power struggle."[1]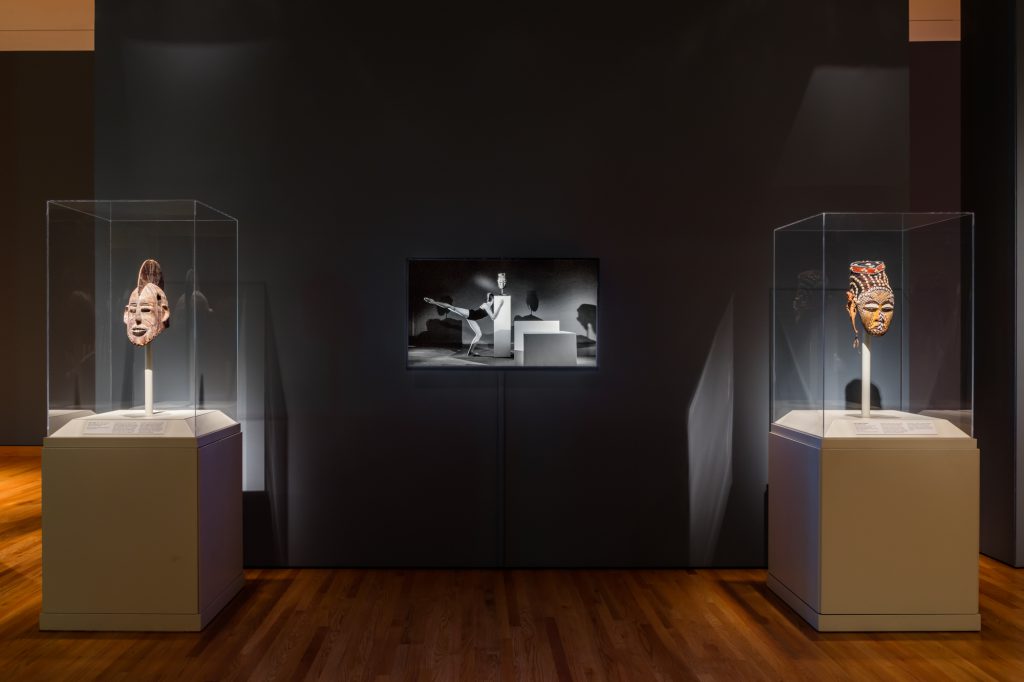 As a direct extension of this work and line of thinking, As One III and As One IX were produced for a 2017 exhibition at the University of Buffalo Art Gallery, titled The Language of Objects. The conceit of the show was to push against Adorno's claim that museums and mausoleums are innately connected and that, once objects enter a museum, they are removed from culture and, neutralized, cannot accrue new meanings. Fernandes deftly upends this notion, working with Lauren Post and Grayson Davis of the American Ballet Theater to animate and complicate the objects from the University of Buffalo collection.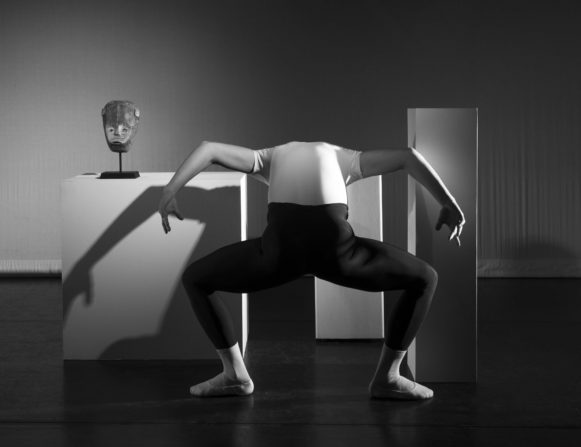 Fernandes's museological interventions facilitate important conversations surrounding cultural hegemony and colonial history, both within and outside of museum walls. Importantly, they also point to Fernandes's aspirations for institutions such as SAM and the communities they serve. To quote once more from the artist, "There is a sense that as our world becomes increasingly privatized and profit-driven, and as artists make the ties between profit and violence more apparent, that [museums and galleries] should use their resources and influence to push back. I believe that one way these spaces can do this is to create space for artists and audiences to experience and experiment with new forms of agency and to imagine what future forms of freedom might look like. I think this is an important and political function of museums and galleries: imagining future freedoms, imagining future ways to show and consider art."[2]
– Elisabeth Smith, SAM Collections & Provenance Associate
Images: As One IX, 2017, Brendan Fernandes (Canadian, born Kenya), 1979, digital print, 34 x 48 in., Gift of Christopher and Alida Latham, 2019.27.2 © Artist or Artist's Estate. As One III, 2017, Brendan Fernandes (Canadian, born Kenya), 1979, digital print, 34 x 48 in., Gift of Christopher and Alida Latham, 2019.27.1 © Artist or Artist's Estate. Installation view of As One, 2015, Brendan Fernandes, Canadian, born Kenya, 1979, in the exhibition Disguise: Masks and Global African Art, June 18–Sept. 7, 2015, photo: Nathaniel Wilson. Brendan Fernandes on June 14, 2020, at the Drag March for Change in Chicago. Photo: Erin Hooley/Chicago Tribune.
[1] Brendan Fernandes, Disguise: Masks and Global African Art label.
[2] "Artist Brendan Fernandes On the Dance Floor as a Space for Resistance and Resilience." Interview with Saisha Grayson, Smithsonian American Art Museum, June 6, 2019, https://americanart.si.edu/blog/artist-brendan-fernandes-dance-floor-space-resistance-and-resilience.