In Boafo's Words: Umber Brown Belt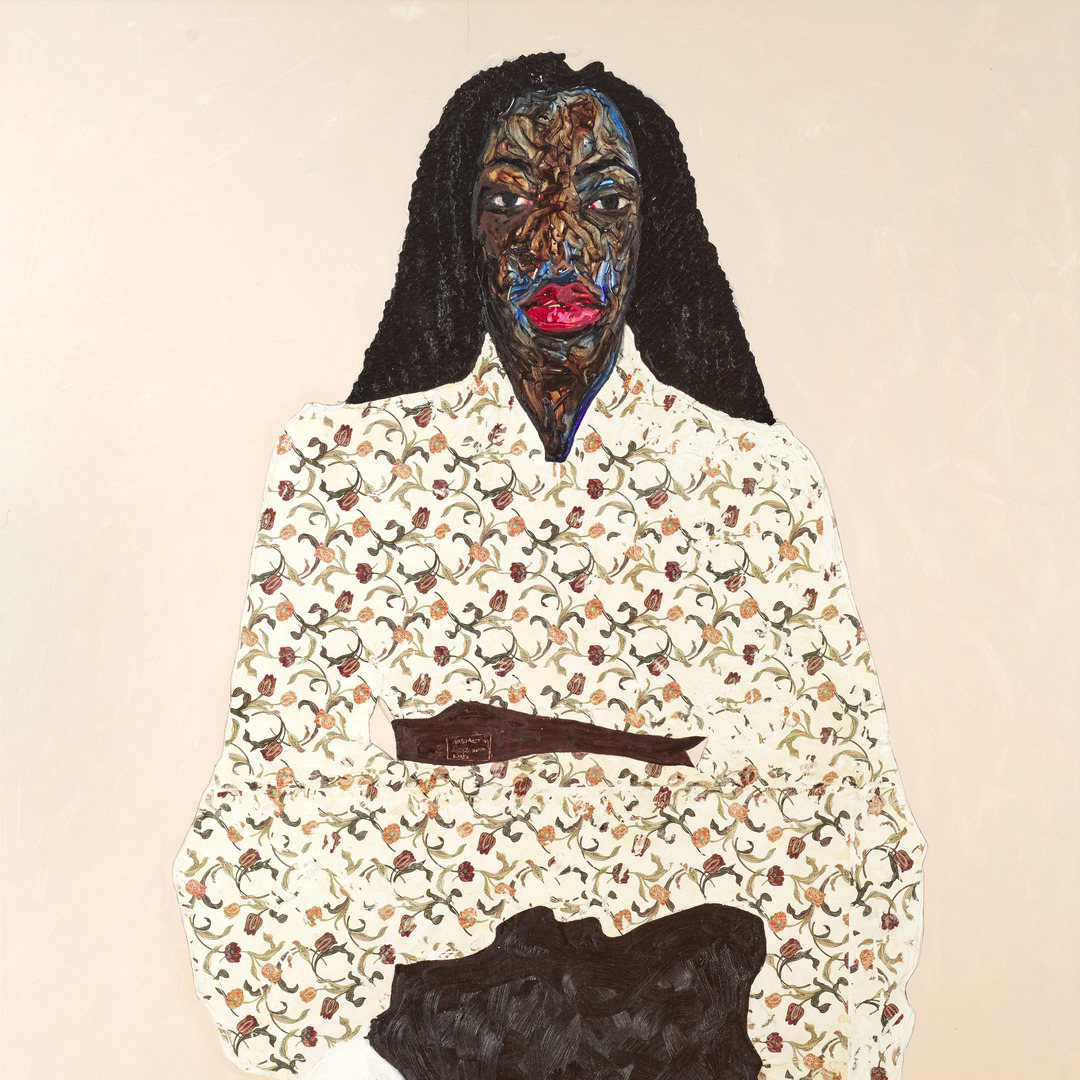 "I want my characters to pose with this kind of self-confidence, and in this painting, the character's pose is exactly what I want to achieve. She's present in the space."

– Amoako Boafo
Self-confidence is an essential characteristic in all of Amoako Boafo's portraits. Not only is this accomplished through his subjects' poses, but also by the artist's use of vibrant colors, an unflinching gaze, and distinct fashion. In Umber Brown Belt, the subject exudes self-confidence in her decision to directly face the viewer. This confidence is further emphasized by the artist's choice to give her bright red lips, an intimate stare, and an intricate floral blouse.
On the fourth stop of the free smartphone tour of Amoako Boafo: Soul of Black Folks at SAM, the artist explains the reasons behind his creative hallmarks. Listen to the audio recording now on our SoundCloud to learn more about the artistic choices in Umber Brown Belt or scan the QR code accompanying the work to tune in while exploring SAM's galleries. The exhibition closes Sunday, September 10—reserve your tickets before it's too late!
Umber Brown Belt, 2020
NARRATOR: Umber Brown Belt is a portrait of a woman from the artist's neighborhood. The belt of the title cinches her lavishly patterned floral blouse. For Boafo, his use of pattern is connected to the patterned fabrics common in his home city of Accra, the capital of Ghana.

AMOAKO BOAFO: You cannot go a day without seeing anything with a pattern in Accra, anything colorful in Accra. So, I think, whenever I'm painting and I'm making those outfits with the print, I think of the patterns that I see daily, and the colors that I do come across. That's what I think of and how I interpret them.

NARRATOR: Dress is important for Boafo in presenting his characters.

AMOAKO BOAFO: The way you appear in certain spaces, people think of you the way you are dressed. I want my characters to pose with this kind of self-confidence, and in this painting, the character's pose is exactly what I want to achieve. She's present in the space.

NARRATOR: This idea of presence is significant for Boafo.

AMOAKO BOAFO: Everything is connected to my experience in certain spaces and locations where I find myself and how people look at you and how you feel. I think, you know, most of the spaces that I've been before have not been that inviting. Sometimes you are there but not really there. And the thing is that I want to change that kind of ideas with my paintings. I want to be present. I want people to feel my presence.

NARRATOR: There's one final detail you may have noticed: the woman's hands are left unpainted.

AMOAKO BOAFO: The energy that I want from the painting, if I'm already getting it, it doesn't make sense to add more because sometimes adding more: it's not necessarily good.
– Lily Hansen, SAM Marketing Content Creator
Image: Umber Brown Belt, 2020, Amoako Boafo, paper transfer and oil on canvas, 82 5/8 x 66 7/8 in., Courtesy the Collection of Marilyn & Larry Fields.