In Boafo's Words: Reflection I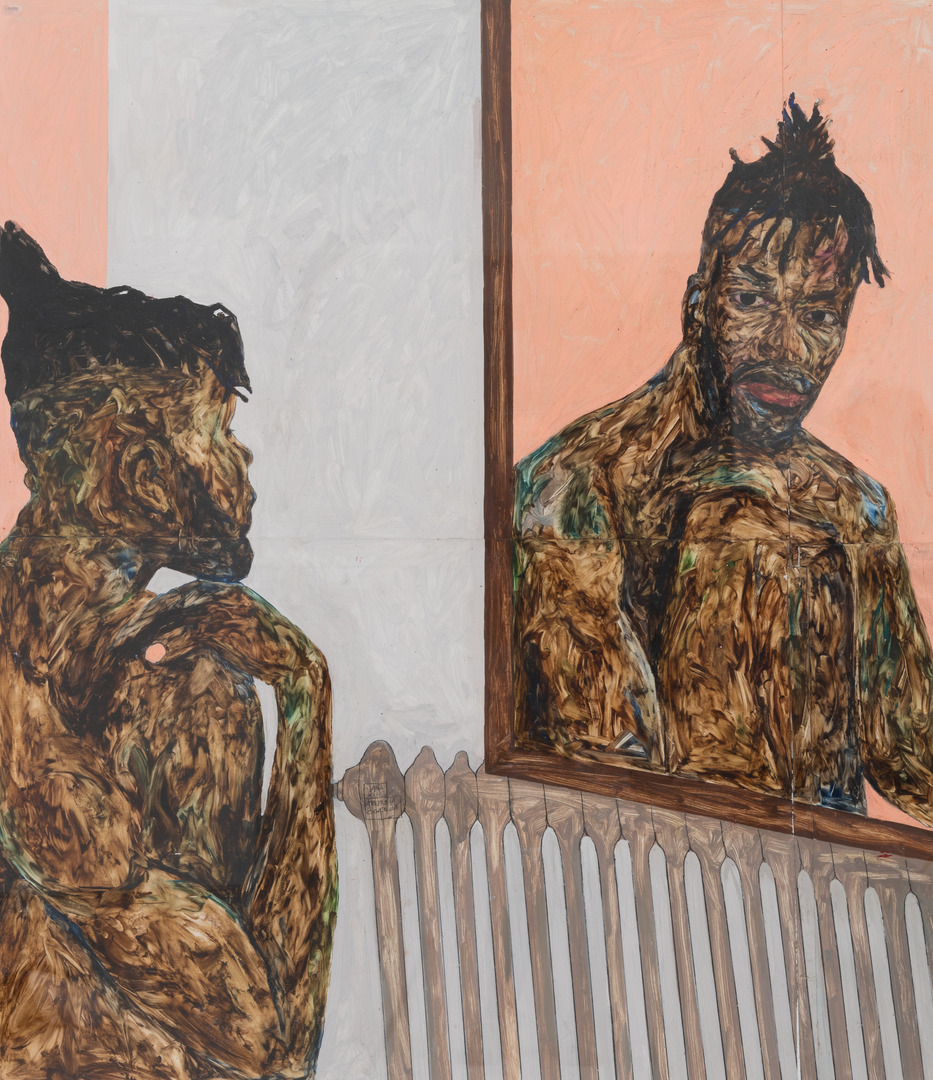 Reflection I marks Amoako Boafo's first self-portrait following his move from Accra, Ghana to Vienna, Austria. With his head resting on his hand, Boafo resembles artist Auguste Rodin's famed sculpture The Thinker, a work that has come to symbolize both the suffering and salvation found in self-reflection.
In addition to Rodin, many consider this self-portrait to allude to W.E.B. Du Bois and his notion of the double-consciousness as outlined in The Souls of Black Folks (1903), for which Boafo's exhibition is named. This concept interrogates the idea that Black people constantly have to look at themselves through the eyes of 'others.' In looking at himself in the mirror, Boafo challenges the 'othered' gaze often applied to the Black body—a theme explored by the artist within many of his works.
Tune in to the free smartphone tour of Amoako Boafo: Soul of Black Folks to learn more about Reflection I and eight more of Boafo's portraits. It can be accessed on your own time via our SoundCloud or by scanning the QR code accompanying each work in SAM's galleries. Get your tickets to see the exhibition today!
Reflection I, 2018
NARRATOR: Boafo painted Reflection I in 2018, after leaving Ghana to study in Vienna, Austria. The radiator under the mirror deliberately points out the change to a European setting. The new environment sparked a period of self-evaluation for the artist: it led him—for the first time—to paint himself.

AMOAKO BOAFO: Working with myself helped me understand who I am as an artist and a human being. Making that image also help others look at themselves and think of things differently. It is a way that I wanted to experience my masculinity myself and not what society sees to be normal. I wanted to see how it looks like when you explore more of the flesh.

NARRATOR: As part of this exploration, Boafo has developed a distinctive skin color palette of umber brown and ultramarine blue. He applies the paint directly to the canvas using his fingers.

AMOAKO BOAFO: I wasn't able to move forward with the brush painting the way I wanted my characters to feel, the way I want to express their feeling, because for me, painting is just more than capturing the perfection of a person. There is character. There is feeling. There is energy. The brush could not give me that kind of feeling. And so I arrived at painting with my finger.

NARRATOR: Here, the artist meets his own gaze in the mirror.

AMOAKO BOAFO: I think sometimes we look away from our experiences, and painting being a tool for me to express myself, I don't want to shy away from the experiences. I want to look at it. I want people to see me looking at it because for me I feel like that's the space where I get to be myself.
– Lily Hansen, SAM Marketing Content Creator
Photo: Reflection I (detail), 2018, Amoako Boafo, oil on paper, 51 1/8 x 43 3/8 in., Image and work courtesy Roberts Projects, Los Angeles and Private Collection, photo: Robert Wedemeyer.