In Boafo's Words: Jean Jacques Ndjoli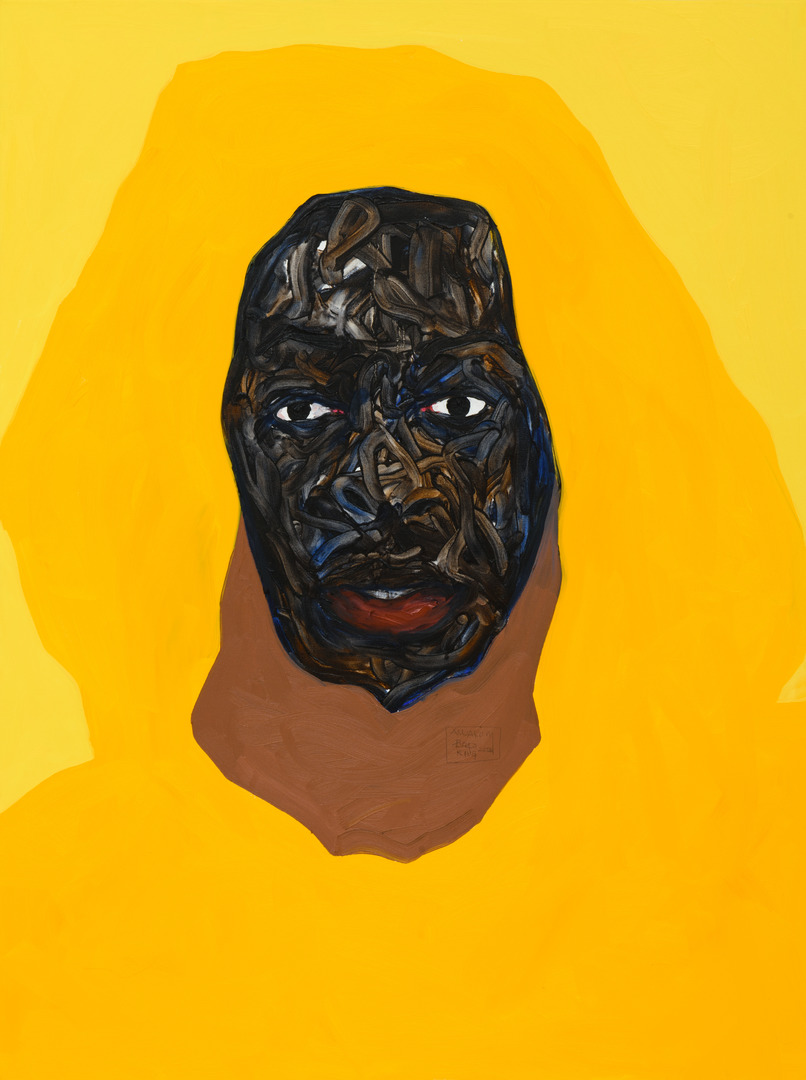 Before entering the galleries of Amoako Boafo: Soul of Black Folks at SAM, visitors are greeted by a 2020 portrait of contemporary fashion designer and stylist Jean Jacques Ndjoli. Hanging amidst a wall covered in Boafo's well-known Monstera plant print, the portrait offers an introduction to the artist's signature style with its vibrant yellow hues and the apparent use of his distinct finger painting technique.
Learn more about this artwork and eight more of Boafo's portraits by tuning in to our free smartphone tour of the exhibition on our SoundCloud. Or, if you're in the galleries, scan the QR code accompanying each work to be directed to the relevant stop on the tour. The exhibition closes Sunday, September 10—get your tickets to see it before it's gone!
Jean Jacques Ndjoli, 2020
AMOAKO BOAFO: This is a painting I did in LA [where] it's sunny all the time. You know, you are guaranteed to get your fresh pressed orange juice.

NARRATOR: To capture that mood, the artist focuses on one color.

AMOAKO BOAFO: You have three shades of yellow. So, the overall pullover is the cadmium yellow hue, and then the background, I tinted it with white, and then I added a bit of brown to the yellow hue to have that inner pullover.

NARRATOR: Boafo is a figurative painter. In other words, he paints recognizable figures and objects. But this image goes beyond straightforward representation. The flat, simplified forms of the hooded pullover become abstract areas of color.

They also create a strong visual tension with the thickly finger-painted skin of the face.

AMOAKO BOAFO: I think of colors that, you know, just highlight the face and the figure.

NARRATOR: The important thing for Boafo is to elevate and celebrate his characters.

AMOAKO BOAFO: I consciously think about how to elevate the characters and place element or colors that only elevates them or complement them and not compete and take away from them.

I think the thing with celebration is that we don't do it that often, and I think it would be good that we celebrate others more often: for people to know that we see what they are doing, and they are appreciated and noticed for what they are doing.
– Lily Hansen, SAM Marketing Content Creator
Image: Jean Jacques Ndjoli, 2020, Amoako Boafo, oil on canvas, 40 x 30 in., Collection of Josef Vascovitz and Lisa Goodman, courtesy of Roberts Projects, Los Angeles.