In Boafo's Words: Introducing Soul of Black Folks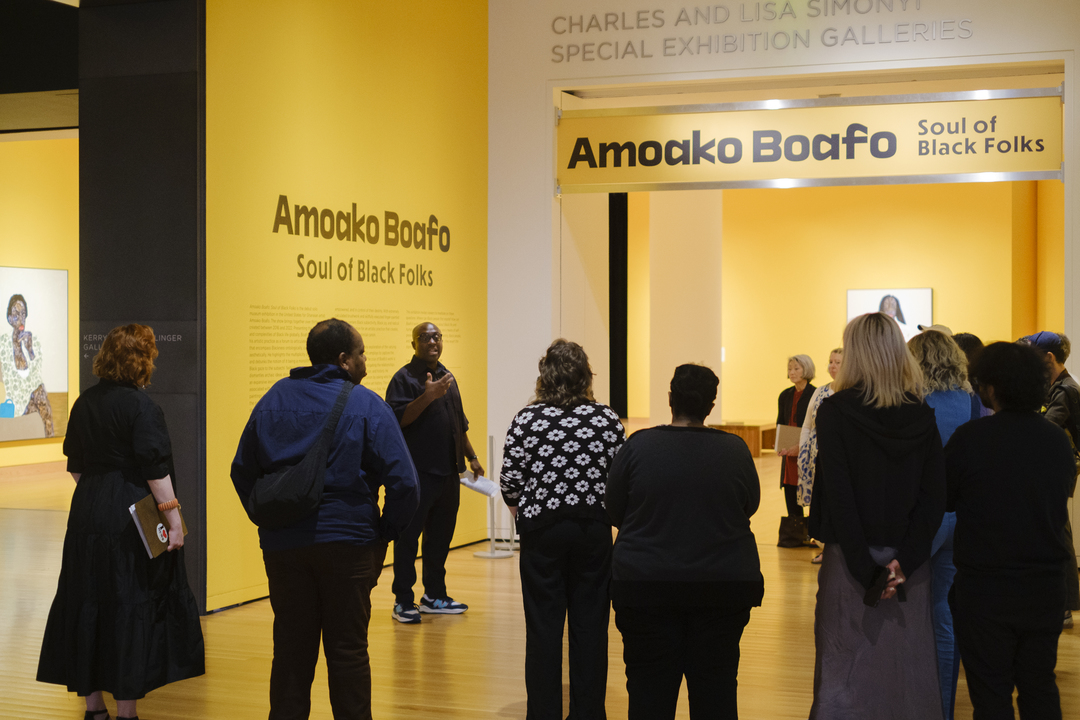 "I like people to be with me through the journey of making [a] painting, even though they're not in the studio space. I want people to come to the show and feel like they made the paintings with me…"

– Amoako Boafo
Amoako Boafo: Soul of Black Folks is now on view at SAM! As part of the contemporary Ghanaian artist's Pacific Northwest solo debut, we developed an audio tour of additional artistic insight. Featuring interviews with Boafo and exhibition curator Larry Ossei-Mensah, the tour highlights eight of the artist's portraits created between 2016 and 2022 and is exclusive to Seattle audiences.
The tour kicks off with a brief introduction to the exhibition and Boafo's artistic process. This stop includes a discussion of the exhibition's title—drawing its inspiration from W.E.B. Du Bois's seminal 1903 ethnographic study The Souls of Black Folk—and the artist's distinct finger painting technique used to sculpt the skin of his subjects. The recording concludes with Boafo explaining what he hopes Seattle visitors will take away from experiencing his artwork.
Explore all nine stops of our smartphone tour in SAM's galleries by scanning the QR code accompanying each of the featured works on view or listen to it on your own time on our SoundCloud. Get your tickets to see the exhibition at the Seattle Art Museum through Sunday, September 10!
Soul of Black Folks: Introduction
NARRATOR: Welcome to the Seattle Art Museum and to Amoako Boafo: Soul of Black Folks. This is the first solo museum exhibition in the United States for Ghanaian artist Amoako Boafo. The show brings together over 30 works created between 2016 and 2022. It has been guest curated by Larry Ossei-Mensah.

The title of the exhibition is inspired by the seminal ethnographic study, The Souls of Black Folk, by W.E.B. Du Bois, dating from 1903. The book was an assessment of Black life at the turn of the 20th century. Boafo's work offers a visual equivalent for our times: it can be seen as an exploration of Black life in all its breadth of experience and emotion. The exhibition is a celebration of the humanity of Black people in 2023.

Boafo's paintings combine skillful brushwork with finger-painting: specifically, he uses his fingers to mold and sculpt the bodies of his subjects—subjects that he refers to as 'characters.' We're delighted that Boafo will be joining us throughout the tour, offering insights into his artistic process and inspiration.

AMOAKO BOAFO: I like people to be with me through the journey of making the painting, even though they're not in the studio space. I want people to come to the show and feel like they made the paintings with me because there is all the choices of colors and movement that you see, and you feel like you are part of the painting, or you are there when the painting was made. I want people to have that feeling when they come.
– Lily Hansen, SAM Marketing Content Creator
Photo: Alborz Kamalizad.