Pride Month: Rosemarie Trockel's Bibliothek Babylon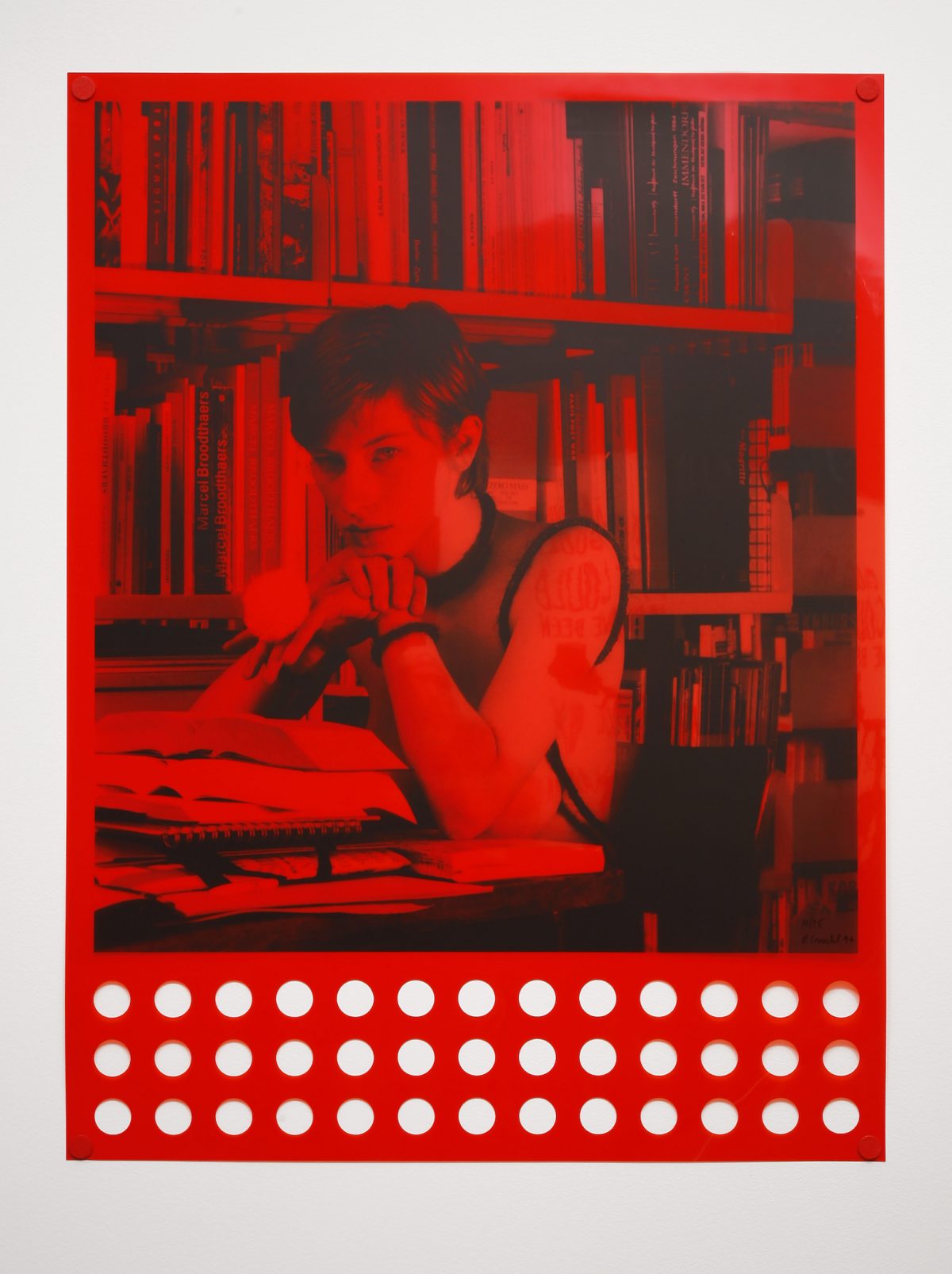 In honor of Pride Month, SAM Blog features reflections by SAM voices on artworks from the collection that explore LGBTQIA+ art and artists. Queer lives matter every day of the year, but this month is a particular opportunity to celebrate histories of joy, advocacy, and resistance.
In Det lika olika/The Same Different, a 2018–2019 solo exhibition at Sweden's Moderna Museet Malmö, contemporary German artist Rosemarie Trockel interrogated viewers with a single question written on a small piece of paper: What is it like to be what you are not?
SAM's collection features Trockel's Bibliothek Babylon (1997), a photographic screenprint on transparent red Mylar. In it, the subject sits at a library table surrounded by books, wearing only cords of rope that outline where clothing seams would fall on the body. The title, in Trockel-fashion, asks to be picked apart: "Babylon" the Greek, Latinized form for "city of Babel." In Abrahamic tradition, the Tower of Babel is a bastion for humanity and explanation for the world's languages. One would have to guess that Trockel means to contrast this with the biblical Babylon (a woman atop a seven-headed beast, meant to personify promiscuity).
"[Trockel] started in Germany in the 80's. It was a male-dominated art world she lived in and tried to make herself visible, which was not that easy. So she infiltrated the art world with materials that perhaps did not belong to that male art world. Such as wire, wool and knitting instead of painting… Many have said or read her art as feminist. And I think, yes there's a truth in this, but there is so much more."

– Iris Müller-Westernmann, Curator, Det lika olika/The Same Different.
The purpose of the title is to conjure religious and historical fears regarding femme people's pursuit of knowledge and bodily autonomy. The use of rope—a fiber—invites us to consider whether the subject is liberated or restrained in their nakedness. For this image, the total edition consists of 60 screenprints: 25 on red, 20 on yellow, 15 on clear, as well as 25 artist proofs. The tone of each varies in how the subject and the books' covers are accentuated and made readable.
In other works, Trockel deftly uses medium to talk about women as creators of art subjugated to the realm of the underappreciated "craft" and the household. "Woman," also, as a narrowly defined and restrictive category. Much of Trockel's body of work incorporates clothing and textile that's often unisex in appeal until stretched, conformed, and gendered by the wearer. Reflecting on reunification years, Trockel's series of masks, Balaclava, are a commentary on gender roles, women's muteness, and the necessity for radical action. Trockel herself has at times rejected the title of "artist" or referring to her work as "art."
"In Trockel's art, the mixing of the idealized feminine with the mundane is a potent means of raising consciousness about the ways women have come to be classified and evaluated…

…Without question, the body and what has been designated as 'woman's work' are powerful signifiers… to blur the division between genders and to suggest the foundering of the traditional 'masculine' and 'feminine' connotations associated with dress."

– Sidra Stich, Art Historian
Another who took inspiration in literary metaphor is Argentine thinker and librarian Jorge Luis Borges (1899–1986). In his 1941 short story The Library of Babel, Borges imagines a theoretical library containing all knowledge. The dimensions of such a place are impossible, but its books would contain letters and punctuation in every possible combination. Meaning, if searched for long enough, you could find a copy of this blog post, a transcript of any conversation, and even the details of your own death.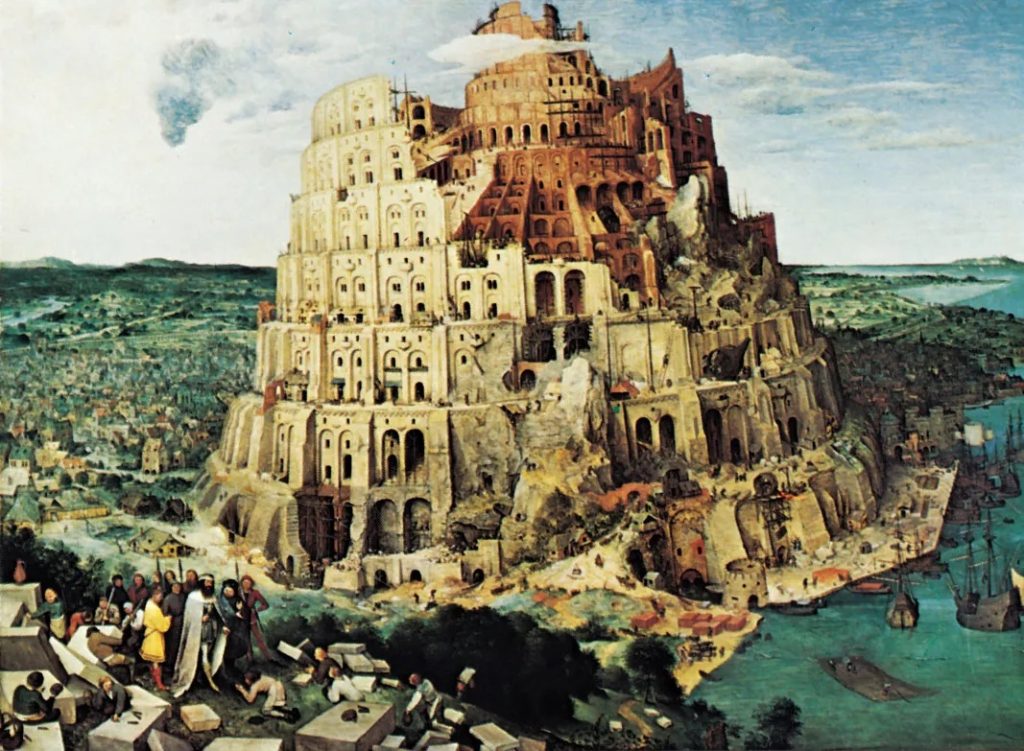 In 2015, writer and coder Jonathan Basile tried exploring the implications of this by describing the library through algorithm. On his website, enter any text you like: a favorite memory, a bold lie, a list of groceries. You'll then be pointed to the room and book where, in an ontological sense, it's already written. Not all things in the library are true and few pages are legible. But is it not helpful (and terrifying) to know your thoughts have already taken form? What, read back, would feel the most validating? What might Trockel, wishing to be "free of the binary system," write? It's already there to be found, of course.
Here's one final resonance: The 2017 German television series Babylon Berlin invokes "Babel" to depict the last days of the Weimar Republic as a time of extravagance, danger, unrepressed art, and sexuality. These are the oft-forgotten "golden twenties" preceding totalitarian rule and the burning of books and libraries. Of things lost: the significant shift away from traditional roles for the Neue Frau ("new woman"), as well as a wealth of research on identity and gender-affirming care.
Celebrate Pride Month in Seattle with these suggested events:
Fri Jun 23
Trans Pride Seattle
Produced by Gender Justice League, this event in Volunteer Park will feature music, performances, food trucks, and educators.
Sun Jun 25
Seattle Pride Parade
The official 49th annual Pride Parade! Join in the fun or grab a spot in the grandstand. Say hi to SAM's LGBTQIA+ affinity group who will be marching together.
Aug 17–20
Pacific Northwest Black Pride 2023 in Columbia City
Celebrate the 6th year celebrating the Black LGBTQIA+ community with workshops, a health festival, music performances, parties, and more.
– Travis L., SAM Event Security Officer
Travis (they/them) is a mixed-media artist working in the realms of history and romanticism. They were recently featured in The Process Project and currently have work on view in the group exhibition Freedom at Gallery B612 through July 21.
References: Rana, Matthew. "What Is It like to Be What You Are Not? Rosemarie Trockel's Diverse Practice." Frieze, 31 Oct. 2018. Issue 200. Drier, Deborah. "Spiderwoman: Rosemarie Trockel." Artforum, Sept. 1991. Vol. 30, No. 1. Stich, Sidra. The Affirmation of Difference in the Art of Rosemarie Trockel. 1991. Phillips. "Bibliothek Babylon (Trockel)." Artsy, June 2019. Auctions. Edition Schellmann—Fifty Are Better Than One.
Images: Bibliothek Babylon (Library Babylon), 1997, Rosemarie Trockel, German, b. 1952, screenprint on transparent red Mylar, 47 x 35 1/2 in. (119.38 x 90.17 cm), Print Acquisition Fund, 97.57 ©️ Rosemarie Trockel, photo: Mark Woods. The Tower of Babel, Pieter Bruegel the Elder, 1563; in the Kunsthistorisches Museum, Vienna.