Woven With Purpose: The Story of "Ikat" at SAM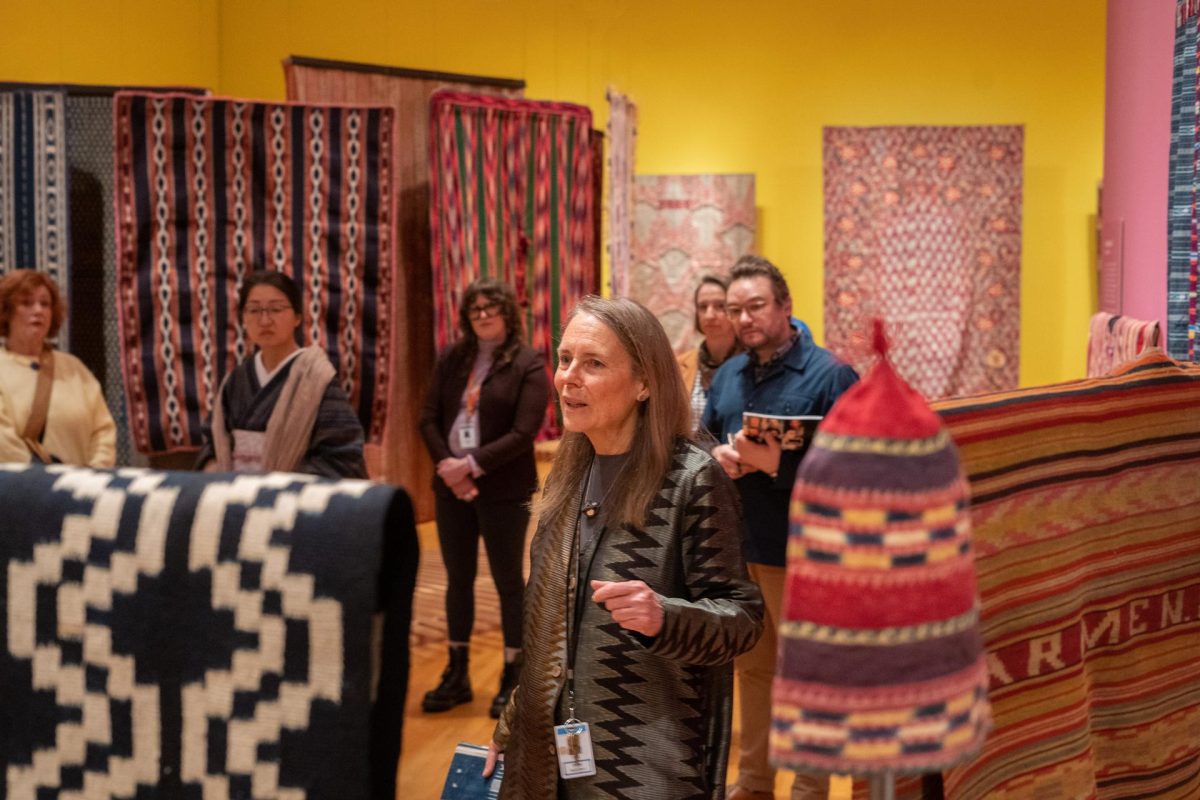 IKAT, not IKEA, is now on view at the Seattle Art Museum. The surprising similarity in appearance of these two words came up a few months ago when fonts for the exhibition's marketing campaign creative were reviewed. But how different they actually are is why it's worth seeing this exhibition.
Walking through IKEA is the ultimate contemporary shopping experience. It provides everything you need for an entire home to be outfitted—except the clothes—and it is all made by machines in a swift industrial manufacturing practice that strives to be as affordable as possible. Its aesthetic does rely on designers who add individual creativity to the company, but the handmade is missing.
Walking into galleries of Ikat: A World of Compelling Cloth is a chance to take a break from a world of manufactured reality and be surrounded by the intimate sense of cloth exquisitely made for very distinct purposes. The exhibition was curated by Pam McClusky, SAM Oliver E. and Pamela F. Cobb Curator of African Art, and can only be seen at SAM.
However, as a first step, you need to understand what ikat is. Given how few people weave themselves, ikat might be considered a strange term from the past that is hard to connect with. To help recognize the thought and dedication that ikat requires, the exhibition features an entire gallery designed as a loom to walk through by contemporary artists Roland and Chimani Ricketts. From this immersive moment, you'll embark on a world tour of ikat cloths, sometimes being greeted by garments, although most are of minimal tailoring, honoring the integrity of the fabric as it comes off the loom.
Textiles from Japan include futonji (bed coverings) and kimonos for adults and children as well as the Noh theatre. The Japanese cloths have a similar palette to those from Africa, indigo being prevalent, but the designs from numerous regions of Africa on view are distinct, with variegated stripes and medallions featured on cloths and dramatic robes. Indian and Southeast Asian ikats introduce cloths that are relied upon for ritual observations. Cloths from Uzbekistan are filled with flowing arabesques and exuberant designs in brilliant colors, including a robe of silk velvet which seems to come from a textile paradise. European ikats from 17th- and 18th-century France serve as a reminder that hand woven traditions faded away with the coming Industrial Revolution. And American ikats will include ponchos from the south and recent works from Santa Fe.
As we expect the urge to touch and feel cloth to emerge, we've created a cart just outside of the galleries' entrance with threads and samples of ikats available for handling. And SAM Shop has set up adjacent to the galleries to showcase cloth made by artists who use natural dyes and woven processes that have a sustainable impact on our world. This spring, be immersed in the global reach and powerful beauty of this exceptional art form.
This article first appeared in the February through May 2023 edition of SAM Magazine and has been edited for our online readers. Become a SAM member today to receive our quarterly magazine delivered directly to your mailbox and other exclusive member perks!
Photos: Chloe Collyer.