Alberto Giacometti: Head of a Man in Profile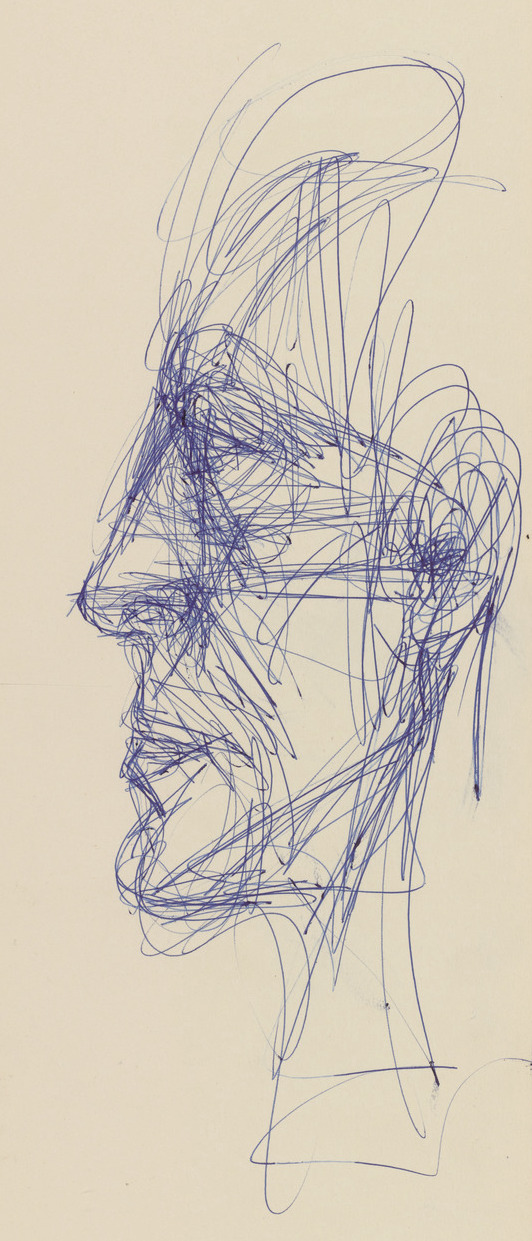 Although Alberto Giacometti is most often remembered for his towering statues and landscape paintings, the artist began every new project with a sketch. Preferring either a ballpoint pen or pencil, he referred to the act of drawing as the "basis" for all of his artworks.
In Alberto Giacometti: Toward the Ultimate Figure—the extensive retrospective which shares its name with the ongoing special exhibition at SAM and is available for purchase at SAM Shop—contributing writer Catherine Grenier writes of Giacometti: "The numerous drawings he made of the same motif show the simplification he carried out in his sculptures… In many of them, the natural movement, the inclination of the body, the folding of the leg show that they are drawings made while looking at scenes in the street" (33).
Guided by SAM Museum Educator Lauren Kent, this audio recording from SAM's smartphone tour Alberto Giacometti: Toward the Ultimate Figure guides visitors in a close-looking activity at one of Giacometti's sketches, Head of a Man in Profile. Visit SAM's downtown location through Sunday, October 9 to experience Toward the Ultimate Figure and listen to all seven stops in the audio tour.
Head of a Man in Profile, ca. 1959
NARRATOR: Giacometti once said that 'drawing is the basis for everything'. Here's SAM educator Lauren Kent on Head of a Man, a lively portrait in ballpoint pen.

MUSEUM EDUCATOR LAUREN KENT: Take a moment to stand in front of this drawing and take it in with your eyes. Zoom in to notice the details of the lines and marks on the paper. Let yourself get lost in these details. Then, zoom out to notice how it all comes together. Take out your finger to draw in the air. Find a starting point and trace the path of the lines that you see. Experiment with moving very slowly, like an ant walking along its path (voice slows down). Now, speed up and move quickly, chasing everywhere Giacometti drew with his ballpoint pen.

What shapes, angles, and movements does your finger make? Which areas do you return to and repeat over and over again? Which areas don't you touch at all?

How do you think Giacometti was feeling when he made this drawing? What was the energy in the studio like? Do you think that he knew this model? What do you see that makes you say that?
– Lily Hansen, SAM Marketing Content Creator
Image: Head of a Man in Profile, ca. 1959, Alberto Giacometti, Swiss, 1901–1966, blue ballpoint pen on paper, 65 × 19.3 cm, Fondation Giacometti, © Succession Alberto Giacometti / ADAGP, Paris, 2022.