Our Blue Planet: Five Quick Questions with Ken Workman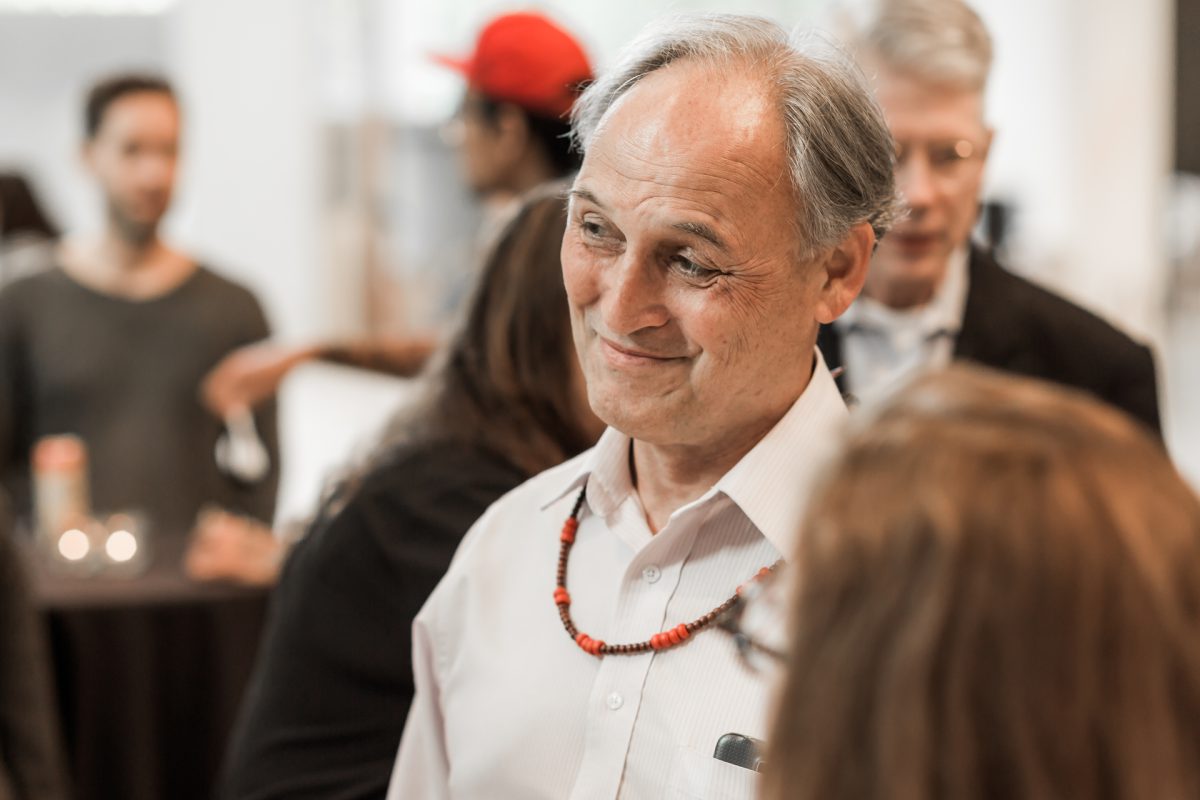 Our Blue Planet: Global Visions of Water documents the stories and histories of water in our world. Pulling exclusively from local loans and works in SAM's permanent collection, the expansive exhibition features paintings, sculptures, textiles, and multimedia works by over 70 artists from around the world. Over the next 10 weeks, we'll be talking with some of the contemporary artists involved with the exhibition about their artwork and the importance of water in their lives.
Born and raised in Seattle, Ken Workman is a member of the Duwamish Tribe, the first people of Seattle, and the fifth generation great-grandson of Chief Seattle. A former Systems and Data Analyst at Boeing, Ken previously served as a Duwamish Tribal Council member and Duwamish Tribal Services President. He also currently sits on the board of two non-profit organizations, the Duwamish River Cleanup Coalition and the Southwest Seattle Historical Society. Read below to learn about Ken's involvement in Our Blue Planet.
1. What is your name and where are you currently based?
My name is Ken Workman and I live in West Seattle.
2. What is the title of your artwork and how does it fit in with the themes explored in Our Blue Planet?
I serve as the introductory speaker for Our Blue Planet. The curators of this exhibition reached out and asked if I would say a few words in my native language, Lushootseed, and welcome people onto this land. In the video, I welcome everyone to the area, to the museum, and into the galleries in my native language—and I was honored to be asked to do it.
3. What thoughts, ideas, and/or perspectives do you want visitors to take away from your artwork in Our Blue Planet?
For so long, the Duwamish people weren't allowed to speak our language on our land. Being a part of this exhibition, and being given the opportunity to speak Lushootseed publicly, is very special to me. I consider it an honor any time I am able to share our ancestral sounds with the public. What I think is most important in watching this introductory video is hearing my voice and my language. Water is such a broad topic which affects every community and person in the world, so I want visitors to learn about and understand the Duwamish people's relationship to water while I speak in my community's native language.
4. What other artworks in the exhibition stood out to you?
The one that really caught my eye was Tracy Rector's Clearwater: People of the Salish Sea. She uses a combination of audio recordings and visual media to tell the story of the annual Canoe Journey, an inter-tribal event from Alaska to Oregon that celebrates the return of traditional canoe culture and water protection. In watching the video, what I realized was that I was actually a part of it! In addition to the drumming and native songs playing in the background, I suddenly heard my own voice and remembered that Tracy had asked record me speaking in Lushootseed many years ago. When I first watched the film, I was a bit surprised to hear my voice as I didn't know I was a part of it but it was wonderful to discover that Tracy had included me in her work.
5. How do art and activism intersect? Why do you think it's important for museums like SAM to curate exhibitions around environmental and societal issues such as water?
It's important for us to recognize the importance of our natural resources. Around the world, potable water is in short supply. Our glaciers—in the Alps and here in America—are melting and our access to drinking water is shrinking. Bringing attention to these issues, like Our Blue Planet does so well, is more important than ever. Through experiences like these, I hope people will wake up and think more about using and conserving limited resources like these.
– Lily Hansen, SAM Marketing Manager
Photo: Beau Garreau.