Object of the Week: Center patch from Mardi Gras Indian suit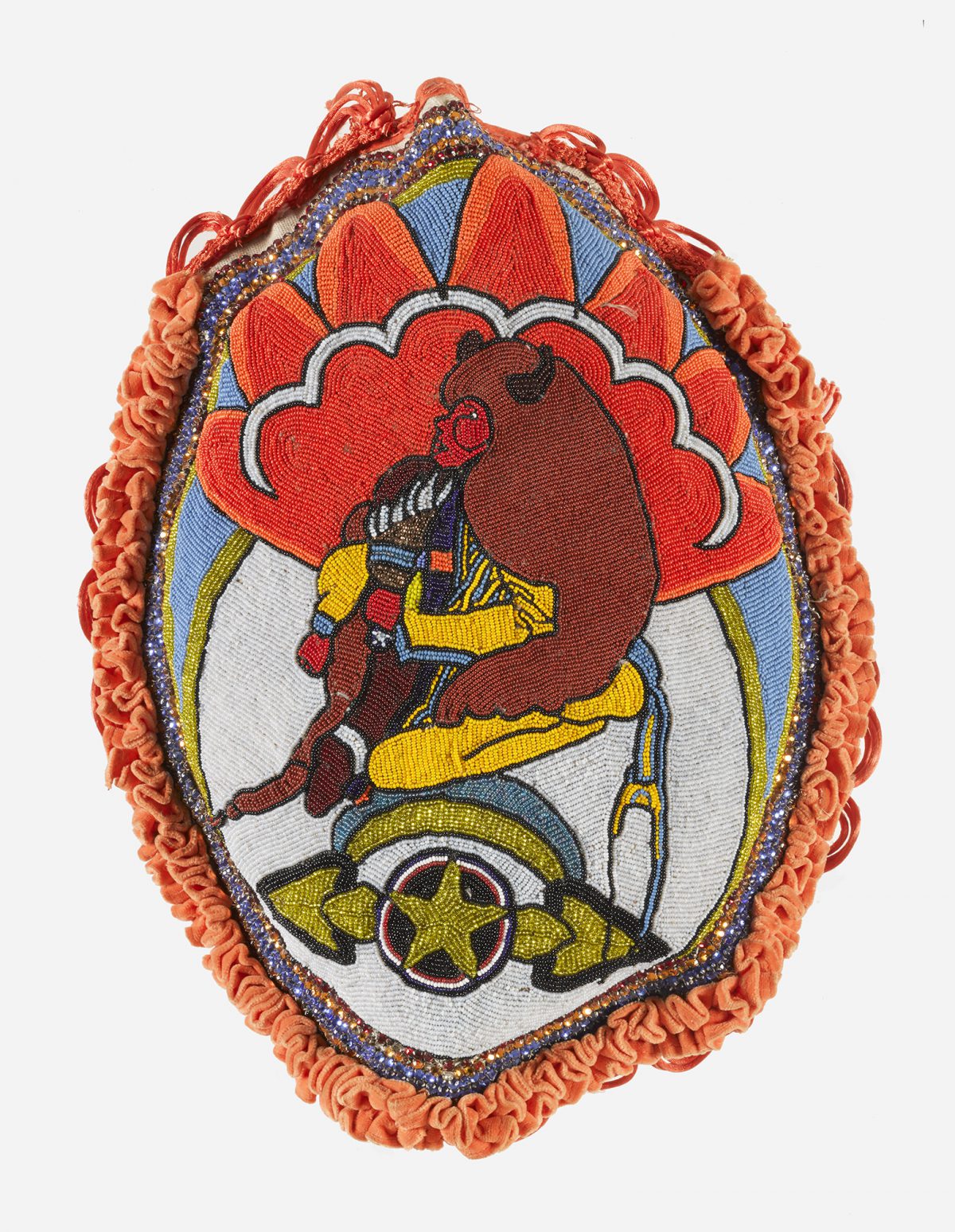 February 16, 2021 is Mardi Gras Day in New Orleans, Louisiana. This year there can be no public celebration. We offer these images and statement with thanks to the Mardi Gras Indians for the renewal they have given us in the past and soon to come again.
This finely beaded patch is a picture reflecting the quiet side of its maker, Larry Bannock, and the clear mind required to be a leader of the New Orleans "Mardi Gras Indians." Larry was Big Chief of the Golden Star Hunters. The stillness of the scene in this patch is not what Larry and others show to spectators. Their experience is only the huge, colorful "suits" with patches, plumes, satins, rhinestones and the drums, song, and dance. Many in the Northwest looked with awe and admiration at one of Larry Bannock's suits, which was shown in the 1992 SAM exhibition, Caribbean Festival Arts.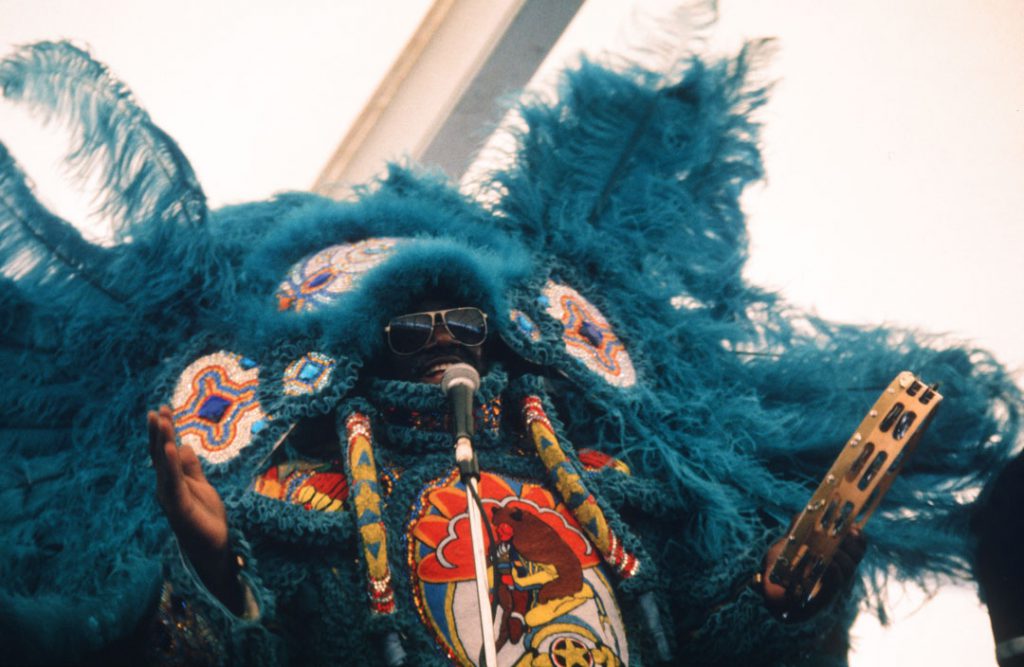 We can take a patch and put it on the wall but need to go further to know why it was created. Mardi Gras Indians perform in their suits. This is theater in the street. Each man, woman, and child in a suit has a role. Many have massed (masqueraded) as Indian most of their lives. They have learned the signals and music. The songs are known to every group, or "gang." Some are popularized through recordings by New Orleans singers like the Neville Brothers, whose uncle was a Big Chief. Each member of the gang perfects the performance routines during the Sunday practices.
Before all the celebration and drama, there must be the Big Chief, and all those in the gang who will make a suit that year, who sit quietly for hours, day after day sewing their patches and making other parts of their suit. Friends and family can help with building it or ruffling or might pay part of the bill. Larry's suit each year cost thousands of dollars and weighed over 125 pounds.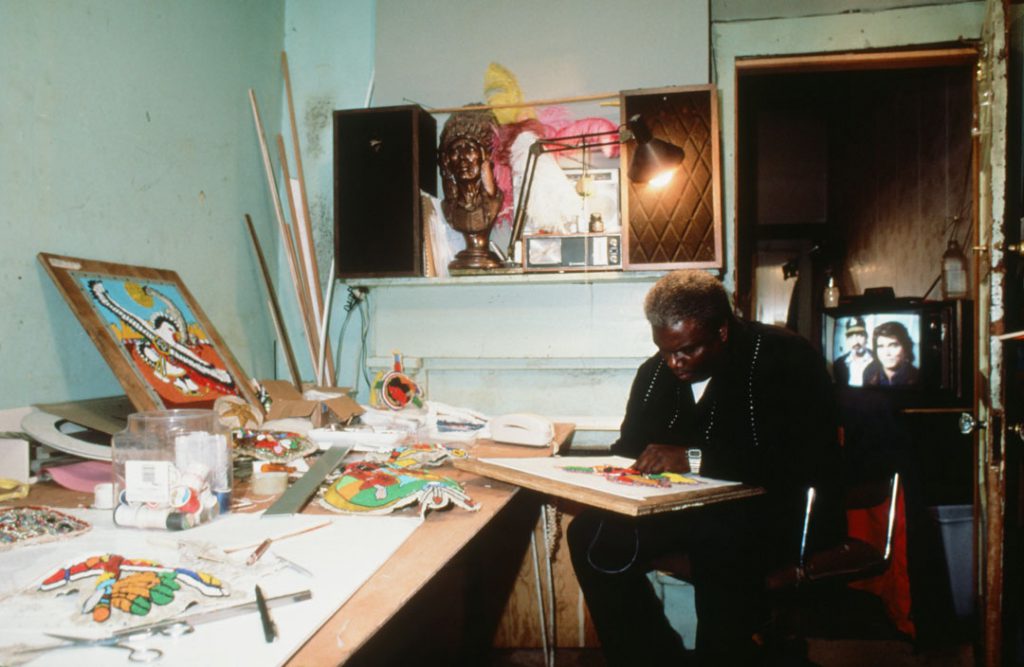 When first arriving in Larry's sewing space to interview him, I looked at his massive hands and fingers and wondered how he could hold the tiny needle with long silk thread and guide it through tiny beads. I saw his fingers messed up from months of being punctured by needles. He was a large, powerful looking man, but there he was, sitting alone, sewing a patch for Mardi Gras. To Larry and other Black Indians, Mardi Gras is not another party. He said, "It's like your heart and soul." Larry spoke of a spirit from the Native American past that took over.
Larry repeated all his life that they are honoring Native People. Many today claim both African and Native American ancestry. The first slave ship in New Orleans arrived in 1719. After that some Africans and Native People escaped Europeans and sought refuge with the other group. Lithographs from the 1700s on depict Africans and Native People together.
Larry was clear that what they are doing is not an imitation of Native People or their traditions. Nor are they copying African beading or performance traditions or those of the Caribbean. They may be inspired or revealing an unconscious connection to them, but in honoring their ancestors the Mardi Gras Indians are creating something new.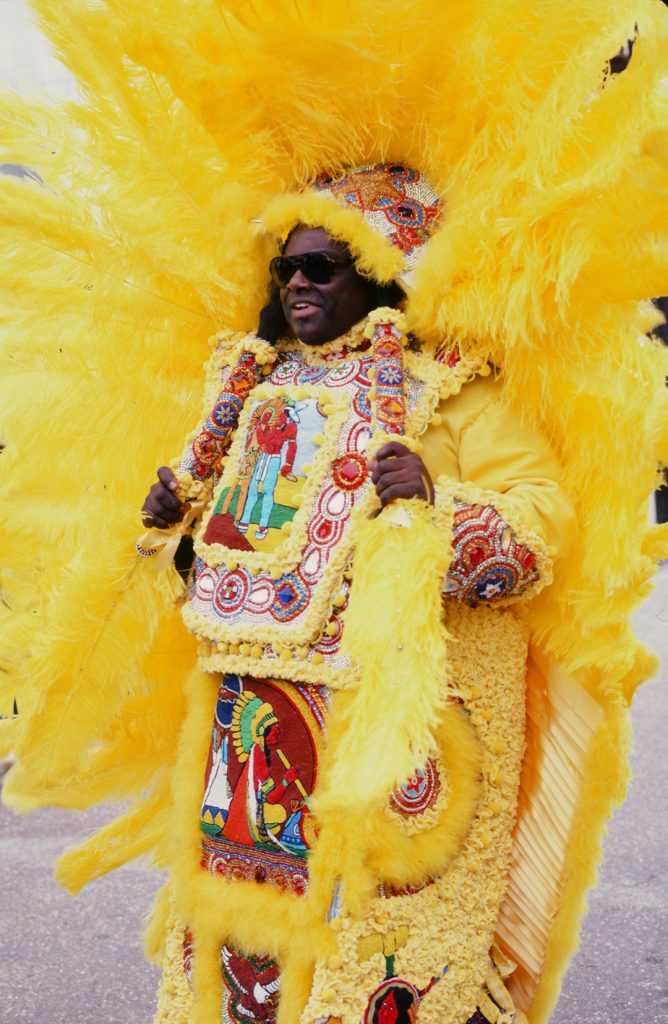 Over time, as the gangs evolved, competition between the groups came to be aesthetic and the suits increasingly elaborate. Each one wants to "be prettier" than everyone else. Larry laughed at what this competition had become: "If the real Indians had to wear all this to go into battle, boy, Custer woulda won. It's true! I mean, you're weighed down. If the real Indians were like the Indians we masin now, if they had to stay up there all night sewin' and doin' all this, Custer woulda won the Battle of Little Big Horn."
The tradition continues to evolve today. Those sewing now cannot resist the impulse to create something extraordinary, beautiful, strong, and joyful—something of pride for themselves and their neighborhood. It remains a powerful need that calls someone like a Larry Bannock to the sewing table, no matter the physical, mental, or financial cost.
Dedicated to Larry E. Bannock, 1948–2014.
– Dr. Karen Morell, University of Washington
Image: Center patch from Mardi Gras Indian suit, 1989-90, Big Chief Larry Bannock of the Golden Star Hunters, muslin, satin, seed beads, rhinestones, velvet, 18 1/4 × 14 1/2 × 5 in., Gift of Dr. Karen Morell, 2016.22 © Artist or Artist's Estate.