Object of the Week: Still Life with Strawberries and Ostrich Egg Cup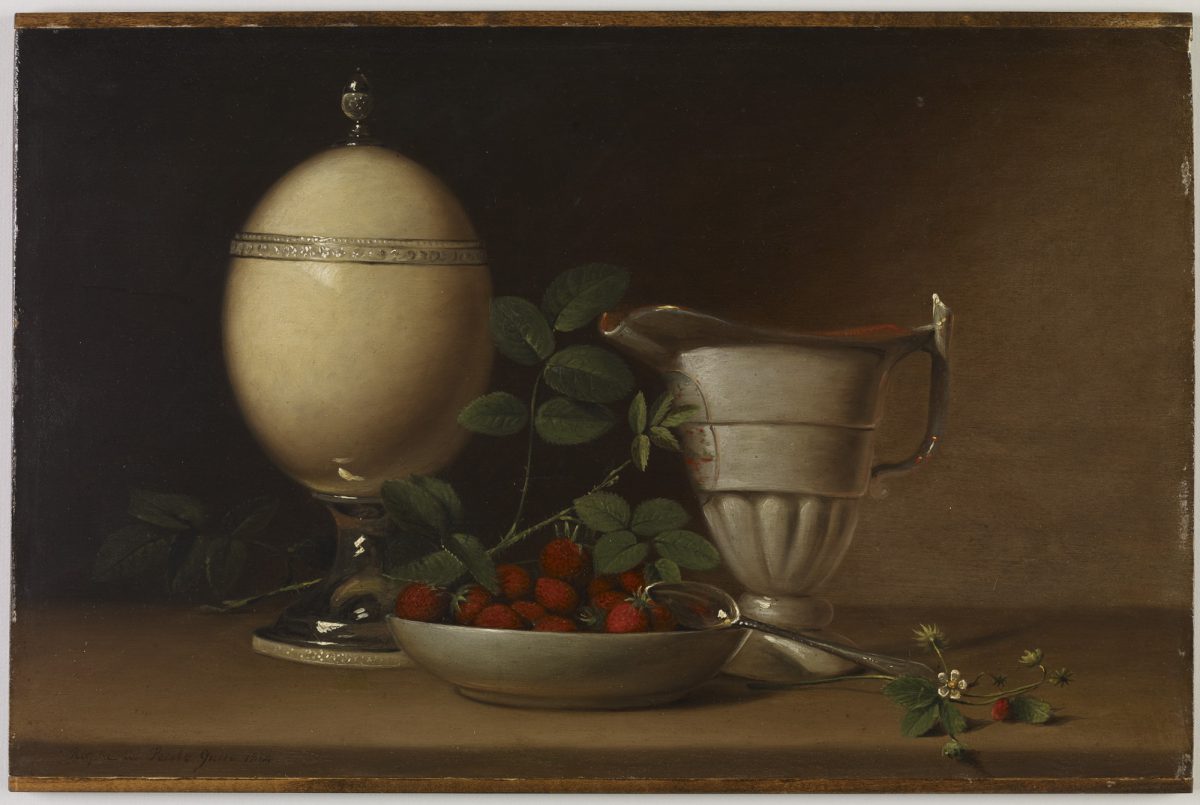 Over the past several months, we have been rethinking how we present our historic collections of American art, and this has led us to consider some of the hidden histories behind some of our most iconic works. Take, for example, Raphaelle Peale's Still Life with Strawberries and Ostrich Egg Cup, a tiny jewel of a painting with some far-reaching tales to tell. Its subject—an arrangement of exquisite objects and mouthwatering fruit rendered so naturalistically to seem almost palpable—is outwardly straightforward and seemingly innocuous. That is, until you take a closer look.
Raphaelle Peale was one of the many artistic children of Charles Willson Peale, a formidable portrait painter and purveyor of knowledge famous for his many likenesses of George Washington. Peale-the-Elder had a vast collection of art, cultural artifacts, history, natural history, and prehistory (including, impossibly, a fossilized mastodon that he had taken upon himself to excavate from a Connecticut swamp), which he displayed in Philadelphia's Independence Hall as America's first museum. He had high aspirations for his talented son, so you can imagine how disappointed he was when the younger Peale opted for the modest and intimate practice of still life over the more prestigious and public pursuit of history painting.
Yet, while unobtrusive in both style and substance, Still Life with Strawberries and Ostrich Egg Cup offers clues that Raphaelle Peale shared his father's fascination with natural phenomena and the world's cultures. Its heightened realism reflects the humanism and empiricist pursuit of reason associated with the Enlightenment in America and Europe, while its accumulated objects reaffirm the expanding global awareness of the early 19th century. A porcelain creamer from China shares pictorial space with a Celadon dish from Korea, and together they stage a cluster of strawberries of the type cultivated on the Peale family's experimental farm. Presiding over the scene is an African ostrich egg in a mount made of Bolivian silver, an object that would have been considered rare and exotic and therefore highly collectible in America. Below is a related example from the museum's silver collection.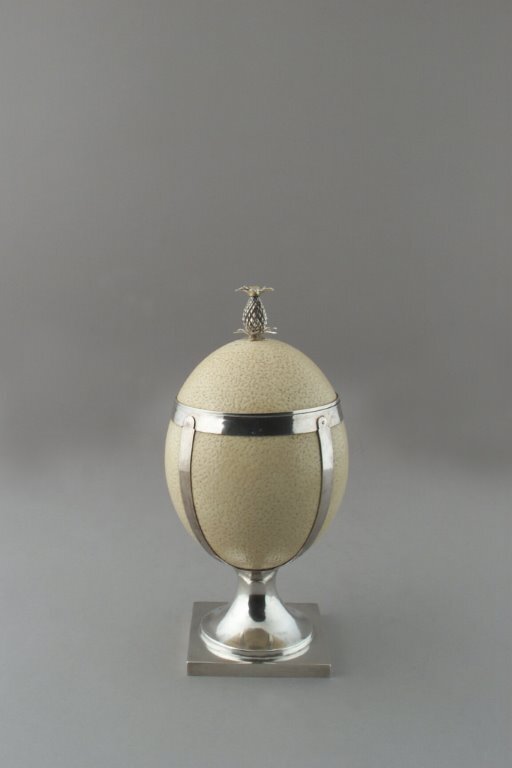 The popularity of ostrich eggs in Peale's time reflects a centuries-long history of worldwide cultural exchange, for the form itself is echoed in the egg-shaped ivory salt cellars such as this one carved in Sierra Leone for the Portuguese elite during the Renaissance period.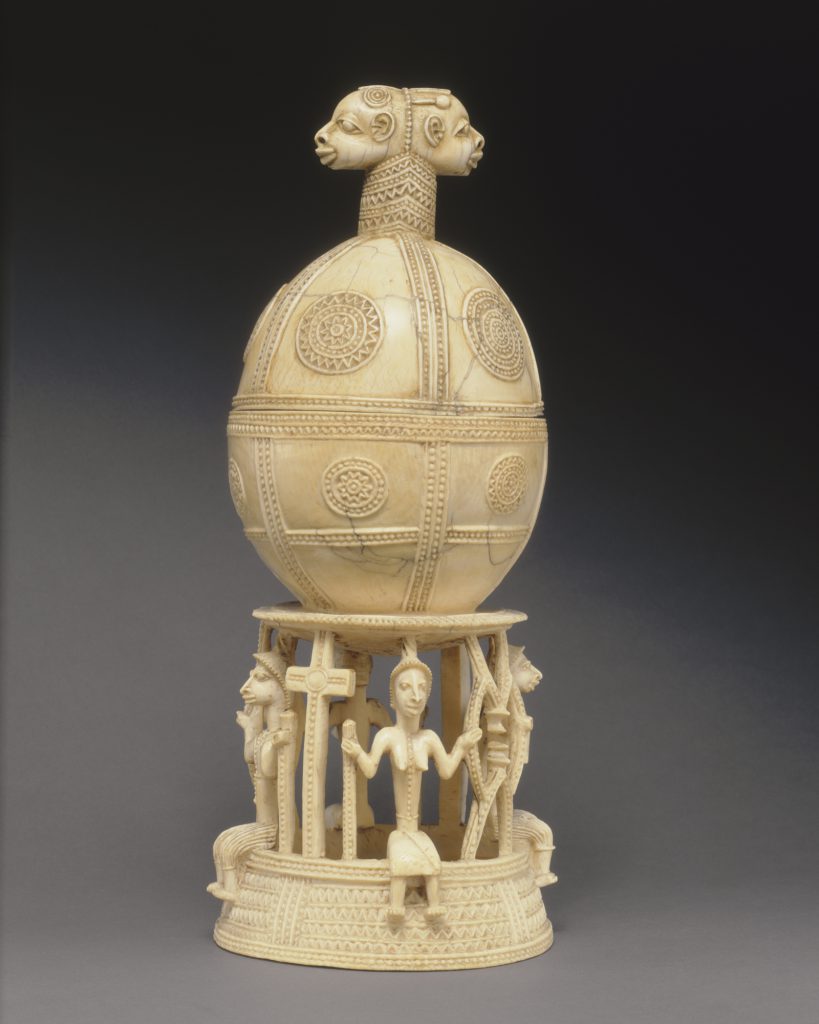 The human cost associated with the trade in exquisite objects and the extraction of the materials from which they were crafted adds an additional layer to our story, and it is one that we are actively exploring as we continue to study our collections of American painting and silver. We invite you to watch this space for more on that front, and join us as we shape a new vision for American art at SAM.
– Theresa Papanikolas, SAM Ann M. Barwick Curator of American Art
Images: Still Life with Strawberries and Ostrich Egg Cup, 1814, Raphaelle Peale, oil on wood panel, 12 1/8 x 19 3/l6 in., Acquired in memory of Ruth J. Nutt with funds from the General Acquisition Fund; Bill and Melinda Gates Art Acquisition Fund; the Kendrick A. Schlatter Estate; an anonymous donor; Thomas W. Barwick; Susan Winokur and Paul Leach; American Art Acquisition Fund; Patricia Denny Art Acquisition Endowment; 19th  and 20th Century Purchase Fund; the Council of American Art; Geraldine Murphy; and from the following donors to the collection, by exchange: Eugene Fuller Memorial Collection; Estate of Mark Tobey; Estate of Earl Henry Gibson; Paul Denby Mackie in memory of Kathleen Lawler and Nona Lawler Mackie; Estate of Mrs. Reginald Marsh; Estate of Hollister T. Sprague; Mrs. John C. Atwood, Jr.; Norman and Amelia Davis Collection; Mrs. Brewer Boardman in memory of Mrs. Edward Lincoln Smith; Mr. and Mrs. Boyer Gonzales; Mrs. Frederick Hall White; Mr. and Mrs. George Lhamon; Ernest R. Norling; Mrs. Eugene Fuller; Milnor Roberts; Jane and David Soyer; Mrs. Reginald H. Parsons; Elizabeth Merriam Fitch and Lillian Fitch Rehbock; Mr. and Mrs. John H. Bolton; and Jacob Elshin, 2014.23Ostrich Egg Standing Cup, ca. 1790, John McMullin, ostrich egg and silver mount, height: approx. 10 in., Gift of Ruth J. Nutt, 2014.24.31. Salt cellar, ca. 1490-1530, Sierra Leone, ivory, 12 3/16 x 7 7/16 x 4 1/2 in., Gift of Katherine White and the Boeing Company, 81.17.189.