Sculpture Park Summers Are For Conservation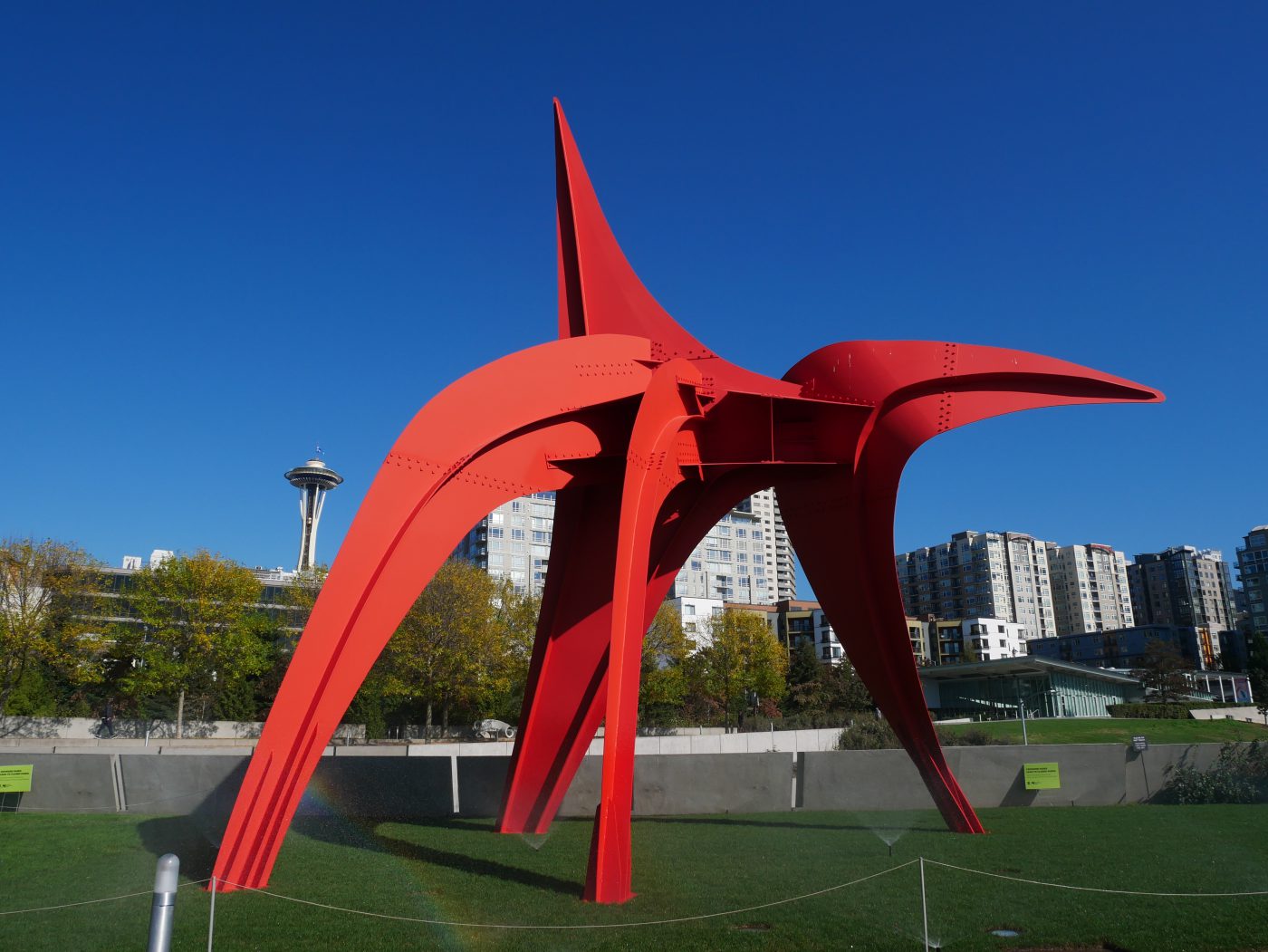 Perched on a hillside overlooking the watery expanse of Elliott Bay, the Olympic Sculpture Park is a welcoming, art-filled green space. Free and open to the public year-round, the park plays host to visitors in every season. Because of its exposed, marine location, the sculptures that live at the park are subject to deterioration from both environmental and human causes. We take good care of the sculptures, cleaning and tending them year-round, but with Seattle's rainy winters, summer is the window in which conservation maintenance and treatments can be carried out. Despite the pandemic, this summer was no exception as without maintenance, deterioration both structural and aesthetic quickly compromises the sculptures and installations. 
If you visited the sculpture park this summer, you probably noticed the massive white tent covering Alexander Calder's The Eagle. The distinctive red paint coating Calder's soaring, swooping sculpture had deteriorated and needed repainting. Thanks to a generous grant from Bank of America, The Eagle received new primers and a new coat of red paint. It looks amazing! Due to a multi-year collaboration between art conservators, the artist's estates, coatings scientists, industrial paint manufacturers and industrial painters and advances in polymer technology, the new coating will be more durable than the previous one while still maintaining the color, saturation and low gloss finish of the original paint.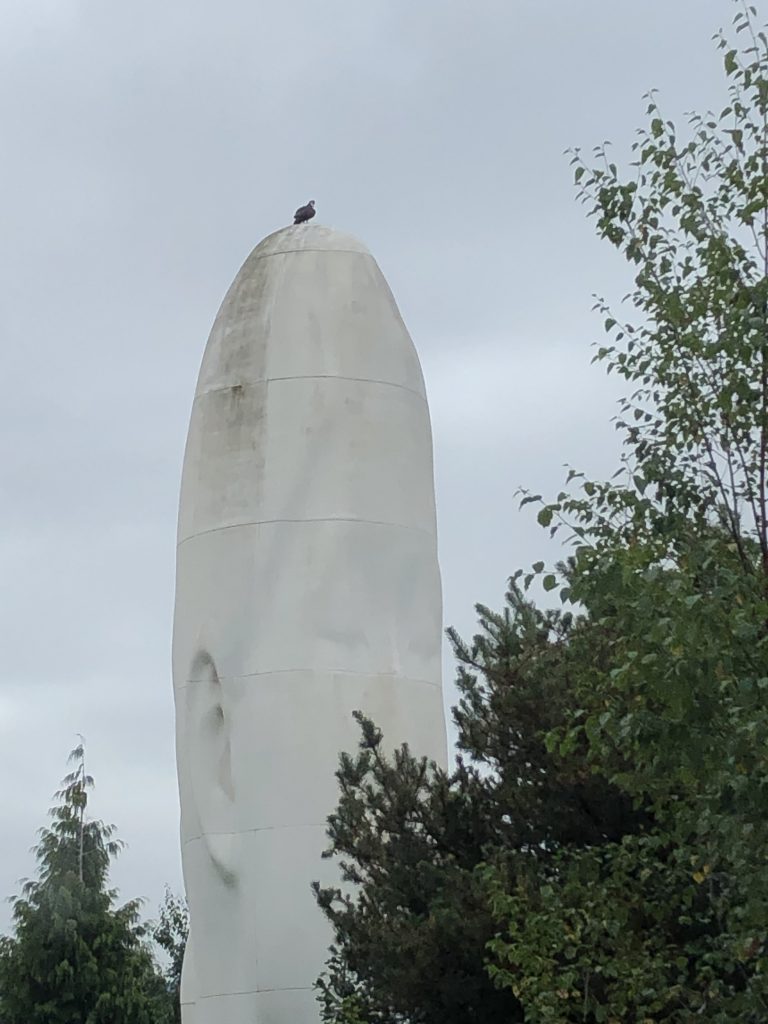 Echo by Jaume Plensa sits near the shoreline and can be seen from some of the ferries that cross Elliott Bay. Made from marble dust and polyester resin over a steel framework, Echo's off-white exterior becomes discolored throughout the year. Not only distracting from the beauty of the sculpture, this soiling, for which we can partially thank the feathered friend pictured above, speeds the deterioration of the artwork. To protect Echo, SAM conservators cleaned her and applied a sacrificial coating. As the sculpture is over 45 feet tall, this was no small feat!
Offering visitors an opportunity to pause and shelter from the sun or rain, Seattle Cloud Cover by Teresita Fernández is a series of laminated glass panels encasing abstract, color-saturated photographs. Attached to the bridge over the railroad tracks that cross under the park, its glass panels needed cleaning. Using long-handled brushes, dirt, dust and other debris were carefully cleaned from the top and pedestrian-facing panels. Additionally, caulk used in the brackets holding the glass panels was scraped out and replaced. Caulk shrinks and swells with changes in humidity and deteriorates due to age and weather exposure.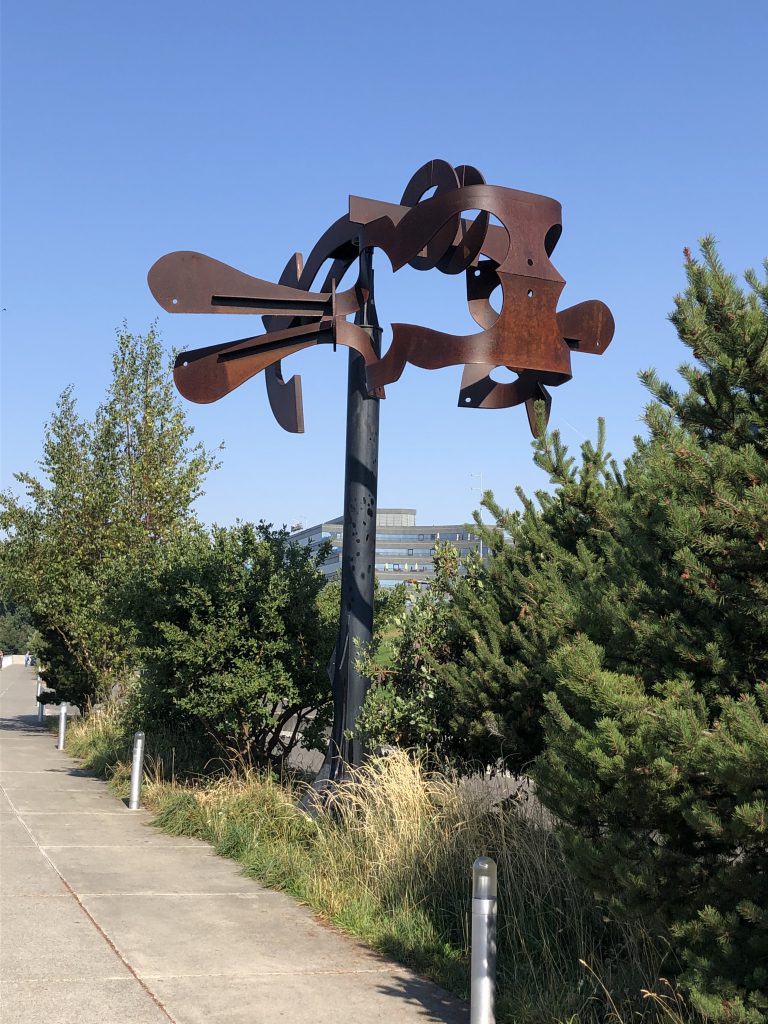 Mark Di Suvero's Schubert Sonata, a ribbon of twisting steel that rotates on a single, carefully balanced point, is sited near the Olympic Sculpture Park shoreline. With its proximity to Puget Sound, chlorides (naturally occurring salts present in the air near bodies of water) are a concern. These chlorides cause aggressive, rapid corrosion of uncoated steel and other metals such as bronze. To address this issue, while maintaining the raw steel aesthetic of the artist, a corrosion inhibiting protectant was applied. Invisible to the eye, this coating will extend the sculpture's lifespan.
These projects are just a sampling of the conservation treatments completed over the last few months. Other conservation treatments included cleaning and coating bronze sculptures and addressing loses in painted surfaces to prevent corrosion. In addition to these projects, members of the SAM conservation team are regularly onsite at the park to make sure that each sculpture is looking its best. Before the rainy, short days of our northwest winter drive us all indoors, get yourself to the Olympic Sculpture Park to enjoy the stunning artwork and expansive views.
– Rachel Harris, Asian Art Conservation Center Associate
Images: The Eagle, 1971, Alexander Calder, painted steel, 465 x 390 x 390 in., Gift of Jon and Mary Shirley, in honor of the 75th Anniversary of the Seattle Art Museum, 2000.69 © Calder Foundation/Artist's Rights Society, NY. Many thanks to Diamond Painting LLC for their work on the Eagle repainting project. Echo, 2011, Jaume Plensa, Spanish, Born 1955, Polyester resin, marble dust, steel framework, Height: 45 ft. 11 in., footprint at base: 10 ft. 8 in. x 7 ft. 1 in., gross weight: 13,118 lb, Gift of Barney A. Ebsworth, 2013.22 © Jaume Plensa. Seattle Cloud Cover, Design Approved 2004; Fabrication Completed 2006, Teresita Fernández, American, Born 1968, Laminated glass with photographic design interlayer, approx. 9 ft. 6 in. x 200 ft. x 6 ft. 3 in., Olympic Sculpture Park Art Acquisition Fund, in honor of the 75th Anniversary of the Seattle Art Museum, 2006.140 © Teresita Fernández. Schubert Sonata, 1992, Mark Di Suvero, American, Born 1933, Painted and unpainted steel, Height: 22 ft., Gift of Jon and Mary Shirley, The Virginia Wright Fund, and Bagley Wright, 95.81. © Mark di Suvero.