Object of the Week: Broken Arrangement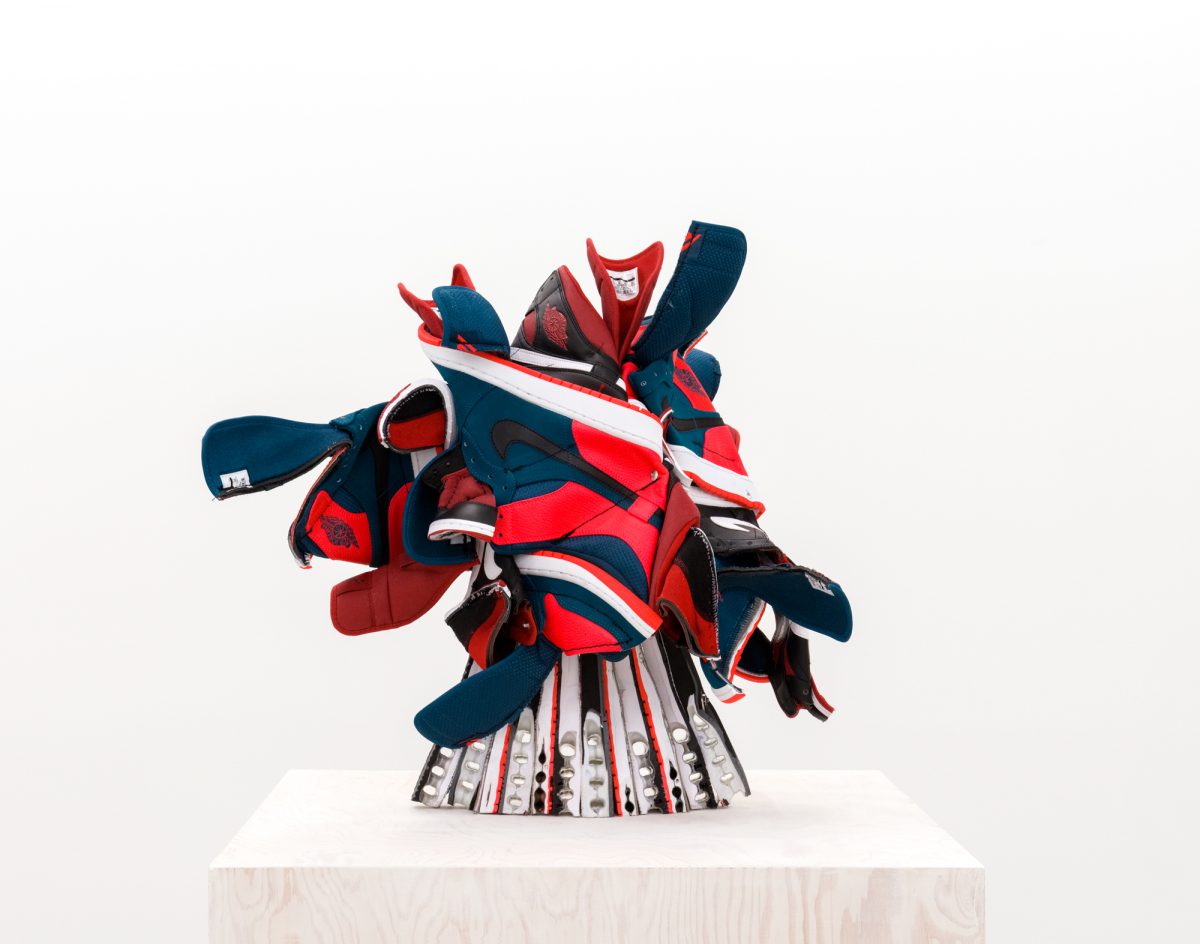 "I kind of got a bit of an illicit thrill out of cutting them up."

– Brian Jungen
Though first launched in 1984, a new pair of Air Jordan 1 sneakers still regularly fetches a price tag of $150-250. This past summer, a rare pair of Air Jordan 1 High sneakers worn by Michael Jordan in 1985 sold at auction for $615,000, no doubt propped up by the popularity of the recent Jordan docuseries, The Last Dance, which premiered during nationwide stay-at-home recommendations. The shoes have held their status and notoriety in basketball and sneakerhead culture for decades, so how does their status change when a contemporary artist cuts them apart?
Brian Jungen's (Dane-Zaa, Canadian) sculptures are rendered from dismantled Nike sneakers and echo the ovoid shapes and abstracted figures prominent in the traditional Indigenous cultural designs of Northwest Coast peoples. Jungen gained wide recognition for his series, Prototypes for New Understanding (1998-2005), which presented reassembled sneakers as Northwest Coast-inspired masks. However, Broken Arrangement (2015-16) presents an even more abstracted form, fluid in what might be perceived from each angle: an open mouth, a staring eye, or perhaps a raised tail.
While attempting to decipher the shapes, what becomes unmistakable is the ubiquitous Nike "swoosh" logo that appears throughout the disassembled and rearranged sneakers. Jungen's appropriation of Nike's iconic shoe comments simultaneously on the widespread commodification and cultural cooptation in contemporary society. Not lost on the artist is Nike's stature as a corporate icon headquartered in the Pacific Northwest, as well as its influence on global consumer culture and problematic history of exploitative labor practices. Jungen's reassembly of Nike products and iconography into works reflecting Northwest Coast design is an act that confronts the value placed on Indigenous cultures and artworks by Western society—indeed a broken arrangement in its own right.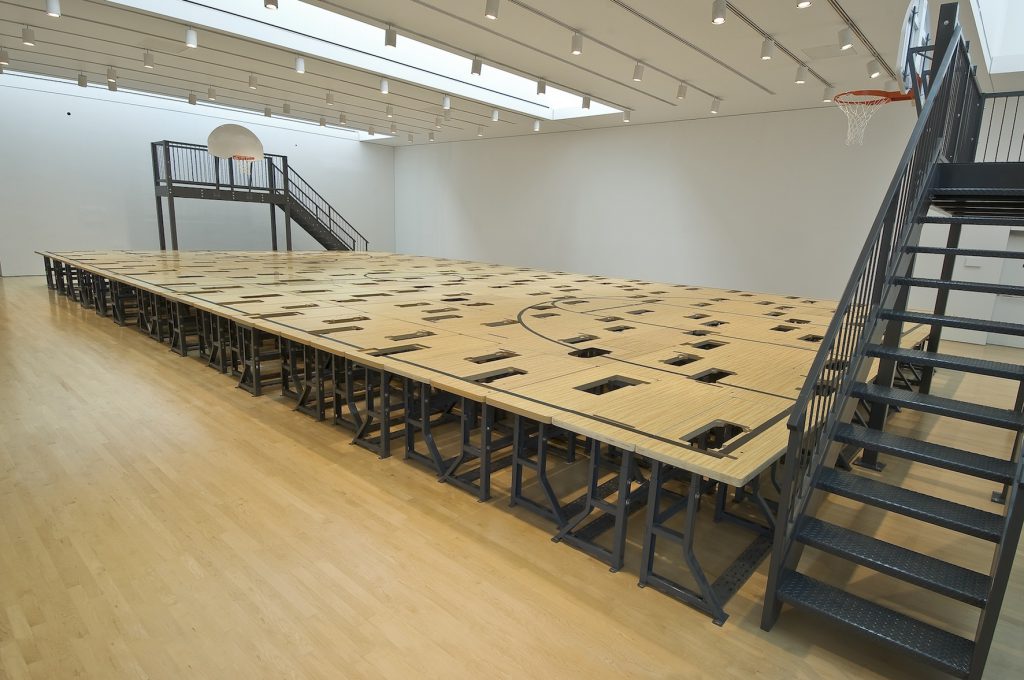 Jungen has expanded his exploration of the connections between sport and global economic systems. In 2004, Jungen created the enormous installation Court, a full-length basketball court comprised satirically, and somewhat precariously, of sewing machine tables that evoke the scope and scale of sweatshop labor. More recently, Jungen has considered connections between the basketball court, community, and ritual. Just last year he installed new work against the backdrop of a basketball court during the exhibition Brian Jungen: Friendship Centre, at the Art Gallery of Ontario, not necessarily as critique, but as a ". . . site of, you know, incredible pain for people who you know weren't involved or interested in sports. But it's also a place for a lot of First Nations people that is a site of ceremony, especially for gatherings and dancing . . . So that's kind of what how that started—and I wanted to create a space in a museum that seemed a bit more kind of welcoming, or a place that possibly a lot of youth could identify with."[1]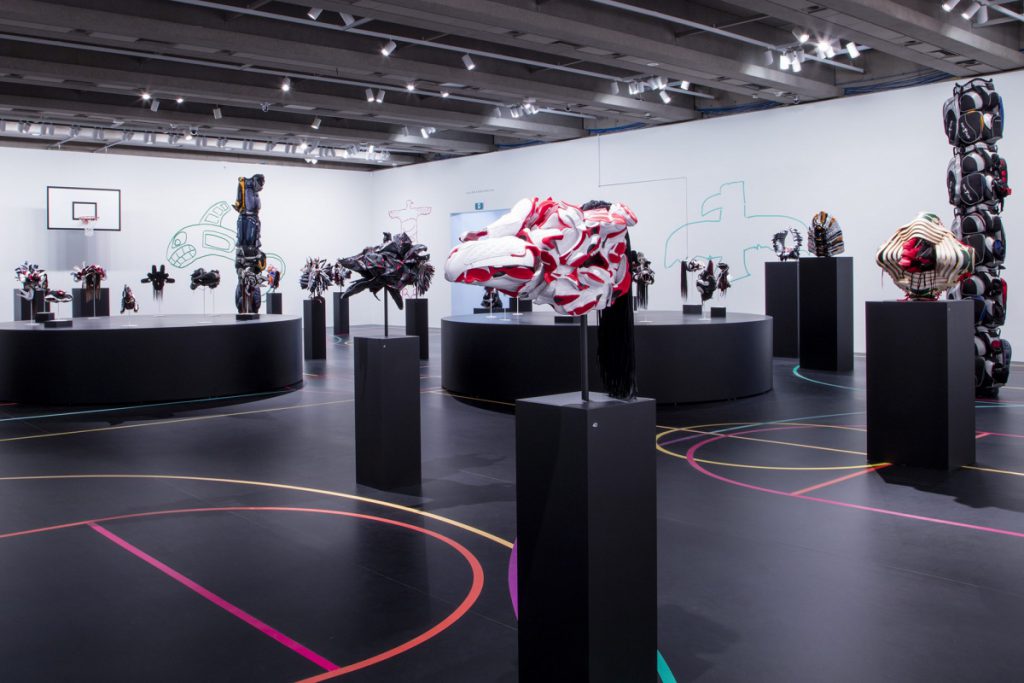 As with all things, professional basketball looked different in 2020. In the past few weeks, fans watched as the Seattle Storm and Los Angeles Lakers won the 2020 WNBA and NBA championship titles, respectively. The teams and players slogged through a condensed summer of play in the "bubble" on three basketball courts at Disney properties in Orlando, Florida. Daily COVID-19 tests, wristband tracking devices, no fans, and limited contact with family members resulted in zero positive cases during the season. Remarkably, it worked. That's not to say the season, both in basketball and in America, was without struggle and anger directed at racial injustice and police violence across the country.[2] Players boycotted, made actionable demands of league management and government officials, and used their international platforms to call attention to crises happening in communities across the country. The NBA is a multibillion-dollar global industry, yet the players challenged each other to reconfigure the bubble and their sport's stature within popular culture to deliver a powerful message for people watching amidst a global pandemic and social upheaval.
As Jungen articulates, "sport fulfills the very basic human need for ceremony, and that used to take place in many different cultures on a much smaller scale, very locally. Now I think that takes place with mass media and professional sports for a lot of people."[3] Broken Arrangement is about much more than basketball and sneakers, of course. Jungen's sculpture challenges knowledge and perceptions of Indigenous art and artistry through popular culture's reverence for mass produced objects. Ripped apart and transformed into an entirely new object, the source material is simultaneously familiar and difficult to decipher in its final form. We're trying to make sense of a lot of broken things right now, and one can only hope that they will become as beautiful and meaningful as Jungen's arrangement.
– Philip Nadasdy, SAM Associate Director of Public Engagement
Images: Broken Arrangement, 2015-16, Brian Jungen, Nike Air Jordans, painted fir plywood, stainless steel, 20 x 14 x 21 1/2 in., Margaret Fuller Purchase Endowment, 2016.4 © Brian Jungen. Court, 2004, Brian Jungen, sewing tables, painted steel, paint, basketball hoops and backboards, National Gallery of Canada. Friendship Centre (detail), Brian Jungen, June 20 – August 25, 2019, Art Gallery of Ontario.