Object of the Week: Mandala: Zone of Zero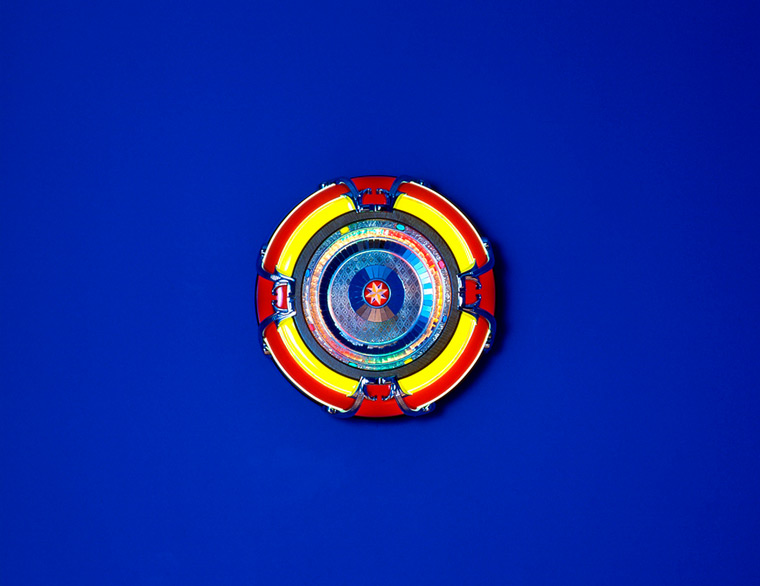 I witnessed 9/11, and was very much shocked and affected by the traumatizing and violent terrorism. This terrorism made me contemplate a lot on dogma of religion and its extreme violence against humanity, and at the same time, on peace for the world. I wish for a harmonized society: a Utopia.

– Kimsooja
In the inaugural exhibition Be/Longing: Contemporary Asian Art at the transformed Seattle Asian Art Museum, Mandala: Zone of Zero by globally acclaimed artist Kimsooja triggers memories of a recent past—9/11—but also sadly echoes what is happening in our even more divided world today. Displayed in its own dark room, the mixed media installation consists of three circular jukeboxes spinning in mesmerizing circles, each casting its own dimly-colored glow. Playing simultaneously from the jukeboxes' speakers are Tibetan, Islamic, and Gregorian chants, all three hymns mixing and blurring until they are indistinguishable from one another.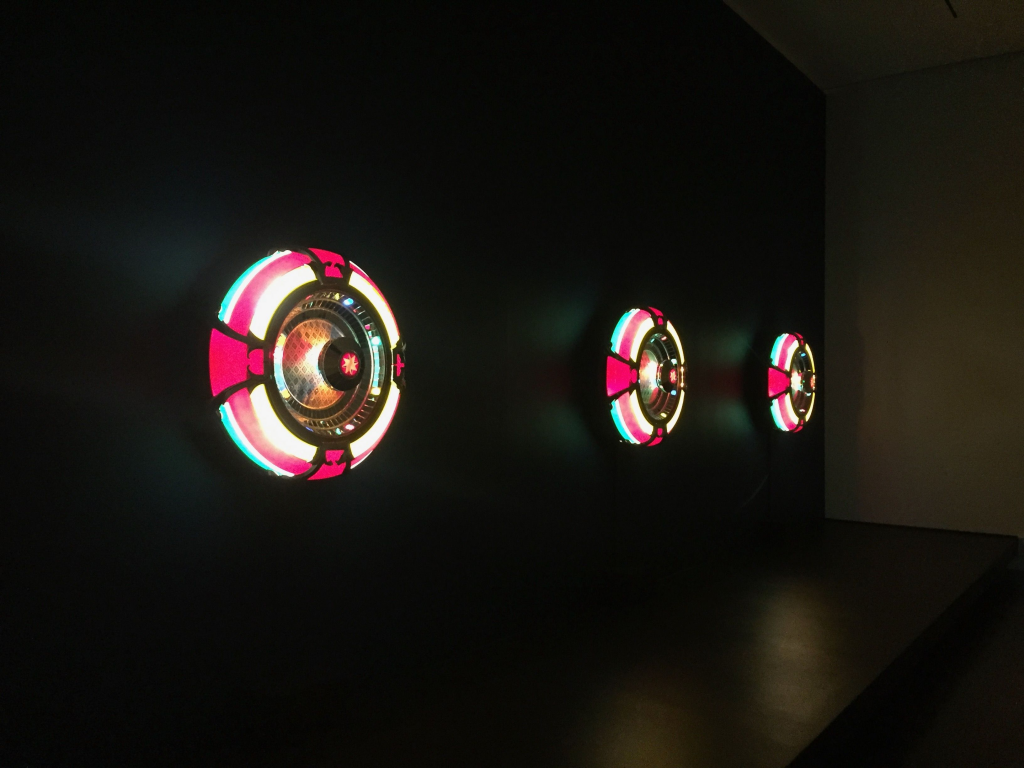 Kimsooja was first inspired to create this work when she came across a gambling shop on New York City's bustling Broadway. The circular jukebox, which she saw in the shop's window, struck her as astonishingly similar to traditional Tibetan Mandalas—intricate designs meant to symbolize the universe and aid deep meditation. From its Obangsaek color scheme (the five traditional Korean colors of white, black, blue, yellow, and red), to its circular movement mimicking the cycle of life, to the speaker at the center symbolizing the completion of the self as an awakened being, for Kimsooja "all the elements of this kitsch jukebox speaker that matched with the sacred and religious Mandala system were ironical and intriguing to me, and that urged me to create a piece of art." The subsequent combination of American pop culture and Buddhist symbolism is even expressed in the title: Mandala: Zone of Zero. However, what makes us ponder further is the meaning of "zone of zero." Does it refer to the spiritual unification of mind and body, creating a perfect state of "zero"? Or does it simply express an emptiness—a sense of "zero"— that comes with the commercialization of religion?
The work is further enriched by the three chants, which surround the viewer in an almost dream-like fashion. Each recording was sourced at a different religious location. Most notably, the Buddhist Monks' "Mandala" chant was recorded by Kimsooja's brother in the same Tibetan temple that is home to the Dalai Lama.
Mandala: Zone of Zero's call for religious tolerance was particularly topical at the time of its creation in the years following 9/11. Kimsooja herself was in New York on the day and bore witness to the tragedy, as well as to the years of violence and war that followed between the United States and the Islamic world. But the catastrophic event also made Kimsooja long for peace in the world, wishing for "a Utopia." This duality between discord and harmony can be heard quite literally in the entrancing chants that Kimsooja sources in her piece. At times, the different hymns seem to clash against one another harshly and, in other moments, blend lullingly together, mingling and merging until they approach a sound of unity, a feeling of tranquility, a sweeping state of zero.
— Isabelle Qian, former SAM Curatorial Intern; Xiaojin Wu, Curator of Japanese and Korean Art
Image: Mandala: Zone of Zero, 2003, Kimsooja, Three-channel sound installation with three jukeboxes, 9 min., 50 sec., Gift of William and Ruth True in honor of Chiyo Ishikawa and the reopening of the Seattle Asian Art Museum, 2020.13 © Artist or Artist's Estate.